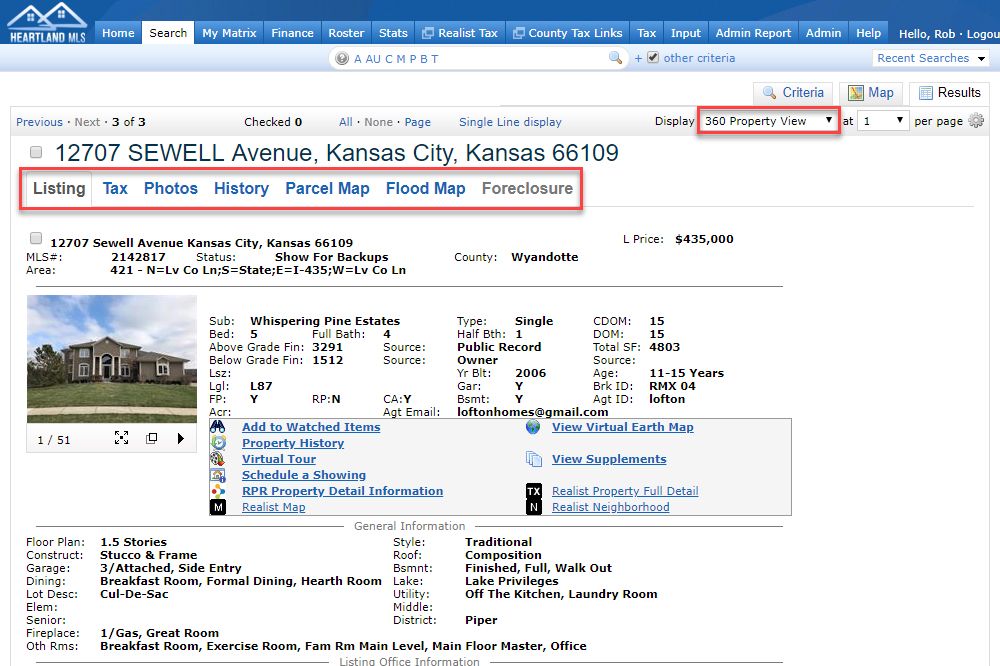 Matrix 360, the latest version of the Heartland MLS system,
will launch on Feb. 5. Matrix 360 unifies listing data and Realist® property
data to form a truly property-centric listing platform that gives a 360-degree
view of properties.
To prepare for the launch, here are 10 Matrix 360 features
that will enhance Heartland MLS:
A Public
Record (tax search) is
now available within Matrix using the same fields as Realist but in a familiar
Matrix-style search form. Search results include data from listings, such
as photos, current status and any discrepancies in core fields.
A Realist-style full tax display is
available right from the Matrix search results—whether you've run a listing
search or a tax search.
The complete property display includes
listing data, tax/assessment data, transaction/document history, schools, flood
data and more. You get to choose which content to print.
You can "walk the block" to see the whole
neighborhood. The map displays summary tax and listing information for each
parcel (where available) with links to full reports.
The interactive map lets your zoom and
pan, switch between street and satellite views, enable layers and click on
parcels to view neighboring property information—right from the full property
display.
Comprehensive map overlays include
flood, highlighted parcel, lot dimensions, points of interest and more.
The combined history shows all listing
activity for the property, as well as sale, mortgage and foreclosure history
from public records.
Matrix 360 makes it easy to print mailing labels from
tax data (Missouri counties only).
You can auto-fill new listings using
tax data stored natively in Matrix.
Property data can be integrated into the Client
Portal and is also available in Matrix Mobile.