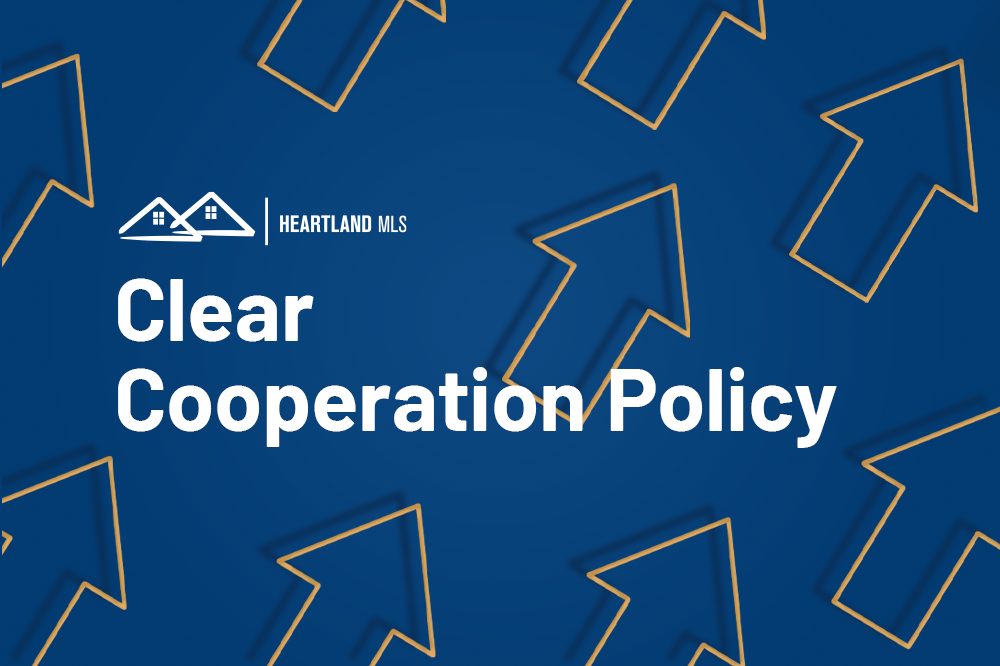 The National Association of REALTORS® (NAR) mandated Clear
Cooperation policy will go into effect for Heartland MLS on April 15. The
NAR policy states the following:
Within one (1) business day of marketing a property to the
public, the listing broker must submit the listing to the MLS for cooperation
with other MLS participants. Public marketing includes, but is not limited to,
flyers displayed in windows, yard signs, digital marketing on public facing
websites, brokerage website displays (including IDX and VOW), digital
communications marketing (email blasts), multi-brokerage listing sharing
networks, and applications available to the general public.
NAR created this policy with the goal of implementing a
standard policy to avoid practices that could be potentially harmful to cooperation
within the real estate industry, such as pocket listing practices. Withholding
of properties from the MLS often resulted in the public knowing of listings for
sale that agents may have not been aware of. The NAR Board of Directors adopted
the nationwide Clear Cooperation Policy last fall as a solution to this
problem.
To implement this policy, Heartland MLS will discontinue use
of Temporary and Permanent Waivers on April 1, and KCRAR's Exclusive Right to
Sell Contract has been modified to offer a checkbox option for listings that
need to be entered as Pre MLS status in the MLS. A listing under Pre MLS may
not be shown, and if a showing does occur, it must be changed to active status
immediately. If not changed to active status within 24 hours, a $1,000 penalty
will be assessed.
In order to accommodate the rare scenario in which a seller
would not like their property to be publicly advertised or included in the MLS,
KCRAR has created a "Private Office Exclusive Listing Contract." Listings under
this contract may not be publicly advertised and may only be shared with agents
within the listing brokerage, defined by the MLS Office ID. This listing
agreement must be submitted to HMLS within two calendar days of obtaining
required signatures, including broker signature. Advertising of a Private
Office Exclusive listing by the listing agent or seller will result in a $1,000
penalty and must be entered in active status immediately or within a maximum of
one business day.
For clarity for subscribers, Heartland MLS and KCRAR have
created a detailed FAQ and a video walking through all the changes to
forms. Subscribers who have questions about the Clear Cooperation policy
may email ClearCooperation@HeartlandMLS.com.
Additional information and resources will be made available in the coming week
and will be accessible at KCRAR.com/Clear-Cooperation.