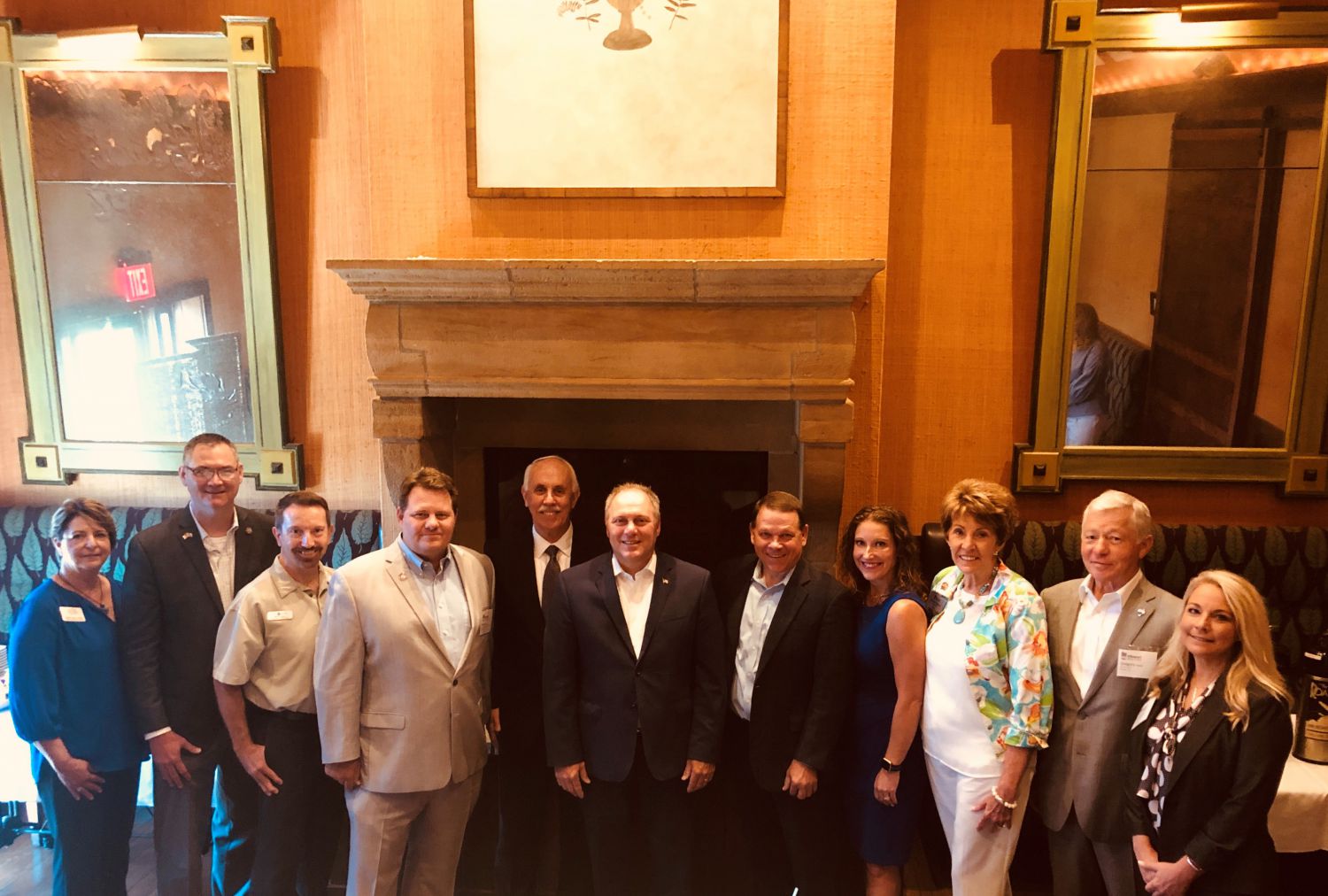 On Wednesday, KCRAR REALTOR® advocates met with Missouri
Congressman Sam Graves in the Northland, as they typically do during each
August Congressional recess. This year however, Congressman Graves brought
along Republican Whip Steve Scalise (R-LA).
Federal Political Coordinator Gary Derks welcomed the
Congressmen and guests, reminding all in attendance that homeownership provides
an opportunity for households to build wealth. In 2016, the median net worth of
homeowners was $231,400, which is over 45 times the median net worth of renters
of $5,200, according to NAR. Gary also let Congressman Graves know that despite
a slight decline in the U.S. homeownership rate to 64.1 percent, the homeownership
rate in Missouri has remained strong at 68.8 percent and is even stronger in
Congressman Graves' district (MO 6), where 71 percent of his constituents own
their own homes.
As the Ranking Member (top Republican) on the House
Transportation and Infrastructure Committee, Congressman Graves had insight into
the challenges of adequately funding the nation's infrastructure needs,
including the 34,000 highway miles and 10,400 bridges in Missouri. Missouri REALTORS®
President Brenda Oliver reminded the Congressman that REALTORS® supported the
recent unsuccessful effort to fund infrastructure improvements through a slight
increase in the statewide gas tax (Prop D).
KCRAR Advocacy Chair Jennifer Justus also thanked
Congressman Graves for his leadership after the recent floods along the
Missouri river. Congressman Scalise added that in addition to flood control,
renewal of the National Flood Insurance Program (NFIP) was crucial to support
property owners devastated by flooding. Action is needed on NFIP before it
expires on Sept. 30.
Adequate funding for the nation's infrastructure and renewal
of the NFIP are two of the top priorities of the National Association of REALTORS®
in Washington, DC. Thanks to the strength of the REALTOR® Party, REALTOR®
Advocates were able to discuss these issues with two very influential members
of Congress.