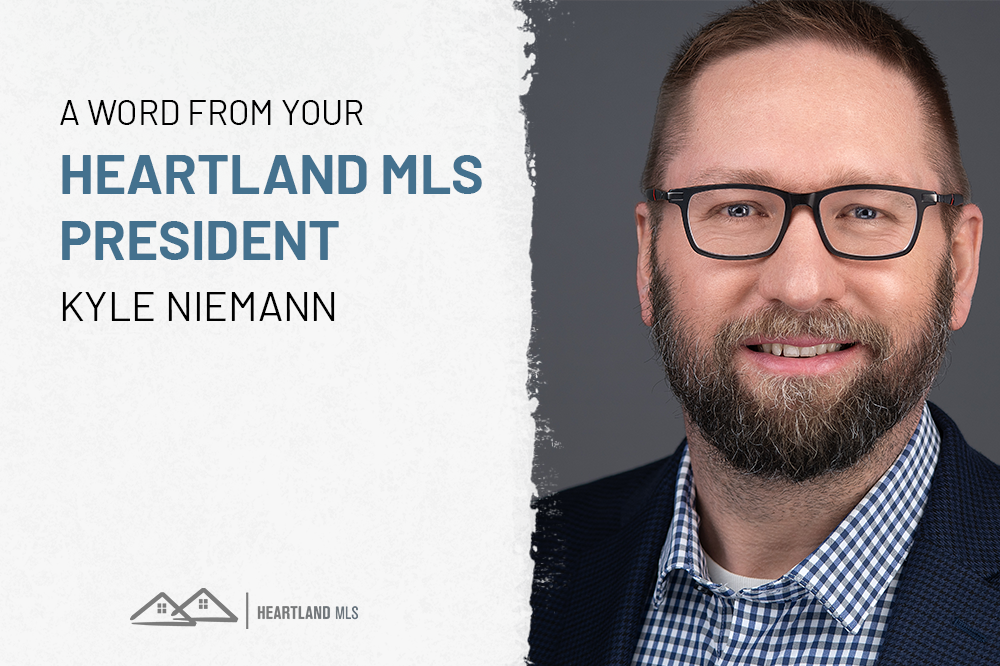 By Kyle Niemann, 2023 Heartland MLS President
The real estate market is always changing. As you have probably heard in the media, right now the market is experiencing a normalization from the crazy hot market of the last few years. With this new market comes opportunities.
Five lessons from a walk with Sunday!
My black lab Sunday and I go for walks. I would consider us fair weather walkers as neither of us like the super cold or super hot weather. During these walks it gives me a lot of time to think and one day I was thinking about how our walks relate to real estate and life in general.
Be prepared – For Sunday and me to walk safely, we need to be prepared. We need a leash and bright clothing for walking at night. As REALTORS®, we need to be prepared for the questions our clients ask us, and for listing presentations and for anything else that comes our way. Heartland MLS and KCRAR provide several tools beyond the listings on the MLS. Have you checked out Remine Pro, NAR RPR or Cloud CMA? Looking for training? Check out all of these programs as well as the KCRAR/HMLS training calendar from the HMLS dashboard.
Be excited for what's to come – Anytime I grab the leash off the door handle, Sunday comes running and spins and is genuinely excited for what we are going to do. She doesn't care if we are going for a walk or hopping in the car to go to doggie day care, the park or the vet, she is just excited. As a REALTOR® for over 10 years, I have given many listing presentations and training over the same topics. One of the things I try to remember is that for the person I am presenting to, this is the first time they are hearing what I am saying, so I need to be excited to talk with them each time!
Together we go farther faster – Thanks to smart watches, Sunday and I can track our route and pace when we walk. I can do the same thing when I hit the gym for a workout when the weather isn't suitable for us. One of the things I noticed is that when Sunday and I walk, my mile times are usually 2-3 minutes faster than when I walk on the treadmill. This is usually because she is pulling me along and encouraging me to go faster. In real estate, this could be a group of agents for a mastermind or a business coach. Find people who will challenge you.
Be focused – Sunday is on a mission when we are walking… most of the time. She is usually headed down the sidewalk and not paying that much attention to everything else off the sidewalk. Unless there is a squirrel. When we see one of those, she wants to go say hi to them but they always get away. Once they are safely up a tree, she quickly returns to the path we are on and forgets about the squirrel. We can get focused on all the different technology that is available for us to use as REALTORS® and lose track of the path we are on. Like Sunday with the squirrel, we need to quickly evaluate all the distractions that come our way and decide what will help us grow our business and what distracts us from our goals.
We don't always follow the same path to get to the same destination – In our neighborhood, Sunday and I don't take the same path every time, but we always end up back home. At the dog park, there are several routes to get to the lake, right down the middle on the easy trail or through the woods on the side. They both get us to the lake at the end but one of them is a little more challenging with tree roots and mud spots and a lot more hills and occasionally my favorite thing to walk through, spider webs. Anyone else walk through spider webs in a basement when you are out showing homes? Have you heard the saying, there are riches in niches? For most REALTORS®, a majority of their business comes from just 3 lead sources. The niches and path you take will be unique to you, but all of them—when you strive to master them—will get you to your goals.
I am looking forward to being your 2023 Heartland MLS president and building on the strong foundation that all of our previous presidents and board members have created.