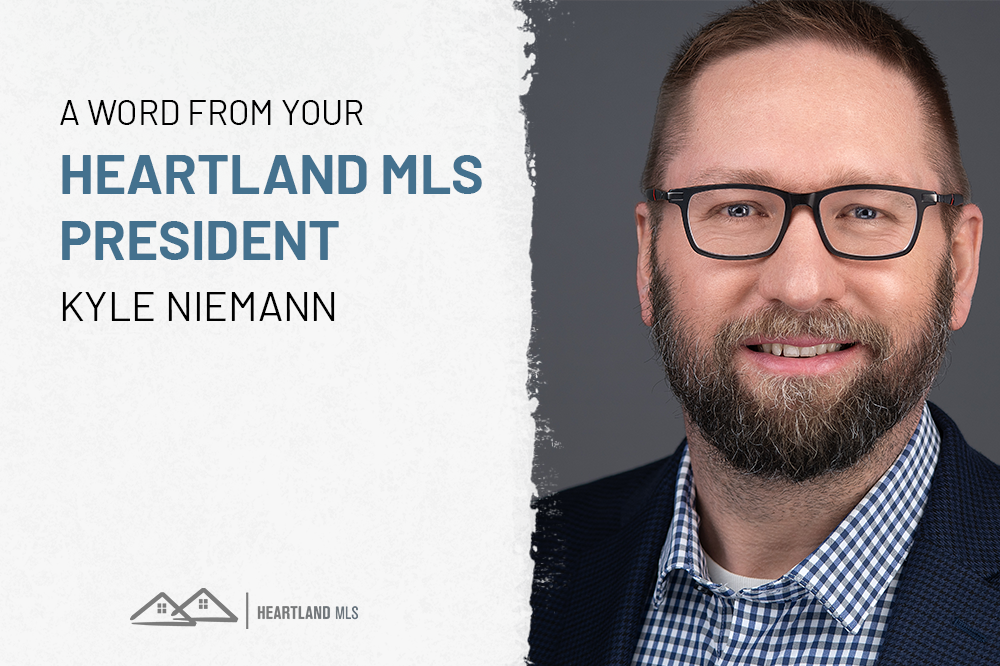 By Kyle Niemann, 2023 Heartland MLS President
I think spring is the best season. Baseball starts, the weather starts getting warmer and I can spend more time outside with Sunday Funday the black lab and Scarlett the classic Mustang.
Even with the nicer weather, I still spend a lot of time with technology, and our Heartland MLS board is always looking for new technologies to enhance the platforms we already have in place. We also continue to work with our established partners to improve your user experience, and we have been busy the last couple of years evaluating existing and new products. 
We added Remine Pro to our resources. This add-on to the MLS allows you to share homes with your clients, search homes for sale, access tax records and so much more. This powerful tool is accessible from the MLS login dashboard by clicking on the Remine logo. You can also see property details in Remine on all the listings pages by clicking the Remine Property Detail Info link.
A new platform that we will be introducing soon is RentSpree. From Tenant Screening to Rent Payment, RentSpree provides powerful tools for every step of the rental process. This platform will allow you to enter rentals into the MLS and get links to market them along with a tenant screening platform. Best of all, there is no charge for you to use this exciting add-on. 
I am always looking at technology that can enhance the consumer experience with the MLS. At a recent international real estate conference, I saw a ton of new ideas, but one stood out to me. It took 3D models of buildings and allowed the user via touch screen to see the different units available and even zoom into the unit and see the view and how the sun hit in different times of the day and seasons, like spring! This software isn't developed for an MLS… yet. But it was cool to think about the potential to have all the active listings on a 3D map in green and be able to touch them and see details, compare them and even turn on a feature that showed local trails or mass transit options.
One other new technology that is making waves right now is artificial intelligence like ChatGPT. As I was thinking about this article, I knew I wanted to relate baseball to real estate, but I was struggling. So I went to ChatGPT and typed in, "Write an article about spring, real estate and baseball." What it created for me is posted below. If I hadn't told you it was written by AI, could you tell?
There are lots of questions about using this technology. Is it ethical, will everyone get the same thing and ruin creativity? Will search engines learn the AI language and downgrade websites that rely on this for content?
I think it is just a tool. Used correctly it allows me more time to spend with Sunday and Scarlett. As a REALTOR®, it gives me more time to focus on the things that I am good at and allow me to provide better service to my clients. Clients still work with REALTORS® who they know, like and trust, so in the end, technologies like ChatGPT may give you more time to spend building those relationships, but it can't replace the relationship between a REALTOR® and their clients. 
Happy spring and Go Royals… or whatever team you cheer for as long as they aren't playing the Royals!
My ChatGPT result about baseball and real estate:
Spring is a season of new beginnings and fresh starts. It's a time when the world around us starts to come to life again, and everything feels full of possibility. For those in the real estate and baseball industries, spring holds a special significance.
In the world of real estate, spring is often referred to as the "homebuying season." The warmer weather and longer days make it easier for people to go out and look at properties. Plus, families with school-age children often try to move during the summer months, so spring is a popular time to start the homebuying process.
As the real estate market heats up, so does the competition among buyers. Houses sell quickly, and bidding wars can break out over desirable properties. It's a time when real estate agents and mortgage brokers are working overtime to help their clients navigate the complex world of homebuying.
Meanwhile, in the world of baseball, spring is a time of hope and excitement. Spring training brings teams together for a month-long preseason period where they can work on their skills and prepare for the upcoming season. Fans flock to ballparks to watch their favorite players take the field and get a glimpse of what's to come.
For baseball players, spring training is a time to push themselves to their limits and hone their craft. They're competing not just against other teams, but also against their own teammates, vying for a spot on the roster. It's a time of camaraderie and competition, all in the service of achieving the ultimate goal: winning the World Series.
Despite their seemingly different worlds, real estate and baseball share some key similarities. Both are highly competitive industries where hard work and determination are essential for success. They both require a deep understanding of the rules and regulations that govern them, whether it's the intricacies of homebuying contracts or the rules of the game.
Moreover, both real estate and baseball are rooted in the idea of community. In real estate, agents work to help people find their perfect home and create a sense of belonging in a new place. In baseball, teams come together to represent their cities and create a sense of shared identity among fans.
Spring is a time when these worlds collide, as people come together to pursue their dreams and create something bigger than themselves. Whether you're a real estate agent helping a family find their forever home or a baseball player fighting for a spot on the roster, spring is a time to embrace new beginnings and seize the opportunities that lie ahead.
P.S. If you read this far, next time you see me ask about my World Series experiences. ~ Kyle