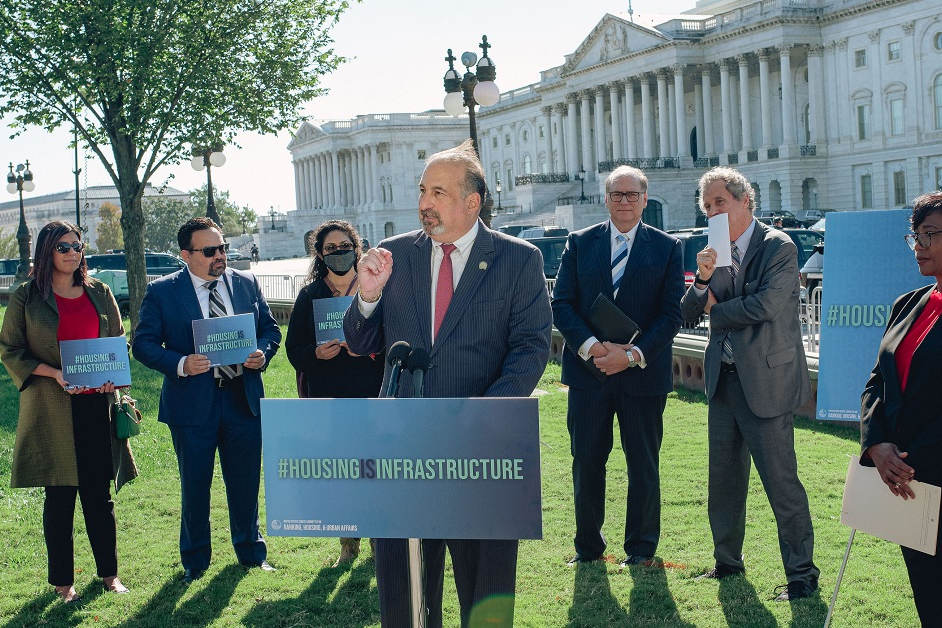 REALTOR® Magazine
Leaders from the National Association of REALTORS® and other housing groups went to the U.S. Capitol on Wednesday to urge lawmakers to preserve the affordable housing provisions in the infrastructure bill Congress is debating. Lawmakers are whittling down the package—which invests in various programs such as health care, paid family leave, affordable housing, and education—from its current $3.5 trillion price tag. President Joe Biden hinted Tuesday that the final bill could be closer to $2 trillion, and media reports last week suggested housing provisions could be scaled back or eliminated.
"NAR's 1.5 million members serve consumers in every U.S. ZIP code to ensure a fair and equitable housing market," NAR CEO Bob Goldberg said during Wednesday's visit to Capitol Hill. "But making sure everyone has a place to call home isn't just the foundation of our economy. It's the fabric of our communities, our families, and each of our lives."
An NAR report in the spring found that America faces a housing shortage of about 6 million units, which should be an impetus for Congressional action, Goldberg added. "As a nation, we have to find ways to close this shortfall. Doing so will be particularly meaningful for lower-income households, millennials, and households of color."
Senate Banking, Housing and Urban Affairs Committee Chair Sherrod Brown (D-OH) and House Financial Services Committee Chair Maxine Waters (D-CA) joined Goldberg and other housing leaders at a press conference near the Senate steps. Officials from a wide range of real estate industry groups were present, including Habitat for Humanity, the National Association of Hispanic Real Estate Professionals, the National Association of Home Builders, the National Fair Housing Alliance, the National Housing Conference, and the National Low Income Housing Coalition.
The real estate industry accounted for 18%—or $3.83 trillion—of America's gross domestic product in 2020, according to NAR data. Each home sale injects roughly $94,000 into a community's economy. View this NAR fact sheet.
---
— Reprinted from REALTOR® Magazine Online, October 2021, with permission of the National Association of REALTORS®. Copyright 2021. All rights reserved.