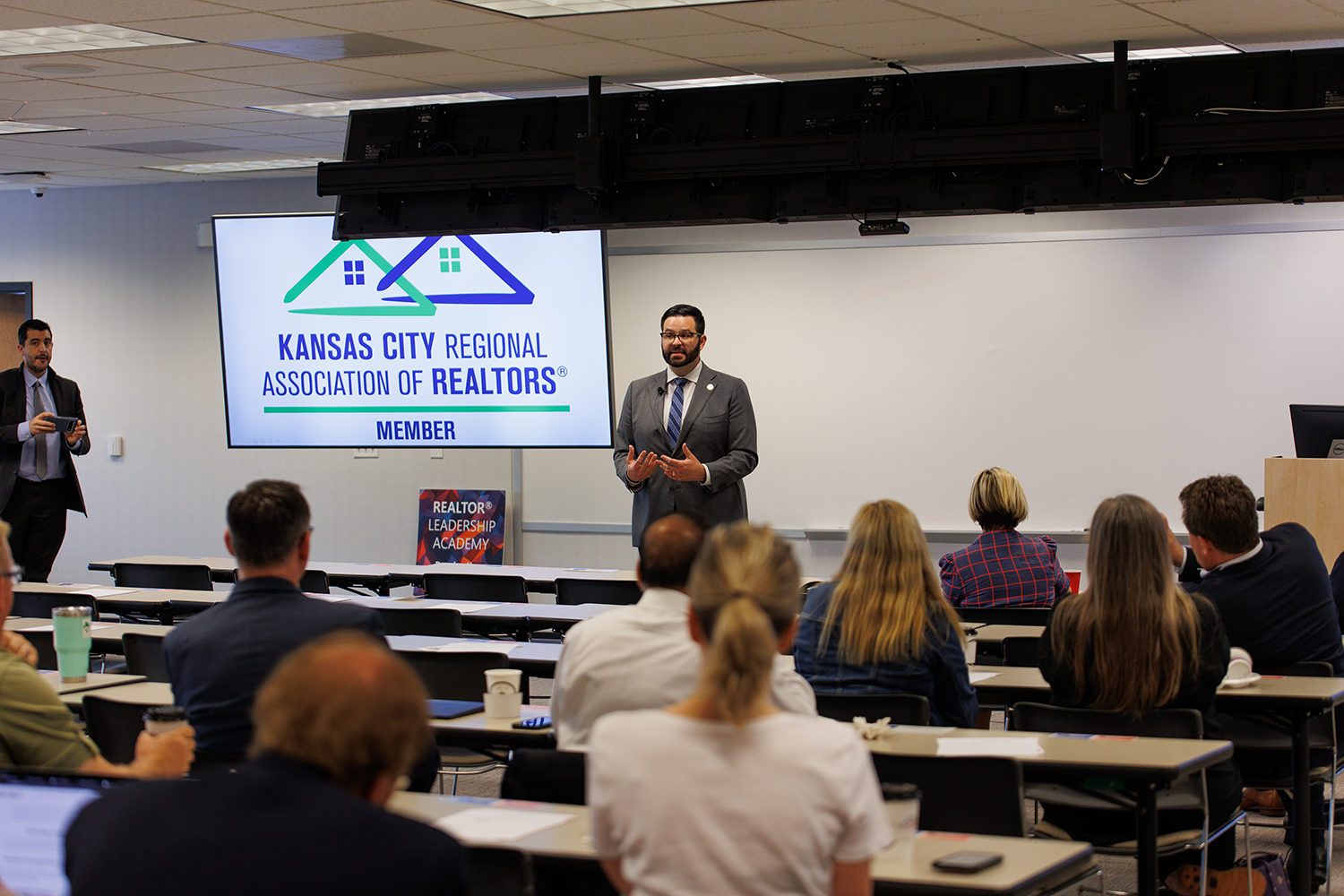 Mike Kelly, Chairman of the Johnson County Commission, visited the KCRAR classroom last week for the first "Eggs and Issues," a series in which the KCRAR Advocacy Department brings elected officials to KCRAR to talk with members about issues of importance to the community and the real estate industry.
Kelly assumed his role as commissioner in January after winning his election to replace retiring long time Chairman, Ed Eilert who served Johnson County in various leadership position for more than 44 years. During "Eggs and Issues," Kelly talked to KCRAR members about the new initiatives happening in Johnson County as well as challenges the county is facing.
He shared the plan to build an express toll lane for both Northbound and Southbound traffic on U.S. 69 between West 103rd Street and West 151st Street, as well as a call for improvement and expansion of K-10 highway from 435 West to Desoto to help with traffic destined to come to the area with the building of the $4 billion Panasonic battery plant and ancillary business partners. Kelly said the Panasonic project is the largest private investment in Kansas history, which will bring over 16,000 construction jobs and 4,000 permanent jobs once the project is completed.
Despite obstacles facing the county, including adequate and available childcare, the rebuilding of the New Century Airport and rising property values, Kelly shared that 95% of Johnson County residents surveyed reported they are happy to live, work, or play in Johnson County.
Kelly said he believed small businesses are the lifeblood of the community in Johnson County, and he wants to make sure the county is providing support for those small businesses while being innovative in how the county provides the services businesses need and expect.
Kelly said that although Johnson County is in the Northeast part of the state, it's the center of the Kansas economy. He agreed that the cost of residential property in the County is high and committed to looking at whatever means necessary to create affordable, attainable homes for people to stay in Johnson County and creating a pathway to generational wealth through home ownership.