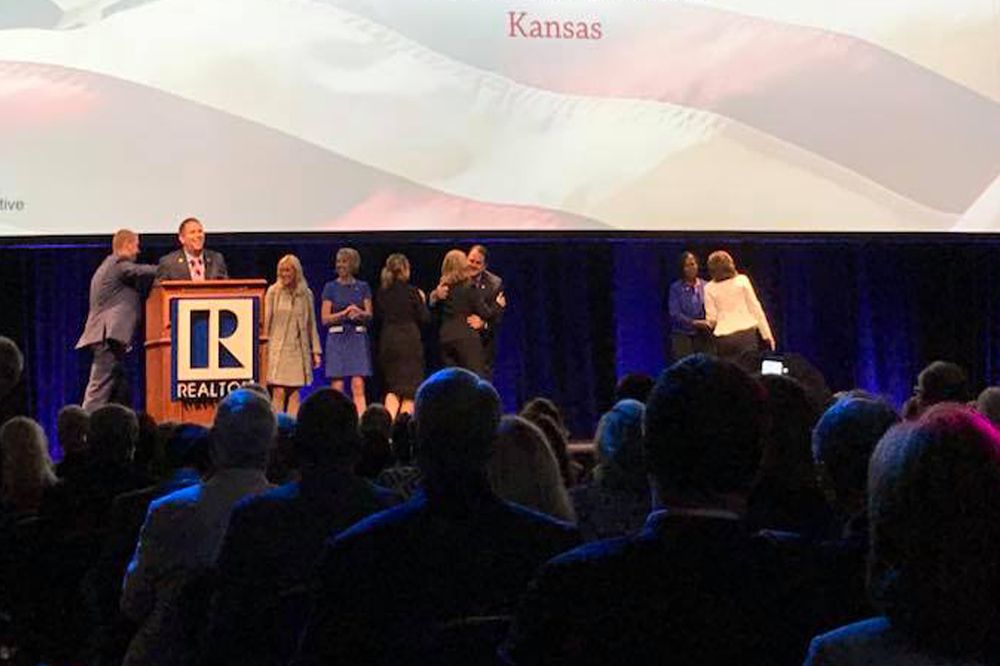 Five KCRAR members were honored last week in Washington D.C.
for their achievement in lifetime contributions to the REALTORS® Political
Action Committee. Rob Curtis of Security First Title, Steve LaRue and Mike
McGrew of McGrew Real Estate, Inc., Judy Miller of Better Homes and Gardens
Kansas City Homes and Elizabeth Rose of ReeceNichols Ide Capital were honored
in Washington D.C. during the NAR Legislative Meetings.
McGrew was inducted for a lifetime contribution of $50,000,
and Curtis, LaRue, Miller and Rose were inducted for lifetime contributions of
$25,000. Members are traditionally inducted at member meetings during May in
Washington, D.C. and are recognized with a lapel pin, an inscription of their
name on a plaque on the National Association of REALTORS'® Washington D.C.
building rooftop and a plaque commemorating their support.
Rob Curtis
Curtis has been a REALTOR® since 1969 and is a past
president of not only KCRAR, but also Heartland MLS, the Johnson County Board
and the Kansas Association of REALTORS®. He has received the REALTOR® of the
Year and Distinguished Service Awards from local and state associations. He has
also served on and chaired several committees for the local, state and national
associations.
"I choose to contribute to RPAC because it is an important
way for me to give back to our industry and to support REALTOR® issues at the
local, state and national level, which have a positive impact on how our
business is regulated by government legislators," Curtis said. "Also, it is
very important to be representing private property rights for property owners
to protect them from unfair taxes, rules and regulations."
Steve LaRue
LaRue has been a REALTOR® since 2002 and has since held positions
on the Lawrence Board of REALTORS® including his time as President there in
2010. He was also honored with the Kansas Salesperson of the Year award in 2012
and has graduated from national and state REALTOR® leadership academies. He is
currently chair of the RPAC Federal Disbursements Trustees, where he has been a
trustee for the last seven years, and he also holds the position of President
Elect for the Kansas Association of REALTORS.
"I give to RPAC because home ownership is important. It
changes lives," LaRue said. "We need to make sure we have a legislative
environment that favors home ownership and REALTORS'® ability to list and sell
homes."
Mike McGrew
McGrew has been licensed for 36 years and is a third
generation REALTOR®. He first became an RPAC Hall of Fame member in 2010 and
was honored this year for passing the $50,000 threshold. Over his career, he
has accumulated certifications including Certified International Property
Specialist (CIPS), Certified Brokerage Manager (CRB), Certified Residential
Specialist (CRS) and Military Relocation Professional (MRP). He was President
of the Kansas Association of REALTORS® in 1998 and has earned awards including
REALTOR® of the Year and the Distinguished Service Award for both the Lawrence
Board of REALTORS® and the Kansas Association of REALTORS®. He also held
positions on the national level, including NAR Region 9 Vice President in 2003
and NAR Treasurer from 2014 to 2016.
"I've seen the difference that RPAC makes not only in
Washington D.C., but in Kansas and our local communities," McGrew said. "It is
one of the best investments I've ever made and I plan to invest in RPAC as long
as I'm a REALTOR®!"
Judy Miller
Miller has been a REALTOR® for 46 years and during that time
has received awards and recognitions including, Salesperson of the Year for
Johnson County (twice), Salesperson of the Year for KCRAR (twice),
Distinguished Service Award for KAR (twice) and Distinguished Service Award for
KCRAR. She has served as President of the Johnson County Board and is currently
serving as a state director. She has been a chair or member of many committees
and has received her REALTOR® Emeritus.
"I feel that RPAC is vital to our industry and gives us a
voice at the table not only in our respective states, but in Washington as
well," Miller said. "I also believe that as REALTORS®, it is our responsibility
to help protect private property rights of our homeowners and ultimately our
industry. To me, my RPAC contribution is insurance to protect my business day
in and day out."
Elizabeth Rose
Rose has been a REALTOR® since 1975 and has since held several positions in office in St. Joseph, including President, Vice President and Treasurer. She serves on nearly every committee in St. Joseph as a chair, vice chair or member. She has won local awards including REALTOR® Agent of the Year, REALTOR® Service Award, Chairperson of the Year and has earned GRI and CRS designations. Rose has been a Lifetime Member of RPAC since 1991.