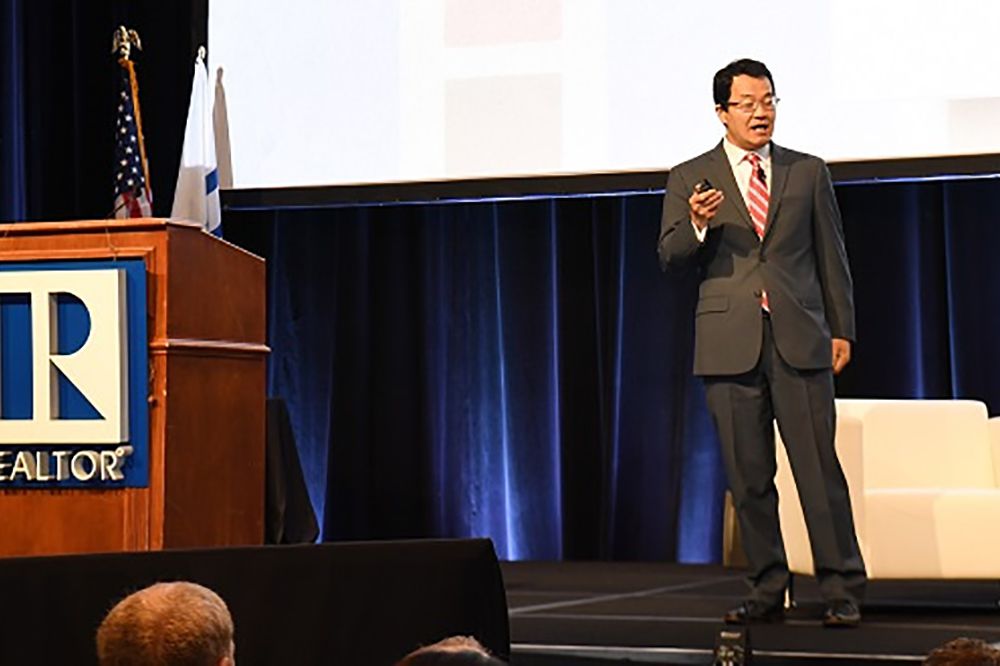 Presenting a mostly optimistic view of the economy for 2019
and 2020, Lawrence Yun, chief economist at the National Association of
REALTORS®, told audiences on May 16 at the REALTORS® Legislative Meetings &
Trade Expo in Washington, D.C., that a near-term recession is unlikely. But a
few factors—particularly tariffs and the escalation of U.S. trade disputes with
China into a "full-blown trade war"—could derail the country's economic
expansion, he said.
Yun presented his forecast at two forums: the Residential
Economic Issues & Trends Forum and the Commercial Economic Issues &
Trends Forum. Among his key points:
By July, America's economic expansion will be the longest
ever, marking 10 straight years of upticks since the recovery from the Great
Recession began in June 2009.
China doesn't play fair, but the imposition of tariffs on
imports will have a negative effect on both the U.S. and Chinese economies.
With the Federal Reserve indicating it will not raise the
federal funds rate in 2019, expect an increase in housing sales in the second
half of the year.
While inventory shortages are easing, the country still
needs more residential and commercial construction to keep up with the growth
of U.S. households and increases in employment and wages.
Most indicators in 2019 point to a positive outlook, Yun
said. Consumer spending, business investment, and residential investment are
all up, while government spending has remained neutral. The only negative
indicator is in net exports. But U.S. imports have always been higher than
exports, Yun said. "That's because our economy is strong, and we have more
money to buy things. We also have the extraordinary privilege of the U.S.
dollar," a safe investment for global investors compared with other currencies.
While affordability has been sliding and is now a big issue
in some markets, Yun pointed out that NAR's Affordability Index—a measure that
takes into account home prices, income, and interest rates—is actually higher
than in the year 2000. The reason: Interest rates were at 8% at that time,
compared to 4% today.
Yun offered a tip at the residential forum: As a result of
the 2017 tax reform, few Americans are itemizing their income taxes—so real
estate professionals should be sure their marketing materials are updated.
Instead of focusing on the tax benefits of owning, focus on the wealth effect
of homeownership. Homeowners have a median net worth of more than $250,000,
compared to near $0 for renters, he said. And while African Americans are still
playing economic catch-up as a result of historical discrimination, those who
own a home have a much higher net worth—a median of $100,000—than white
renters.
Yun also pointed to the imbalance in wealth between older
Americans and millennials, telling REALTORS® they were likely to see a pattern
of wealth transfer in the next few years, as parents and grandparents choose to
put their money into supporting the next generation's home purchases.
At the commercial forum, Yun said lowered tax rates for businesses
had resulted in more business investment and jobs. The national unemployment
rate was 3.6% in April, according
to the U.S. Bureau of Labor Statistics. "I never thought unemployment could go
this low on a national basis," Yun said. With 2.6 million new jobs in 2018, he
added, the country is seeing a rare occurrence: more unfilled jobs than
unemployed workers.
Yun presented NAR's Quarterly Commercial Real Estate Survey,
which collects data from commercial REALTORS® to provide an overview of market
performance, sales and rental transactions, current economic challenges, and
future expectations. For the first quarter of 2019, Yun said, respondents named
the following market opportunities:
Opportunity zones

, with the promise of reduced
capital gains for investors who meet the statutory deadlines.
Affordable multifamily, senior, and student housing.
Small, affordable Class A/B garden offices and retail.
Speculative (prebuilt) industrial and warehouse space.
Vacant building purchases for redevelopment or repurposing.
Influx of foreign capital.
Robust local market and national economy.
– Reprinted from REALTOR® Magazine Online

, May 2019, with permission of the National Association of REALTORS®. Copyright 2019. All rights reserved.