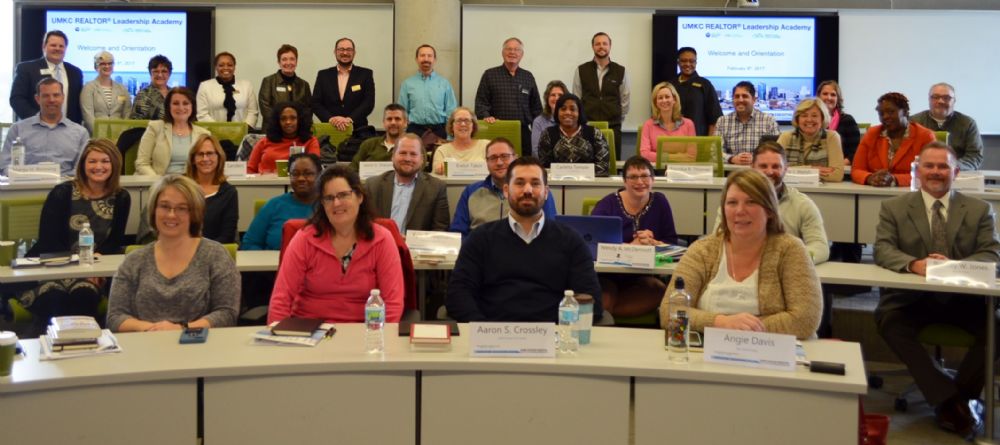 In early 2017 KCRAR partnered with the Henry W. Bloch School
of Management at the University of Missouri-Kansas City to develop the UMKC
REALTOR® Leadership Academy. The program's 2017 inaugural class graduated this January from the ten-month program developed to
support real estate professionals who are committed to advancing their careers
through education and civic engagement.
KCRAR is now accepting applications for the 2018 Fall session of
the UMKC REALTOR® Leadership Academy. Registration is limited to just 25
students per year.
Through classroom activity, participants will explore
critical individual and organizational leadership topics through three
core-themes; Industry Context, Regional Leadership and Practice Management. To
add connectivity across class content, participants will work on team-based
assignments throughout the course, engage in field-assignments and interact
with industry experts.
Schedule
The UMKC REALTOR® Leadership
Academy will meet once monthly on Wednesdays from 8:30 a.m. to 4 p.m. beginning
in September. Classroom
sessions will be held at KCRAR except for the opening and concluding sessions
which will be held at the University of Missouri-Kansas City. Some regional
travel may be required to complete project related assignments.
Registration
Registration to the UMKC REALTOR® Leadership Academy is open
to active REALTOR® members and is limited to 25 participants. Interested
applicants should complete the application form or email [email protected] for
further information.
Still wondering if the Leadership Academy is right for you?
Hear a personal testimonial from one of this year's graduates here.