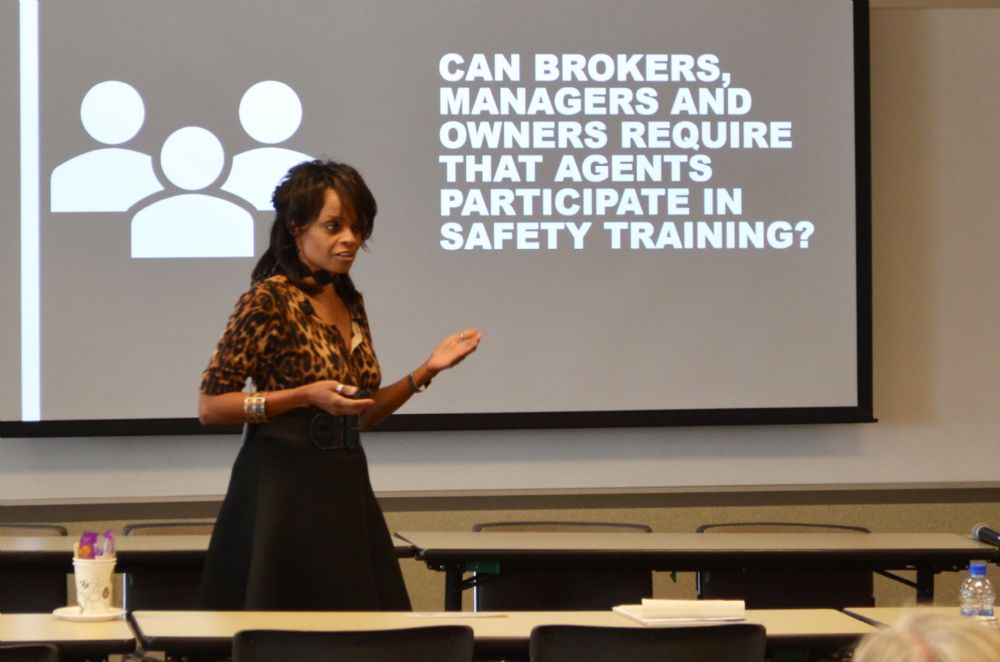 Tracey "The Safety Lady" Hawkins came to the Small Brokerage Firm Forum last Wednesday to share some tips and important safety practices for not
just Safety Month, but every day of the year. Hawkins is a national trainer who
specializes on REALTOR® safety.
Hawkins' overarching theme in her conversation was that
"safety culture starts at the top," and brokers need to make it a priority in
their respective firms. Hawkins brought up the lawsuit that followed the death
of Arkansas REALTOR® Beverly
Carter, who was murdered while showing a home. After her death,
Carter's family filed a lawsuit against her real estate firm, because they
believed she was not properly educated on safety. Hawkins used this case to
stress the importance of providing safety training within brokerages, which she
believes could prevent tragedies like Carter's.
"Agents make a living meeting complete strangers in empty
houses," Hawkins said. She said that real estate can be an inherently dangerous
profession for that reason, so the best way to combat that is through safety
education.
She said the first step is for brokers to implement a safety
policy and handbook in their firms. Part of that training would be informing
agents of all the safety resources available to them, like the LifeLine
Response safety app, which is offered for free to all KCRAR members.
On top of the physical safety of agents, Thomas Randolph
spoke at the forum on the topic of legal security. He explained that brokers
have a legal and ethical responsibility to ensure their agents comply with the
Fair Housing Act, which prohibits any discrimination based on race, color,
religion, sex, handicap, familial status or national origin.
This means that advertising should be free of language specific
to any group of people, including phrases indicating a property would be good
or bad for children, empty nesters, couples, etc. Randolph also suggested that
the Fair Housing logo not only be present on all advertisements, but on
business cards as well.
Attendees also heard from representatives from the Missouri
and Kansas Real Estate Commission, KCRAR Attorney, Jim Hubbard and KCRAR staff
on subjects such as real estate advertising rules and regulations, social media
marketing best practices and property waivers.