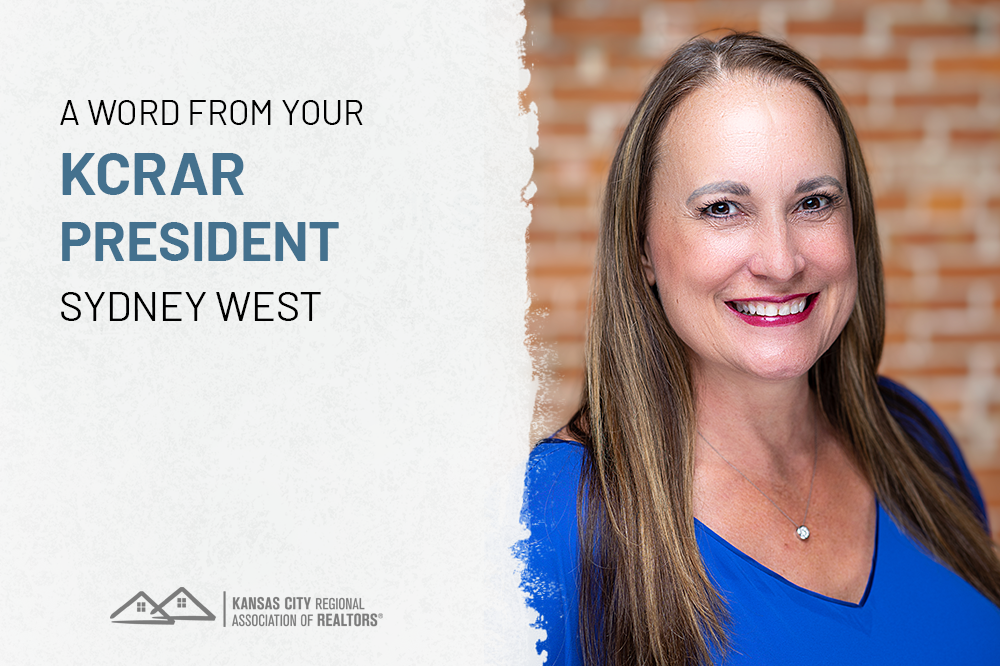 By Sydney West, 2023 KCRAR President
Happy March — I am so excited for our Spring market, and I hope that you are too! With all the activity we will be seeing in the coming months, this is the perfect time to talk about one of the key parts of our profession. Relationships.
Relationships Matter.
As REALTORS®, we have a business built on relationships. Relationships with our clients, relationships with our vendors, relationships with our community, and especially our relationships with other REALTORS®. Building and maintaining strong relationships is the number one pillar of success in our profession.
With the Spring market coming, it seems the perfect time to write about relationships—about our relationships with other REALTORS®. These first months of the year, I have been attending lots of events, some in our local metropolitan area, some farther out in parts of Kansas and Missouri. Events ranging in topics from local issues to state and national issues. My favorite part of these events is the other people I interact with. REALTORS® are some of the nicest, smartest, most fun people around, and I feel it every time I enter the room! Some of these events, I could have attended virtually, and I chose instead to be there in person. Why? Because at the heart of every real estate transaction is the relationship between the parties. Especially the relationship between the agents. That relationship can make a huge difference in a smooth or difficult transaction.
Those relationships often start long before a deal is even put together. They start in a smile and an introduction while getting coffee at a meeting, by sitting next to someone in a training class, by the conversation that happens before and after these events. Relationships are created in the everyday moments we share. Relationships are made virtually as well, although these are much more difficult. In a meeting, it is being engaged via a chat box and a camera.
The place we are creating relationships with other agents the most often without even realizing it is when we are doing one of the most common things in our business – showing homes! It starts with scheduling, conducting the showing, following up. Whether representing the buyer or the seller, each agent is creating a relationship with how these steps are handled. As the listing agent, are your showing instructions clear and easy to follow? Are you conveying information about the property in a timely fashion? Are you responding to phone calls and messages promptly? As the showing agent are you treating the property with courtesy during the showing? Are you responding with follow-up? Every step of the way a relationship is being created. That relationship may not seem important when the property isn't a fit for your client at the moment, but in reality, it may become important for another client in the future.
As REALTORS®, we pride ourselves on cooperation. Cooperation starts with a relationship. A relationship we are building with every interaction we have. I encourage you to build stronger relationships with other agents in the coming months. Take the extra time to attend a meeting or event in person, respond to that showing feedback request, pick up the phone and talk directly when there is something to discuss that requires more than a simple answer. I promise, you will be building a relationship that makes your business stronger and makes you more successful. I look forward to all the new relationships I will be making in this coming year—and I hope one of those relationships is with you!