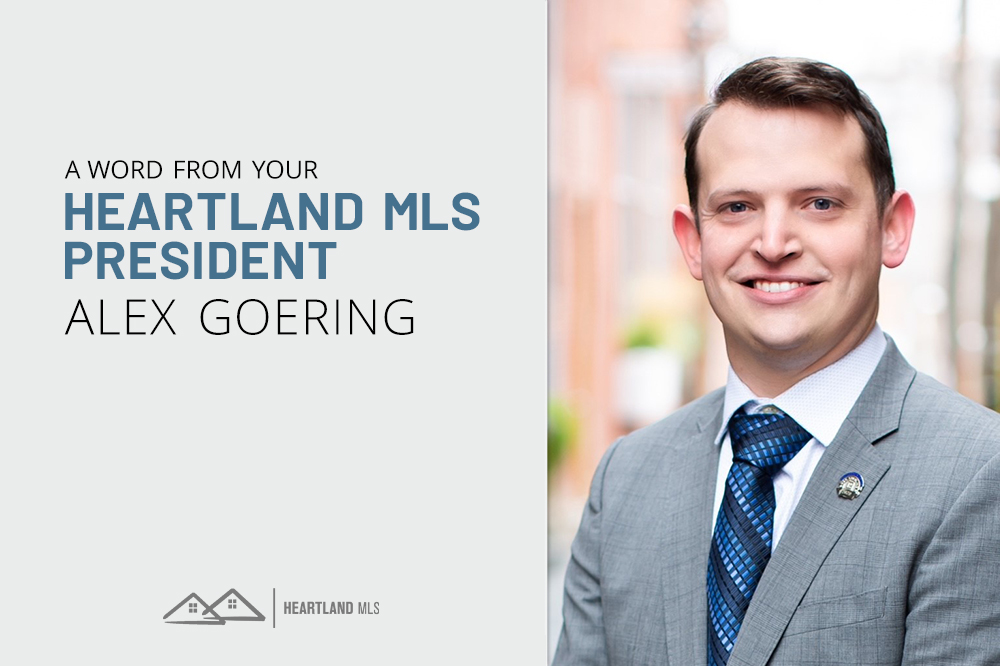 By Alex Goering, 2022 Heartland MLS President
KCRAR and Heartland MLS presidents have been doing these presidential guest columns for a while. As an association junky, some of my favorite people have been "guest columnists," and I've always enjoyed reading the work of my friends. In February of 2020, KCRAR President (and my friend/podcast co-host), Bobbi Howe, wrote about the Chiefs winning the Super Bowl. Now that Football season was over, what would we do with ourselves? Bobbi laid out three things that we could now do on Sundays: 
Learn 
Plan 
Recharge 
Well, we certainly had plenty of time for all of that, didn't we? Thirty days later, Bobbi was writing about passing her time with live-streamed Hot Wheels races. We were inside. We were isolated. Even though the navigation of the real estate market was deemed an essential service, our business came to a near-halt due to uncertainty in the marketplace. What was going to happen? 
That "near-halt" was relatively short lived. As it turned out, there was one certainty that COVID-19 could not bring into question: People will always need to buy or sell real estate. It didn't take long for insatiable demand to meet limited inventory, while scores of buyers and their agents flooded homes all at once and attempted to social distance in a 2,300 square-foot home on an average Thursday. In a word, it could be described as "insane." REALTORS® led buyers and sellers through the uncertainty, and right into a frenzy.  
In the last few months, we have been experiencing another uncertainty in the marketplace that is new to many of us. Higher interest rates have changed the landscape by impacting affordability. But here's the truth: People weren't buying and selling real estate during the pandemic strictly because of low interest rates. It is our job to cut through uncertainty once again, giving buyers and sellers the information and guidance they need in order to make the best decisions. No matter the circumstances, REALTORS® and their clients are never without opportunity. Prospective sellers have likely realized massive appreciation since they bought their home. Prospective buyers may have the opportunity to purchase a home with an inspection, unmodified appraisal contingency, or even a contingency on the sale of the buyer's home. It is still a great time to buy and sell real estate.
While at one point it seemed that Bobbi's call to "Learn, Plan, and Recharge" opened up a hellmouth that swallowed us into a universe in which that was literally all that we could do, it was excellent advice. Those who listened likely saw great success in the months that followed. This is business planning season. No matter what is happening today in your business, you should be planning for the future. It won't be long before consumer expectations adjust, and that insatiable demand will once again be met with limited inventory. Interest rates may be the topic of the season, but low inventory will continue to be the real problem to solve in this decade. If REALTORS® can cut through the uncertainty caused by COVID-19, which is one of the most traumatic collective experiences in centuries, we can cut through the uncertainty of higher (but still historically low) interest rates. Those of you with a plan, and who have the discipline to stay the course, will continue to thrive.
It's possible that a future President pulls this column out of the archives and says, "Wow, Alex had no idea where we'd be today." Even if that's the case, I know that opportunity will still be available for REALTORS® who are willing to find it. Plus, it will make for a great introductory paragraph in that President's guest column.