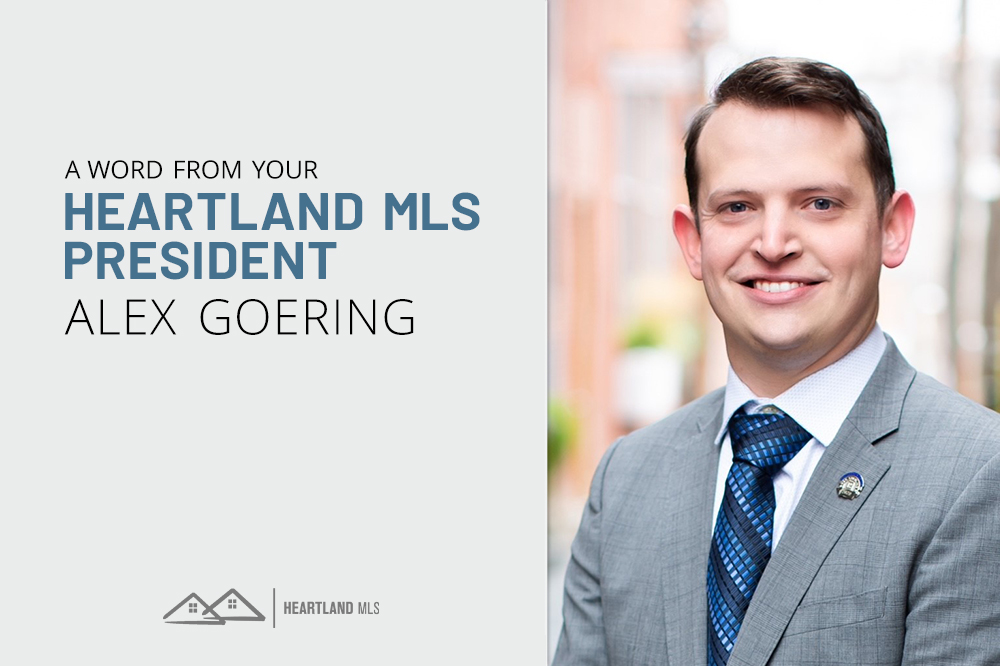 By Alex Goering, 2022 Heartland MLS President
If you follow many of your fellow REALTORS® on social media, you've probably seen a post or two about an upcoming softball game. All across the city, REALTORS® are preparing for this epic showdown by going to batting cages, playing catch, and searching for their favorite flavor of Big League Chew Bubble Gum. This isn't your average REALTOR® pick-up game. We've rented out the Monarch's Stadium, and NAR President-Elect Kenny Parcell will be flying into Kansas City to throw out the first pitch. So, why all the fanfare? What in the world does all of this have to do with real estate?
It's election season, which means that every time I go to my mailbox, I am likely to find at least three postcards attacking candidates with terrible puns and badly photoshopped images. Strong opinions are on display, and friends and family find themselves in conflict with one another. It's easy to focus on the issues that appeal to each of us on an emotional level. It is equally easy to miss the issues that could significantly impact the real estate industry. This is where our incredible advocacy team comes into play.
Every election season, our REALTOR® staff at the local, state, and national levels work tirelessly to analyze the candidates and issues that appear on our ballots. They aren't looking for drama, they aren't looking at party affiliations, and they aren't looking for the more emotionally appealing issues that the media loves to cover. They are looking for opportunities to protect property owners, real estate professionals, and our communities from legislation that makes it more cumbersome for people to participate in the real estate market. They are protecting us, our clients, and our future clients. They are protecting housing providers and builders. They are making sure that people can affordably continue to reap the many benefits of participation in the real estate marketplace.
This incredible advocacy doesn't stop after the election season. In fact, that's when the real work begins. No matter who wins an election, our staff and volunteers will work to build a relationship with that person to make sure that they understand our perspective on real estate related issues. Many law makers and local elected officials know very little about our industry or fail to see how certain issues may impact our participants. It is too easy to miss how a seemingly harmless bill may negatively impact the cost of homeownership, the development of inventory, or the tax burden on citizens with a fixed income. Many REALTORS® are unaware of these efforts because our staff and volunteers are often able to stop issues like these from coming to fruition before they ever even reach a chamber floor. They are working with incredible determination to protect you, so that you can continue to focus on your business and your clients.
What does all of this have to do with softball? This softball game isn't just a softball game. It is a critically important event that ensures our staff and volunteers can, well, play ball. The "League of R Own" softball game is simply a backdrop for our RPAC Auction, which is one of the most important REALTOR® events of the year. It should come as no surprise that money is required to play the game of politics. It may be a surprise, however, that an event surrounding RPAC can be this fun. If you've never attended before, this is the year to check it out. It's happening on Aug. 18 at Legends Field in KCK. There will be incredible items to bid on, great opportunities for networking, food and drinks, and a softball game to watch. Most importantly, there will be ample opportunity to ensure that our industry's interests continue to be well represented to our elected officials. I hope to see you there, but if you can't make it, you can still support the cause by bidding in the online Silent Auction opening Monday.
PS: Michael Pierce couldn't hit the broad side of a barn with a bat. GO CLOSERS.