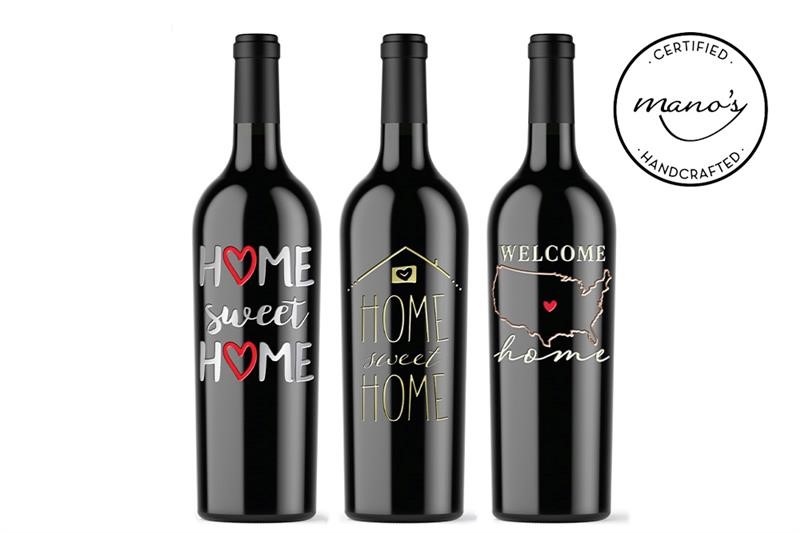 KCRAR has recently partnered with Mano's Wine to offer a variety of wines from its "Home Sweet Home" collection to KCRAR members at a discounted rate.
In its efforts to expand the KCRAR REALTOR® Store's selection of closing gifts for members, KCRAR was seeking a way to offer a wine gift option that could be both a high quality wine and also a thoughtful memento. Mano's Wine, based in Kansas City, Mo. and known for its artistic etched bottles, satisfied both criteria.
"We believe buying a house is more than just a transaction, which is why we want to give our members a unique opportunity to make a lasting impression on their clientele," said KCRAR Leawood Store Manager Breanna Van. "Our home warming gifts are designed to not only say congratulations, but give a meaningful gift that's memory will last a lifetime."
This collection is designed specifically with closing gifts in mind, with bottle designs including phrases like, "Welcome Home," "Wishing You Love and Happiness in Your New Home," and more. Several of the bottle designs are customizable, giving the purchaser the ability to add text, such as a last name and date. All of these designs are deep-etched and hand painted onto the bottle itself by skilled artisans, with the exception of their sparkling white wine option, which allows the purchaser to add a photo to be printed on the label.
The Mano's Wine website shares that, "As an urban winery, our process starts with our esteemed winemakers carefully sourcing the best wines from the finest vineyards around the world. Once the wines are selected, we ship the juice to our headquarters in Kansas City, Missouri where we blend, age, finish & bottle the wine to create the perfect selection for each palate. This method of wine making allows us to take advantage of the regions with the best climate and growing conditions for that specific year, which ensures our ability to create the highest quality wines. Our wine regions may vary year to year, but the quality does not!"
KCRAR members can use promo code "KCRAR" to receive 5% off their order, which they can have shipped to them, shipped directly to their client, or placed for pickup at the Mano's Wine headquarters in downtown Kansas City, Mo.