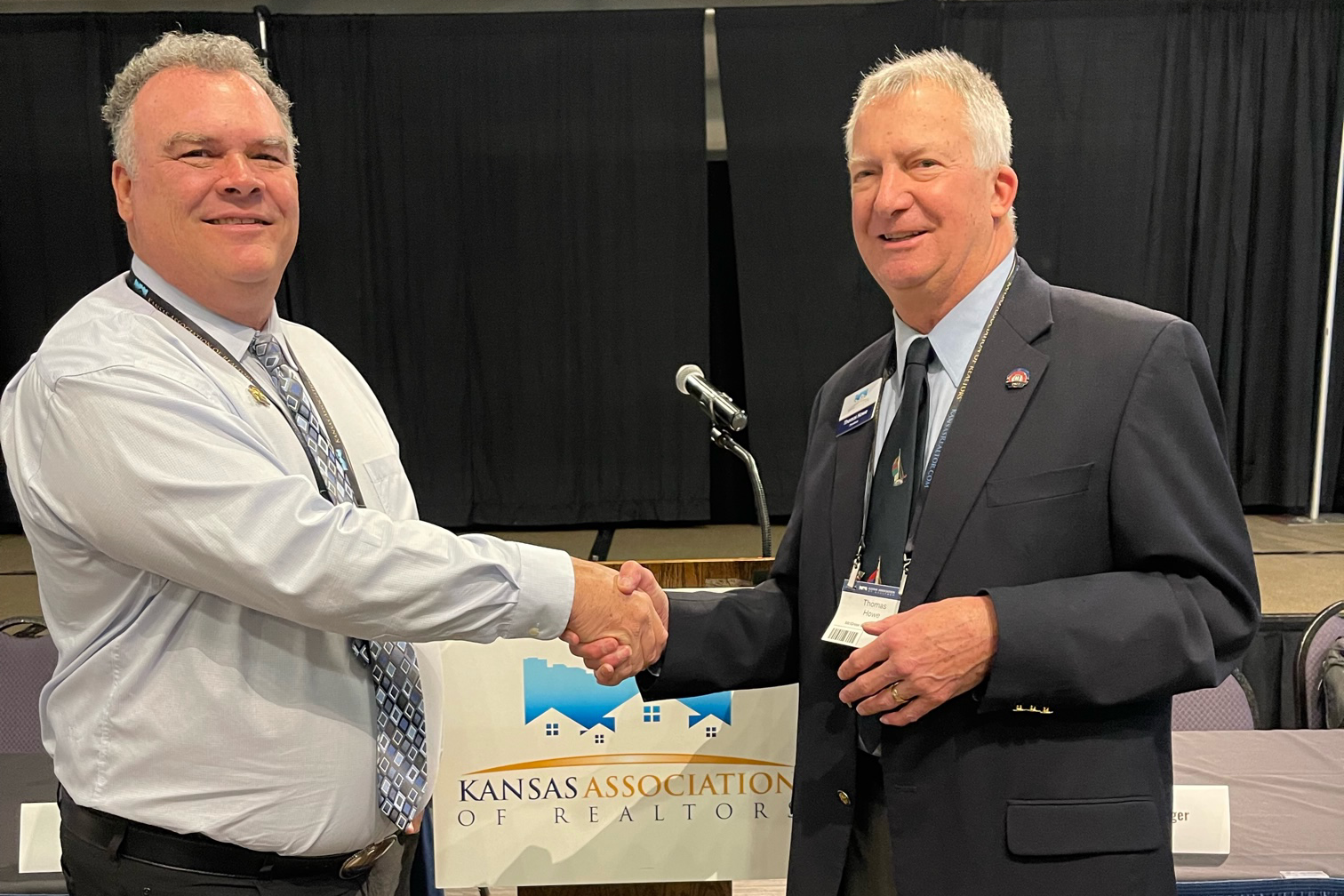 Dozens of Kansas REALTORS® traveled to Topeka this week to advocate for private property rights at the annual Kansas Association of REALTORS® (KAR) Capitol Conference, led by 2023 KAR President Thomas Howe.
At the conference, KCRAR Past President Jeff Hill was elected by the KAR Board of Directors as the 2024 KAR First Vice President.
"Jeff has a long history of service to the Real Estate Profession, and I look forward to him taking his passion, expertise and enthusiasm to our state association to represent all Kansas REALTORS®," said Jeff Carson, KCRAR Kansas Director of REALTOR® Advocacy and KAR Past President.
REALTORS® in attendance met with state leaders, including Speaker of the House Daniel Hawkins, House Majority Leader Chris Croft, Senate Minority Leader Dinah Sykes, Senate Assistant Majority Leader Renee Erickson and Senate President Ty Masterson to discuss upcoming legislation affecting housing.
REALTORS® advocated on behalf of Senate Bill 34 which would expand the Rural Housing Investment District (RHID) to include larger counties/municipalities to open up incentives to provide reimbursements to developers in building housing in rural communities by financing housing development infrastructure or renovations of buildings or structures built over 25 years ago for residential use in a central business district. This opportunity has the potential to assist in affordable housing initiatives that might not be possible but for these incentives at a time when accessible housing is becoming more difficult to obtain.
REALTORS® also advocated for House Bill 2083, which would create the Kansas Vacant Property Act to prohibit municipalities from imposing any fees or registration requirements on the basis that property is unoccupied. REALTORS® believe that property owners who are maintaining their properties while vacant shouldn't be treated differently than other classes of property.