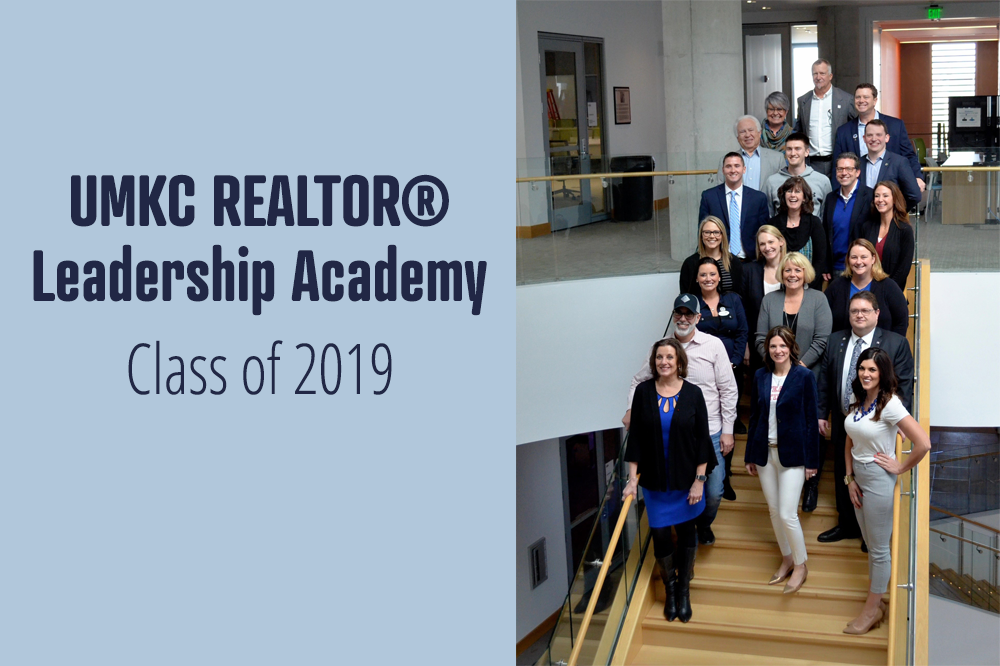 22 KCRAR REALTOR® members graduated Wednesday from the University
of Missouri Kansas City REALTOR® Leadership Academy, a seven-month program
where students studied advanced industry principles, leadership development and
business management practices.
KCRAR partnered with the UMKC Henry W. Bloch School of
Management in 2017 to create and develop this program, which has now graduated
a total of 44 REALTORS® since its inception.
"The UMKC REALTOR® Leadership Academy does a fantastic job
each year of educating and equipping some of the stand-out REALTORS® in our
region," KCRAR CEO Kipp Cooper said. "The skills taught in this academy are
designed to give REALTORS® what they need to take their business to the next
level, and I'm sure this year's graduates will be doing exactly that."
This year, students were given the opportunity to select
their own elective courses from the offered classes at the UMKC Bloch School.
Brian Daly, managing director of the Bloch Executive Education program at UMKC
said that was a great addition to the program.
"I think the biggest take-away from the program, aside from
the network, is the experience of taking a big step out of the everyday 'job'
in order to gain perspective and to better understand the forces that are
shaping the marketplace," Daly said. "Practicing tools for leading people
through change and for better understanding the effects of disruption can only
serve to help lead more effectively."
The following 22 REALTORS® not only accepted their
graduation certificates during a commencement ceremony Wednesday, but have now
also earned Alumni status at the Henry W. Bloch School of Management:
Vin Belcher, Rick Bradford, Kathryn Clark, Chris Cribb,
Shawn Dunavant, Joanna Eibes, Haley Epps, Adrienne Fisher, Alex Goering, Missy
Greene, Thomas Howe, Kristin Johnson, Susan Johnson, Jessica King, Trevor
Lorance, Connor Reeves, Sheri Shaw, Thomas Shaw, Holli Starr, Jana Weaver,
Tricia Wegner and Mary Wilcox.
Applications are currently
open for the 2019-2020 session, which will begin in September. Deadline for
application is July 31.