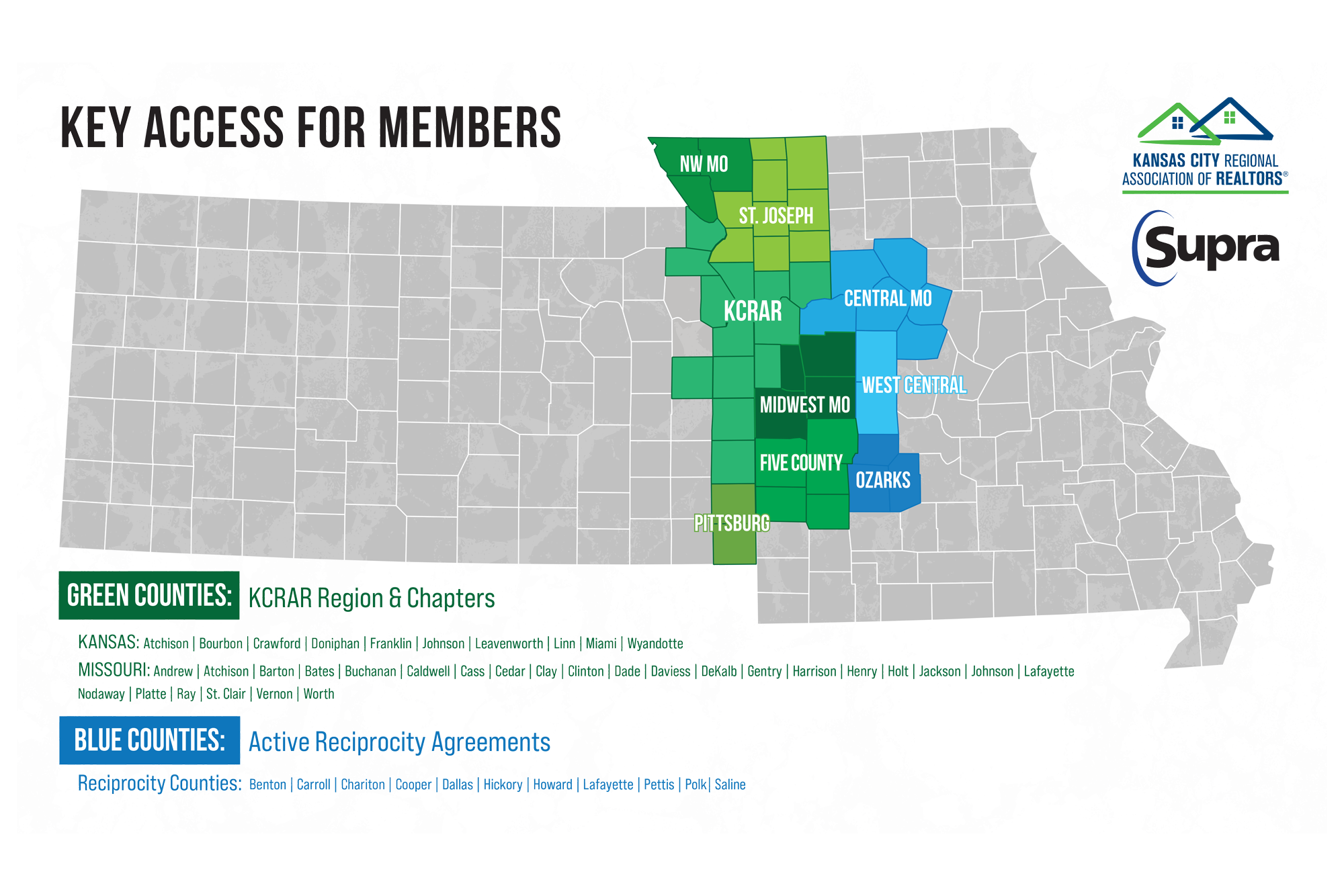 Through KCRAR's recent mergers and reciprocal key agreements with associations outside the KCRAR jurisdiction, KCRAR has greatly increased the access, reach, security and convenience for its agents and Industry Partners.
Thanks to reciprocity agreements between KCRAR and surrounding local REALTOR® associations, KCRAR member eKeys also function in Benton, Carroll, Chariton, Cooper, Dallas, Hickory, Howard, Lafayette, Pettis, Polk and Saline Counties, and additional counties coming soon.
The Supra iBox secures property keys in a lockbox that can only be unshackled by eKey holders, offering increased security for homeowners and convenience for Industry Partners (affiliates). With each showing agent using their eKey to access the iBox, listing agents have access to a full log of every agent who has opened the box. Additionally, Industry Partners who hold affiliate eKeys, such as inspectors, can retrieve property keys from iBoxes using CBS codes provided by the agent.
"It's important that I'm providing the best security for my clients and they can feel confident knowing that only authorized agents have access to their home," KCRAR President Sydney West said. "I'm happy to know I'm providing my clients the highest level of service, and using Supra lockboxes is an important piece of that service."
As an added service, homeowners can opt in for end of showing notifications, which will send a text message notifying them when a showing of their home has ended so they know they can return home. The seller will receive the notification after a showing when the showing agent crosses a 1,000-foot radius of the iBox.
"My clients also like that they have their own access to the system so it's easy for them to track upcoming showings and be notified when showings are completed," West said. "Being able to track exactly who has accessed the property, and what time the box was used also provides an additional level of information that can be useful."