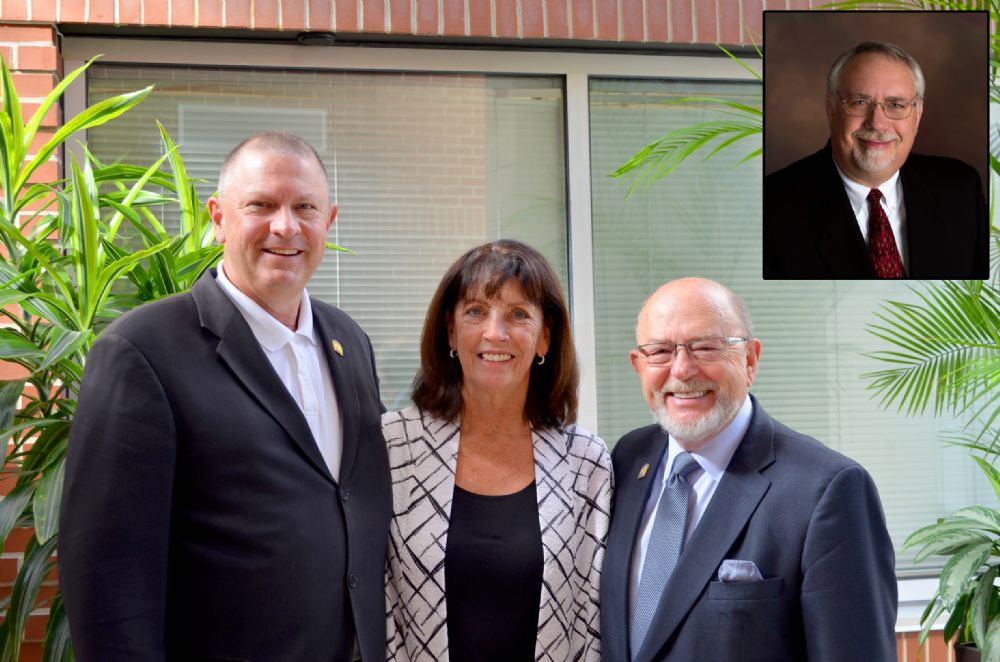 Three members of
the Kansas City Regional Association of REALTORS® were honored last week in Washington
DC for their achievement in lifetime contributions to the REALTORS® Political
Action Committee. Jim Gamble of The Gamble Group, T. David Rogers of RE/MAX Elite REALTORS® and
Pat Tholen of RE/MAX Premier Realty were honored on May 18th in front of a gathered
audience of their peers and fellow REALTORS® while in the nation's capital for
NAR's annual Midyear Meetings. They join Dan O'Neill of ReeceNichols East who served as KCRAR's 2015 Board President and was inducted into the RPAC Hall of Fame in
2015. Previously honored inductees also include Dennis Curtin.

The Hall of Fame recognizes dedicated members whose lifetime RPAC
investments total an aggregate of varying levels. Gamble and Rogers were
inducted for lifetime contributions of $50,000; Tholen and O'Neill were
inducted for a lifetime contribution of $25,000. Members are traditionally
inducted at member meetings during May in Washington, D.C. and are recognized
with a lapel pin, an inscription of their name on a plaque on the National
Association of REALTORS®' Washington, D.C. building rooftop, and a plaque
commemorating their support.
An induction into
the RPAC Hall of Fame is a tremendous distinction, one given to a small
percentage of REALTORS® nationwide, and KCRAR is proud to be represented by
these 4 dedicated members.
Jim Gamble
Jim Gamble has
been a REALTOR® for over three decades, and has been counted among the top 10
percent of REALTORS® for Missouri since 1995, and served as KCRAR's Board
President in 2006. In 2014, Gamble served at the President for Missouri
REALTORS®, leading and helping to make decisions for over 18,000 REALTORS® in
the state.
"I began my RPAC journey within a
year of becoming a REALTOR®," Gamble said. "Since then, advocating
for Homeowners and investing in RPAC have become a part of who I am. It is, in fact, the best investment a
REALTOR® can make in their business."
"I believe in leading by
example," Gamble added.
T. David Rogers
Rogers is another
veteran REALTOR® for Missouri, and a Broker Owner for RE/MAX in Lee's Summit.
In addition to earning his CCIM, CRB, GRI and SFR designations, he currently
serves as the 2017 Vice Chair for NAR's Medium State Forum. A past President
for Missouri REALTORS®, Rogers also served as KCRAR's first Board President in
2001.
"I'm very proud
to be a member of the REALTOR® family," Rogers said of his induction. "I
believe that one of the responsibilities of being a professional in the
industry is being a major contributor to RPAC. It's important."
Pat Tholen
Pat Tholen has
been a licensed REALTOR® since 1973, and has since earned a mountain of
accolades, including 1998 REALTOR® of the year for the Kansas Association of
REALTORS. She served as President of the Kansas Association of REALTORS® in
1995, and was a two-term director of the National Association of REALTORS®.
"I am delighted
and honored to be inducted into the National RPAC Hall of Fame. To be
recognized as a Hall of Fame member fulfills a personal goal and makes me proud
to have played a small role in the organization's success," said Tholen.
Dan O'Neill
Dan O'Neill has
been with Reece Nichols since 2003 and has fully distinguished himself as a
leader in the industry, both within KCRAR and without. An Air Force veteran,
O'Neill has since gone on to be named Kansas City's REALTOR® Salesperson of the
Year in 2010, Missouri's REALTOR® Salesperson of the Year in 2012, and KCRAR's
Board President in 2015. "As an RPAC Hall of Fame member, I believe and invest
in RPAC because I can see the results," O'Neill said. "Investing in RPAC is to
our industry what saluting the flag is to the U.S. Military Services."
RPAC is a voluntary political action committee whose
membership consists of REALTORS® and affiliates interested in actively and
effectively protecting the real estate industry and the dream of homeownership
by participating in government affairs at the local, state and federal
levels. Although RPAC does not back political
parties and does not get involved in presidential politics, it does back
congressional candidates who have strong records of supporting homeownership
and private property rights.
Since 1969, the REALTORS® Political
Action Committee (RPAC) has promoted the election of pro-REALTOR® candidates
across the United States. The money to accomplish this comes from voluntary
contributions made by REALTORS®. For more information about RPAC and NAR's political advocacy program, please click here.