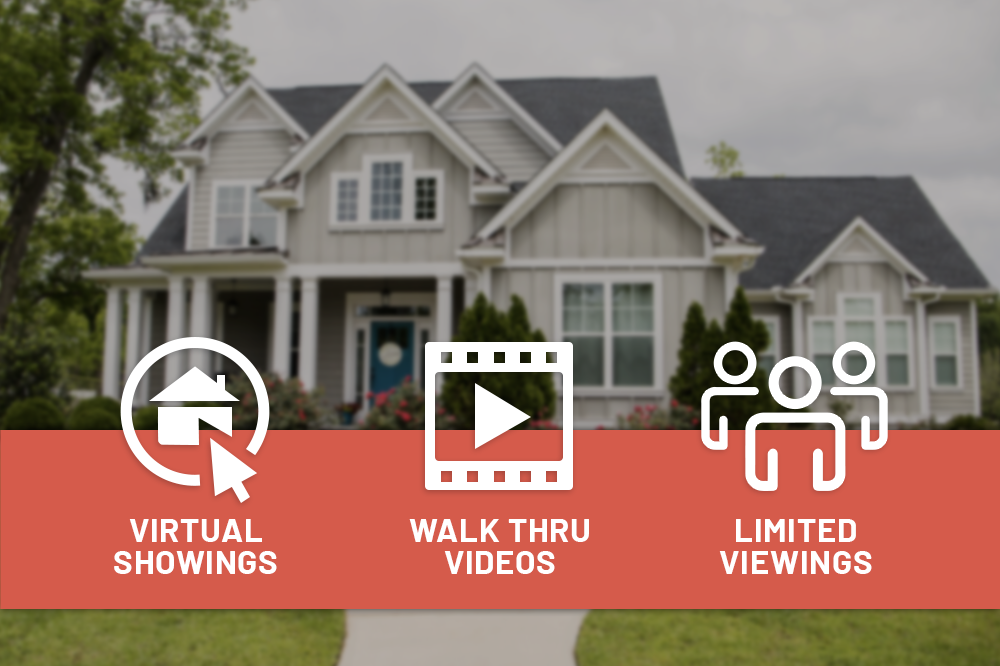 As our historically busy spring market has started, and the impact of COVID-19 continues to evolve, KCRAR and Heartland MLS urge its members to stay informed, stay calm and be supportive of fellow brokers, agents and the public.
The Centers for Disease Control (CDC) is currently recommending people not gather in groups of 10 or more. Additionally, many counties and cities throughout our service territory are coming out with advisories and restrictions daily, including the closure of movie theaters, restaurant and athletic clubs. The KCRAR and HMLS Boards of Directors are following suit with recommendations for conducting real estate interactions during this time.
Open Houses
Open houses and broker opens are currently not allowed under the COVID-19 Emergency Declaration.
Virtual Showings and Emergency Change in Active Status Requirements
Many homeowners are not allowing in-person showings due to Coronavirus concerns. In response to this concern, Heartland MLS is allowing for a special exception during this state of emergency so that those homes may stay in the Active status and continue to be marketed if they provide a virtual showing alternative.
This exception requires that the seller or the listing agent provide a recorded video showing of the property as if it were an in-person showing. This recorded video can then be shared with the buyer's agent to share with his or her clients.
If the sellers will not allow any showings of a property for more than 24 hours at a time and will not allow a recorded showing of the property, then the status of the listing will need to be updated to Temporary Off Market until ready to be shown again. After the maximum of four weeks in Temporary Off Market status, a decision will need to be made to make it Active again and allow showings or move to the Withdrawn status. Showings cannot occur during Temporary Off Market or Withdrawn statuses. Days on Market/Cumulative Days on Market do not calculate in these two statuses. Additionally, these listings will not show on IDX and other syndication websites.
Tips for Showings and In-Person Interactions
ShowingTime has issued an advisory encouraging agents not to allow overlapping showings. Limit the number of people viewing the sellers' home at the same time by using ShowingTime. When setting up a listing, choose "No" for "Allow Overlapping Showings" in the Appointment Restrictions. See the Set up Listings in ShowingTime user guide for details.
Practice social distancing and meet with clients remotely when possible. Consider using video calling technology like FaceTime, Facebook Messenger video calls, Google video, or Skype, and take advantage of dotloop to limit in-person contact.
Think about creating walk-through videos if this is not already in your marketing plan. Buyers may be looking to "walk through" the home first without physically going in person. Many brokers may be doing their first showings this way if available.
Have open communication about coronavirus prior to meeting with anyone in-person. Feel comfortable asking any prospect, client, customer or broker if they are experiencing the symptoms of coughing, fever or chills and/or if they have been in close contact with anyone that has exhibited these symptoms. If the answer is yes, do not meet with them in-person, and recommend the ways they can work with you virtually until they are no longer exhibiting symptoms.
Encourage buyers to only personally visit homes they are serious about writing an offer on and to hold off on looking at homes that do not match their criteria until they've exhausted all other options.
For in-person showings, agents should wear gloves and open all doors, closets, cabinets, etc. If a client wants to open something, they should ask their agent to open it for them and not touch any surfaces inside the property (except handrails).
For in-person showings, only the final decision makers should be present. Leave all parents, siblings and children home when possible.
Visit the CDC's website and the Kansas and Missouri Department of Health websites for the latest updates about the virus. Additional information about the impact of Coronavirus on the real estate industry can be found on the National Association of REALTORS'® website. KCRAR and HMLS are encouraged by everyone doing their parts in the real estate arena to help slow the spread of this illness. The fewer of who contract COVID-19, the more it can help reduce the risk to our more vulnerable populations.
Any questions about how to use HMLS's online products to limit in-person contact in real estate transactions can be directed to MLS Support at hmls@heartlandmls.com or 913-661-1600.