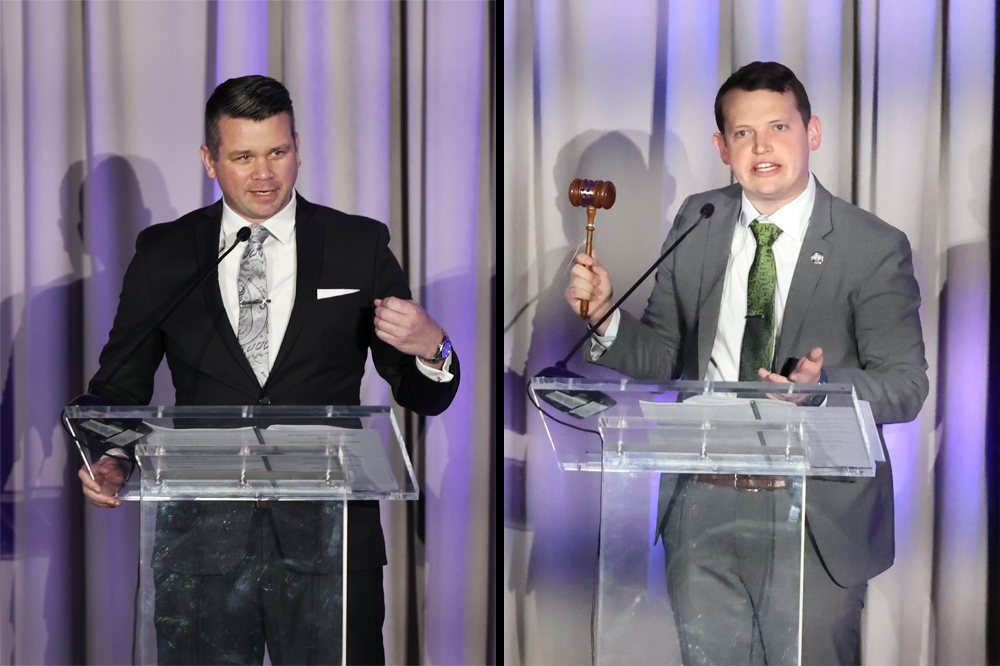 Around 450 REALTORS® and Industry Partners gathered this week at the Loews Kansas City Hotel to witness the installation of KCRAR's 2022 President Michael Pierce and Heartland MLS's 2022 President Alex Goering.
2021 KCRAR President Tony Conant and Heartland MLS President Angela Lofton reflected on their accomplishments from the past year before "passing the gavel" on to Pierce and Goering. "A primary goal of my presidency was to make a difference in the community as a whole," Conant said at the event. "With countless charitable initiatives this year, including Rock the Block, our ReStore Upcycle Auction, Habitat Pride Build, Chapter fundraisers and more, we've donated nearly $100,000 over the course of 2021 to organizations that are making a huge difference in our community. I'm proud that that is the legacy I get to leave behind as I finish my term as KCRAR President, but I know that was an effort of community for community."
Lofton and Conant recognized the commitment and dedication of their respective 2021 Boards of Directors before Pierce and Goering each took the stage for their presidential installations. Both incoming presidents have shown dedication to the real estate industry through years of involvement in Association committees and Boards of Directors. Pierce is a former Heartland MLS President and will be joining the ranks of a select few other REALTORS® who have served in the presidential position for both KCRAR and HMLS. Goering will be one of the youngest people to assume the position of President of Heartland MLS.
Both Pierce and Goering acknowledged in their remarks at the event the importance of the members of the Board of Directors, who are the key decision and policy makers for the Association and MLS.
2022 KCRAR Board of Directors:
Michael Pierce, President
Sydney West, President-Elect
Cindy Cunningham, Treasurer
Tony Conant, Past President
Daniel Brocato
Dina Burks
Kathryn Clark
Linda Cone
Scott DeNeve
Brant Elsberry
Alex Goering
Shelly Hildebrandt
Bobbi Howe
Dan O'Neill
Andi Pawlowski
Annie Premis
Amy Ringsdorf
Harley Todd
2022 Heartland MLS Board of Directors:
Alex Goering, President
Kyle Niemann, President-Elect
Amy Voltz, Treasurer
Angela Lofton, Past President
Chris Austin
Jim Bishop
Sarah Bloustine
Majid Ghavami
John Ketchum
Mark Maschger
Kathy Minden
Michael Pierce
Cory Stewart
Jessica Thomas
Krista Wilson
The event was made possible through the generous support of sponsors including:
Dinner Sponsors: Security 1st Title and Heartland Title
Drink Sponsor: Secured Title of Kansas City
Entertainment Sponsors: BNC National Bank and Secure 24 ADT
Dessert Sponsors: First American Title and WIN Home Inspection – St. Joseph
Holiday Gift Sponsor: Continental Title