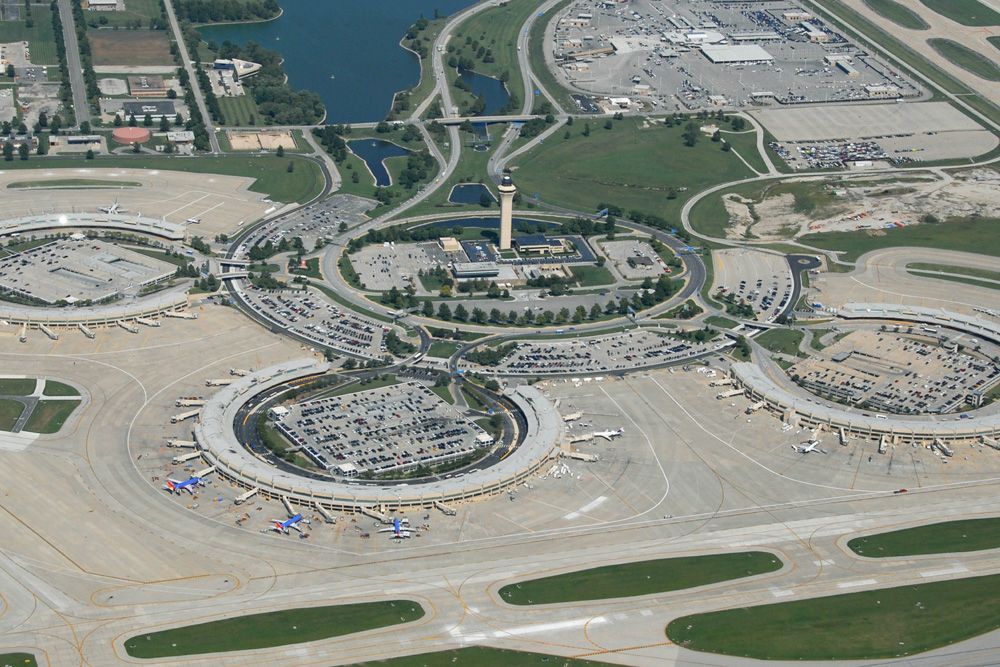 KCRAR was pleased to welcome Tim Cowden, President and CEO
of the Kansas City Area Development Council and Joe Reardon, President and CEO
of the Greater Kansas City Chamber of Commerce to our Leawood office on Friday,
May 12 for a lunchtime chat regarding the future of Kansas City's beloved—if
somewhat dated—Kansas City International airport.
The pair's presentation focused on the now years-long
discussion of abandoning KCI's current three-terminal layout in favor of a
single terminal that's more in-line with modern regulatory and industry
standards.
Discussion about KCI's beleaguered, horseshoe-shaped
terminals has been, over the years, bracing, to say the least. In 2015, the
so-called Single Terminal Project was projected to carry the hefty price tag of
nearly one billion dollars. This understandably piqued the interest of airlines
serving KCI—and served up the ire of the KC City Council. Despite assurances
from the airlines that revenue for building the terminal would not come from a
tax increase but rather an increase in per-passenger fees charged at the
airport, the improvement proposal never made it to a citywide vote.
However, due to the recent success of Mayor Sly James's GO
Bonds initiative, the KCI single terminal issue has come back to the forefront.
Joe Reardon described a new funding plan for the airport levied through Airport
Revenue Bonds, a plan that has been backed by the airlines and guaranteed not to
increase taxes on the people of Kansas City. "If you don't use the airport,
you're not going to pay for it," Reardon said.
Interest around improving KCI's overall capacity through a single terminal has
come from a common feeling among KC Metro residents that the airport has been
left behind in the scramble to keep up with changing demands. While KCI may not
be the largest airport in the country, traffic has been consistently
increasing. In 1976, the airport handled a total of 3.8 million passengers and
handled a minimum of international travelers. Times have changed for the
airport since then. Last year, over 11 million passengers came through KCI,
with 300 a day starting in KCI and ending up in Europe. Yet, despite the
alarming spike in traffic, KCI is actually losing flights to other nearby
airports, like Saint Louis Lambert International, due to its inability to
effectively handle the larger volume of passengers thrust upon it.
The Single Terminal project proposes a shift away from the
three smaller terminals to a single, larger terminal. The increased space would
allow for more flights and amenities, like more restaurants, larger restrooms,
post-security shopping, greater space for security lines, and a USO to serve
all the military personnel from nearby forts Riley and Leavenworth.
Cowden and Reardon made clear their position on the matter
by conflating KCI's functionality with Kansas City's. "A better KCI is crucial
for a better Kansas City Region," Reardon said.