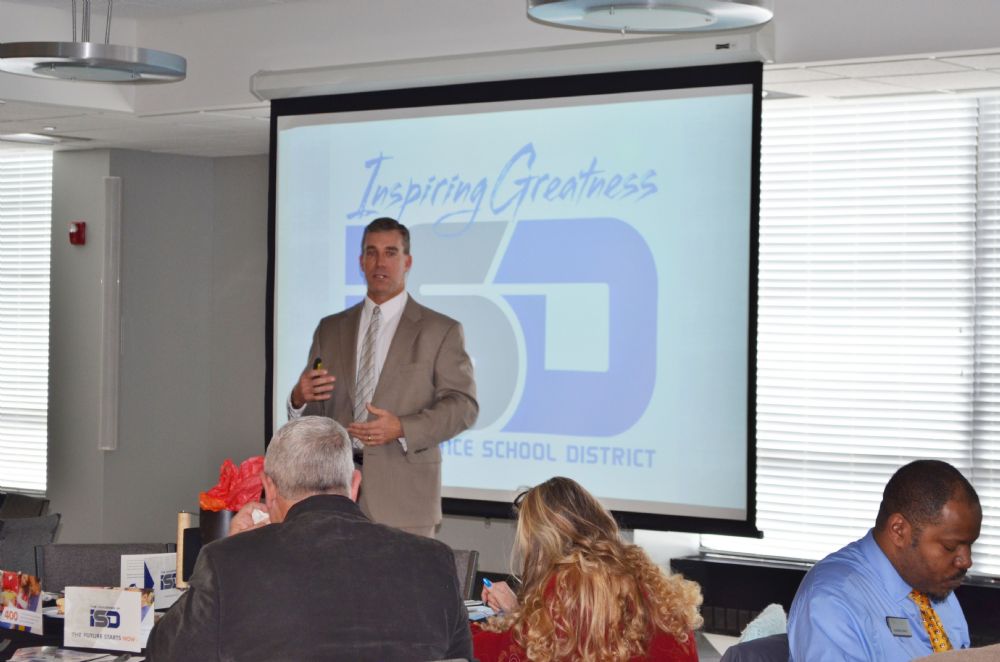 Pop
Quiz: What local school district…
Is one of only 19 school districts in the
nation chosen by Ford Next Generation Learning to implement the Academy model,
offering more than 90 college credit courses with more than 400 college hours
available?
Collaborates with seven colleges and
universities?
Has been named the MSBA Early
Childhood Education Program of the Year?
Has seen a 21.8% growth in student
achievement score over the past four years, ranking third overall in area MO
public school districts with a score of 95%?
Passed a $38 Million bond issue last April
with 85% support to build a new elementary school and expand all three high
schools?
The
correct answer to all these questions is the Independence School District.
Surprised?
So were the 75 REALTORS® who joined ISD Superintendent Dr. Dale
Herl, his staff and members of the Independence School Board at an
informational luncheon last month. Attendees were impressed with the academic advances
and forward-thinking programs implemented by the ISD. They were especially
amazed by the dual high school and college credit opportunities and the
Industry Recognized Credential (IRC's) that the students can earn while
attending high school.
These progressive
programs led The Missouri Chamber of Commerce to name the Academies of the
Independence School District the "Education Innovator of the Year." The award
is given to one educational institution or program demonstrating
forward-thinking strategies to better prepare students for their futures.
As the REALTORS®
in attendance learned, ISD high school students are starting businesses,
flipping houses, teaching classroom lessons and running a bakery. In the
Industrial Technology Academy, students are turning blighted houses into homes
by rebuilding, remodeling and selling them. In the Business Academy, ISD
students launched a student-operated clothing store and a bakery. The students
manage and run operations including marketing, sales and promotion. Student
teachers are leading early education and elementary classrooms in the ISD Professions
in Teaching program in the Arts and Education Academy.
In 2017, 72
percent of ISD students graduated with dual credit or an Industry Recognized
Credential, increasing by more than 50 percent in just two years. Through their
Academies, the ISD is building our future workforce and inspiring future
Independence business leaders, and they are proud to be making an economic
impact through innovative practices, engagement and leadership within the
community.
As
a driving force in our housing market, it's important that REALTORS®
educate themselves about the many educational options available in our area.
Look for future opportunities, brought to you by KCRAR, to learn more about
area school districts and get first-hand education information that's important
to your clients.
For
additional information on the Independence School District, click the links
below. For specific questions and ISD informational materials, please contact
Jana Corrie, ISD Director of Public Relations, at jana_corrie@isdschools.org.
Independence
School District website: www.isdschools.org
Information
specific to the ISD Academies: https://www.isdschools.org/2017/11/isd-academies-honored-as-education-innovator-of-the-year/