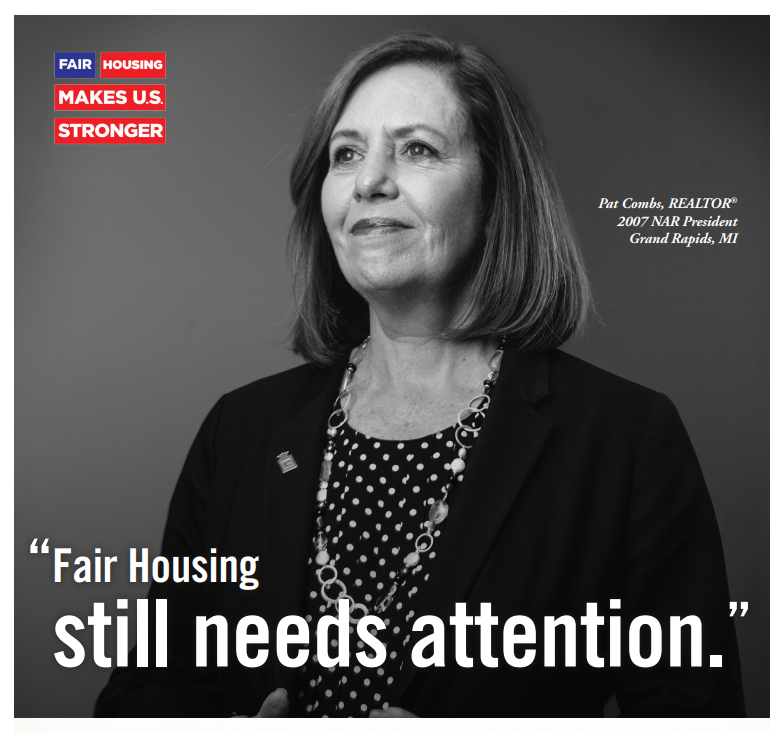 April 2018 is the 50thanniversary of the Fair Housing Act of 1968, as amended in 1988, which
prohibits discrimination in activities related to housing based on race, color,
national origin, religion, sex, familial status and disability. Activities related to housing include rental,
selling, buying and financing. This
article is not legal advice or opinion of the authors or the Kansas City Regional
Association of Realtors, but is merely meant to raise the awareness of brokers
and agents, in this current low inventory, multiple offer environment, to
potential fair housing issues that may arise.Agents must look to their brokers for company policy and legal advice
when fair housing issues arise in their daily activities. Brokers and agents are also subject to state
ethics laws and the National Association of Realtors' Code of Ethics and
Standards of Practice.
Off MLS listings,
also known as "pocket listings" or "office exclusives," have always been an
issue with the Act. Such listings are
never exposed to the general public and therefore, raise questions about fair housing
and an agent's fiduciary duties, including the duty of utmost care, integrity,
honesty and loyalty. Limiting the
exposure of a property to certain market sectors can have a discriminatory
effect, even when there is no intent to discriminate. A practice has a discriminatory effect where
it actually or predictably results in a disparate impact on a group of persons
or creates, increases, reinforces, or perpetuates segregated housing patterns
because of race, color, religion, sex, handicap, familial status, or national
origin. These same issues may arise with
the use of a permanent waiver, where the seller is not fully advised that their
property is not being exposed to the general public.
More obviously, steering
a buyer towards or away from a particular neighborhood or property may have a
discriminatory effect leading to a potential violation of the Act. If a seller refuses to show their property to
certain buyers or indicates any other limiting activities that may have a discriminatory
effect, the broker or agent needs to either educate the seller regarding the
Act and get the seller to eliminate those discriminatory activities or
terminate the listing agreement. Further,
when asked to recommend neighborhoods, a broker or agent should be careful not
to respond in a manner that may have a discriminatory effect. For example, if asked questions about quality
of schools, local demographics, and neighborhood safety, a broker or agent may
want to refer the client to reliable information sources rather than offer
their own opinion.
Apparently, in this current
low inventory, multiple offer environment, buyers are seeking to include
extraneous material, such as personal letters and photographs, in their offer
or counteroffer to convince the seller that they would be the best buyer for
the property. If a broker or agent
perpetuates this practice, either by recommending the inclusion of such
extraneous material or including it when it is unrelated to the offer or
counteroffer, then the broker or agent runs the risk of violating the Act. A more difficult question arises when the
buyer requests that the extraneous material be part of the offer or
counteroffer (e.g. – an official exhibit or addendum to the offer or
counteroffer) coupled with the broker or agent's duty under state licensing
laws to present all offers. While there
does not currently appear to be any legal precedent or guidance on this
practice, if a broker or agent is faced with this situation, she or he should
clearly advise the seller of the potential for violating the Act, if a decision
to sell to a particular buyer has a discriminatory effect.
Finally, brokers and agents should be careful
with the advertising and marketing information they use to promote the property,
particularly with all the social media now available. It is important that brokers and agents not
describe the property using words or photographs that may convey that the
property is not available to people in a protected class. For example, the use of religious or ethnic
landmarks in a property description may indicate a religious or ethnic
preference.
Brokers and agents
should be aware that the US Department of Housing and Urban Development ("HUD")
has conducted thousands of tests in recent years, employing housing
organizations to send testers out to view for-sale and rental properties as a
means of determining whether landlords, lenders, agents or others in the real
estate community treat protected classes differently. As a result, brokers and agents won't know
whether or not a potential buyer is a HUD tester looking for violations in that
community.
There are many other
daily practices and activities that are prohibited by the Act. This article is simply intended to address
some of those practices and activities that have raised concerns in this
current low inventory, multiple offer environment.