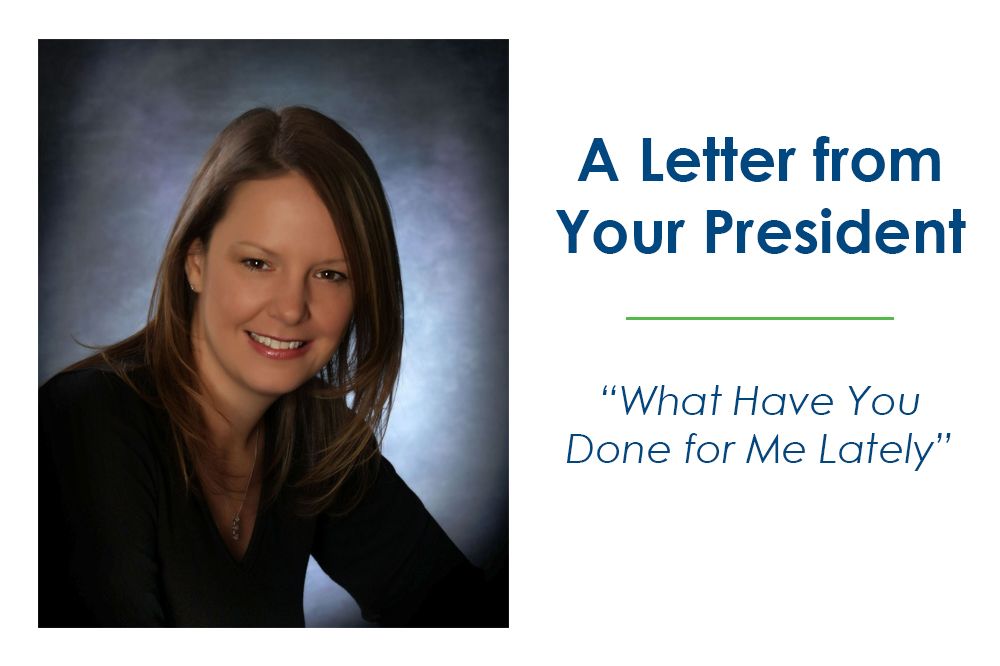 'What Have You Done for Me Lately?' 
First, a quick introduction in case we haven't met. I'm
Andrea Sheridan and I'm proud to be serving as your 2018 KCRAR President. I
look forward to corresponding with you throughout the year to keep you up to
date on important KCRAR news. Beginning
with this writing, you'll notice that my article headlines will feature a play
on song titles to help capture the essence of my message.
Let's get right to it. So, 'What have you done for me lately'?
You've received your REALTOR® dues invoice and hopefully
made it through dues billing! Now you are probably thinking: What are the benefits of being a member of
KCRAR? Let me give you the scoop!
KCRAR cares about your success and well-being, as REALTORS®,
as businesspeople and as humans. That's why we provide the resources we do to
our members. From our top of the line safety resources, like the Lifeline
Response Safety App and Supra Lockboxes, to MLS and forms resources, like
Dotloop, FormsRus, Realist and Homesnap Pro. We do all that is in our power as
an association to protect the safety of our members, the businesses of our
members and even the political policies that affect our members. That's why the
REALTOR® Party and REALTOR® Political Action
Committee (RPAC) are constantly expanding lobbying efforts at the local, state
and national levels—to protect you, preserve homeownership and ensure that you
can practice your trade without onerous legislation.
And, of course, KCRAR knows that
we are all continually learning and working to improve our careers and
ambitions. That's why KCRAR provides its own education resources. Our new
education director, Alison Trevor, is dedicated to adding 130 classes in 2018
and extending your member benefit of free CE classes, in-person at the association
office, out in your community and online! And you may be familiar with the ReCharge
education event the Association hosts annually; well this year we're changing
it up with an even bigger and better event called Xplode. That's on March 29;
save the date!
Okay, so we've got safety, we've
got career and education… how else does KCRAR care? Hmm… if only I could think
of a big, huge event that demonstrates KCRAR's dedication to its members and
the community. There's got to be something… but what? Just kidding! Of course
it's Rock the Block! KCRAR organized that amazing event for REALTORS® to give
back to the community, with the help of the lovely Community Outreach Advisory
Group, which is yet another way KCRAR allows its members to get involved. And
on top of all that, KCRAR is reaching out to the community on our behalf on the
KCADC board and with the "Which Role" consumer ad campaign, which won awards
and accolades nationwide and demonstrated to potential buyers and sellers the
value of using REALTORS®.
And of course, we know how to have
fun here at KCRAR. Annual events like REALTOR® Day at the K, the Holiday Party
and Young Professionals Network events throughout the year allow members to
kick back, have a little fun and of course do some networking. And speaking of
networking, YPN's next #YPNWednesday is a Meet the Board of Directors event on
Jan. 24 (another one to mark your calendars for).
These were all made possible by the fabulous KCRAR staff
team and the dedicated REALTOR® and Affiliate volunteers. With the vision
set forth by the 2017-2019 Strategic Plan we will propel this association even further. Here's to your productive and
profitable real estate endeavors this year!
Wishing you all the best in 2018! We are Better Together!
Andrea