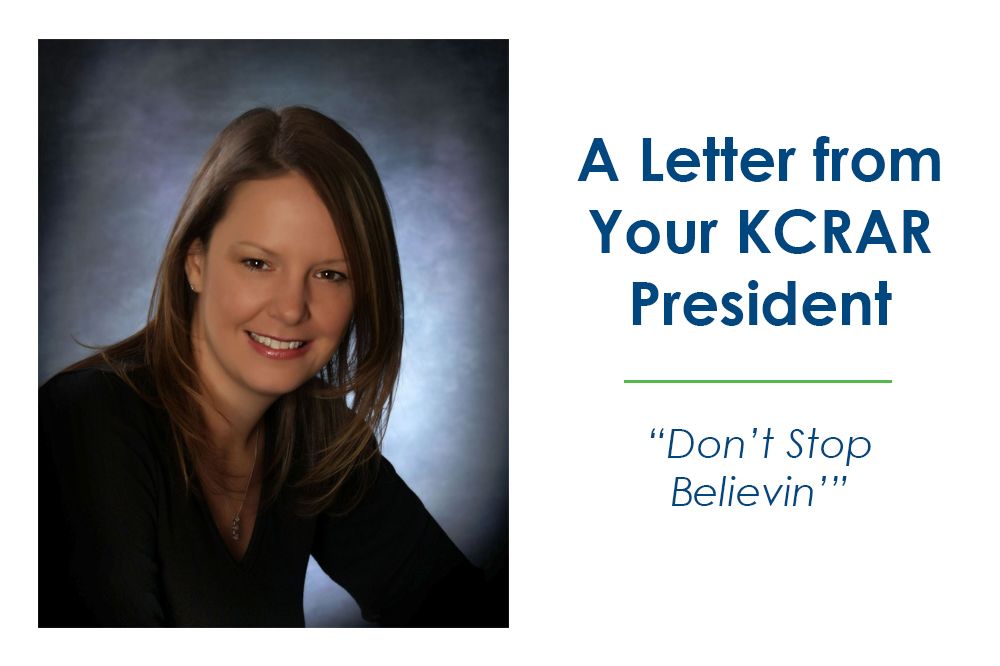 Song: Don't Stop Believin' 
KCRAR was well represented
last month at the REALTORS®
 Legislative Meetings and Trade Expo in Washington, D.C. as
39 of our members attended these informative meetings and took to Capitol Hill
to advocate for our industry, members and customers.
Increasing professionalism
was a common thread to the meetings, and the NAR Board of Directors gave new
teeth for enforcing Code of Ethics violations. However, the biggest buzz was a
proposal to adopt the association's first dues increase in eight years.
Under the changes to the NAR
Code of Ethics and Arbitration Manual, local associations can choose to
publicize the names of Code of Ethics violators and the nature of their
violations after the second violation of the Code of Ethics. They can also
release a photograph of the member as part of that public disclosure. Most
members have been hesitant to point the finger at people who really violate the
Code, and now there are real consequences to repeat offenders. The stepped-up
program is modeled after a pilot program adopted by the California Association
of REALTORS®.
Another big change is that
the broker or agent is required to respond in writing that an offer was
submitted to the seller if the cooperating broker who submitted the offer so
requests. This change was prompted by the busy real estate market, and
frustrated brokers were not sure if their offers were even considered. This
type of problem breaks down the spirit of cooperation, and hopefully this is a
step in the right direction.
NAR President Elizabeth
Mendenhall said, "We have heard from members about strengthening
professionalism and today we took an important step forward."
The biggest discussions of the
meetings were centered around the S.M.A.R.T. Budget that was approved to keep
REALTORS® positioned for success into the future while ensuring NAR no longer
needs to use reserves to cover expenses. The board approved a budget that sets
the national association dues at $150 per year beginning in 2019 representing a
$30 increase. $17 of the increase is for REALTOR® Party advocacy programming,
and the remaining $13 will fund programs like the new Commitment to Excellence
professionalism initiative, a popular forms and transaction management benefit,
and upkeep of the association buildings.
NAR went to great lengths to
include member feedback on the S.M.A.R.T initiatives, as the budget underwent a
comprehensive review after Bob Goldberg became the new NAR CEO last August. The
new budget also realizes $2 million dollars in annual savings by reducing
association staff, cutting global travel and making across-the-board cuts.
Nearly $6 million dollars was saved by eliminating the Advanced Multi-List Platform
(Amp) and other reductions at RPR.
And finally, Board elections were
held where Charles Oppler of Franklin Lakes, N.J. was elected first vice
president; Vince Malta of San Francisco, president-elect and John Flor, of
Chetek, Wis. 2019-20 treasurer. John Smaby of Edina, Minn. was earlier elected
2019 president.
And a big congratulations to our KCRAR members who received
special recognition in D.C. for achieving RPAC Hall of Fame status. Rob Curtis,
Judy Miller, Elizabeth Rose and Steve Larue were inducted for lifetime RPAC
investments of $25,000 and Mike McGrew at the $50,000 level. Thank you all for
your commitment and investments in our industry!
Special thanks to all of the members who took time from
their families and business to attend these very important meetings. The
stories you told our Legislators made a difference and I appreciate you for all
you do for KCRAR!
Andrea