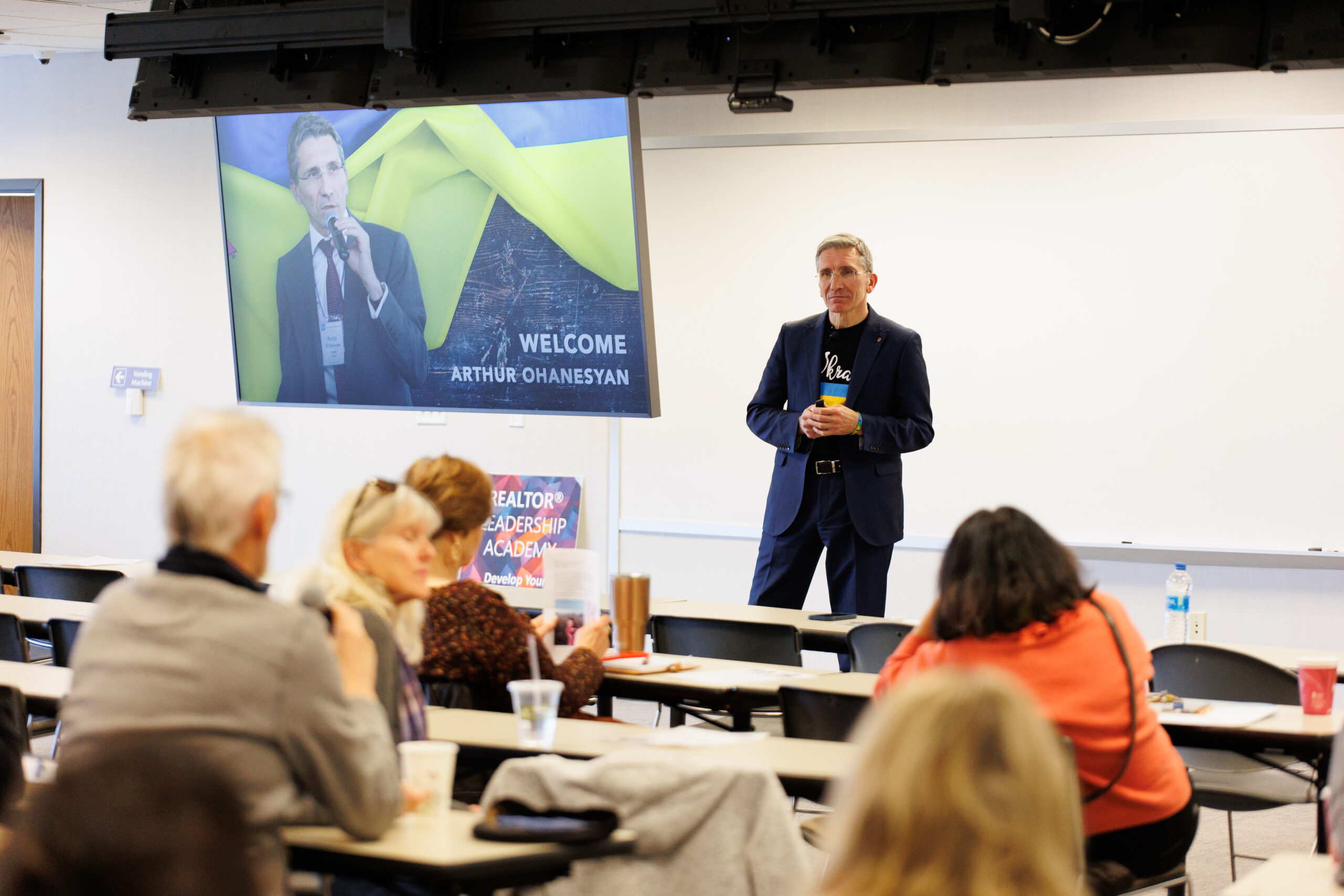 Displaying before and after photos of war-torn Kyiv, Ukraine, Arthur Ohanesyan still stressed the importance of organized real estate practice to an audience of Kansas City REALTORS® this week. The former Vice President of the Ukraine Realtors Association stopped by the KCRAR classroom while in the United States raising funds for the Help and Hope Foundation.
"People are eager to be a homeowner," Ohanesyan said to the audience. "The rate of homeownership in Ukraine is… one of the highest in Europe."
Ukrainians gained the right to buy and sell homes 30 years ago and the right to buy and sell land just last year. Now, 115,000 private homes have been destroyed by this year's Russian attacks. The remaining properties have decreased in value as Ukrainians leave the country due to the missile attacks, Ohanesyan said.
Ohanesyan began practicing real estate as soon as it was legalized in 1991. He estimated he worked on one of the first real estate transactions in his city. He said REALTORS® in the United States are fortunate to be members of the National Association of REALTORS® (NAR). In Ukraine, he said real estate agents are highly competitive, operating without license law under four separate associations.
"You created one national association, the voice for real estate," Ohanesyan said, referring to NAR. "We are all competitors in the market, but not in the association. Here we are colleagues."
Ohanesyan expressed admiration for the "American dream" mindset the United States has toward homeownership.
"Real estate is not only about money," he said. "It's about private property rights. It's about changing mentality, especially in my country."
When he spoke with the crowd of Kansas City REALTORS®, he reminded them to be thankful for what they have, from functioning electricity to an organized and regulated system of real estate. Those who would like to donate to Ohanesyan's organization can learn more at helpandhopefund.com.