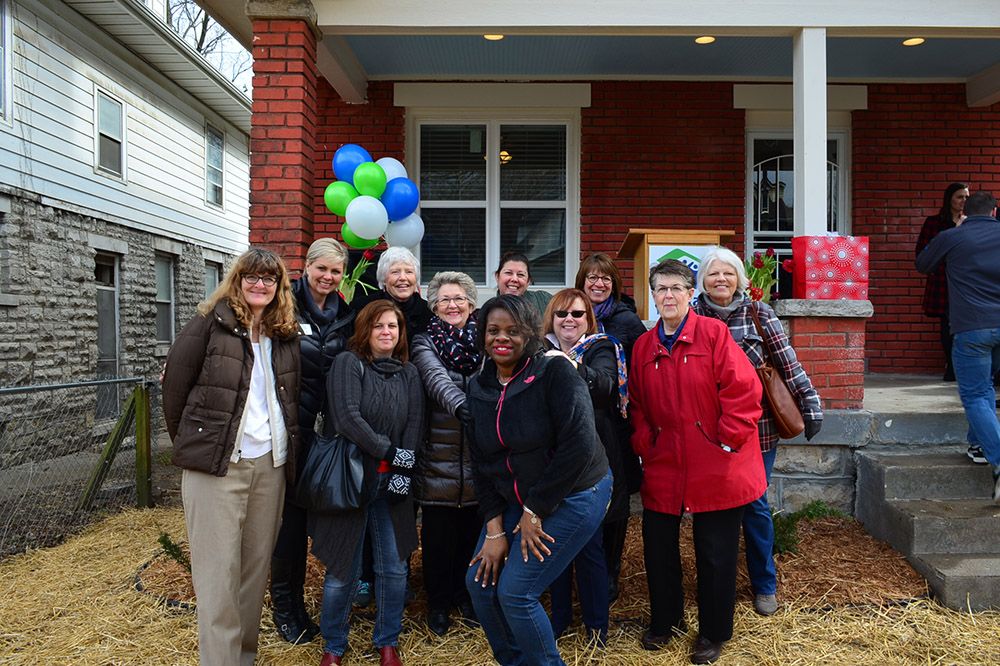 A sizeable crowd had already gathered by the time I arrived
at 3023 Highland Avenue, undaunted by the gray, cold weather and the calls for
sleet. The structure, now home to Shawana West and her children Oliver, Olivia
and Oriyah, proudly bore the evident remodeling visited on it over recent
months through combined efforts from the National Association of the Remodeling
Industry, KCRAR REALTORS via 2016's inaugural Rock the Block event, and Habitat
for Humanity staff and volunteers.
By happenstance, I arrived at the same time as Shawana's
sister, Ramonde Coy, and we struck up a conversation as we walked toward the
crowd. "If it wasn't for habitat and volunteers," she mentioned, "opportunities
for well-deserving people wouldn't be here."
Shawana was inside, greeting her guests, mostly all members
of NARI, with a good turnout from Better Homes and Gardens REALTORS®, who had
sponsored the house during Rock the Block. KCRAR's 2016 Board president
Christian Zarif had arrived to take part in the house dedication as well. The inside
of the house was pristine. New laminate was on the floor, mimicking hardwood. A
new kitchen layout was prominently displayed, and the whole inside smelled like
cleanser and fresh paint.
Outside, there was still evidence of the house's long
history. The new parts were apparent, like the back deck made up of fresh,
still-yellow lumber and the new air conditioner that was actively being
installed by a professional. Weathered soffits still encircled the house, and
spider-webs of blackened ivy stems darkened the eaves of the roof near the
pinnacles.
By now, cameras had assembled in the front yard's straw, and
members of the local media were wrapping up initial reports. Pat Turner, the
President/CEO for Habitat for Humanity of Kansas City had called everyone to
order, and the dedication had begun just as the sleet began to fall.
As the speakers took their turns addressing the crowd, what struck me the most
was that everyone assembled for the day's event had at some point given their
time and effort to revitalize the house and get it ready for Shawana's arrival.
When Shawana accepted the keys to 3023 Highland Avenue, we all saw the results
of what can happen when members of the real estate community, REALTOR® and
contractor alike, band together to create a lasting impact.
When I asked Shawana about what the day meant for her, she
summed it up neatly by saying it was the house's new birthday. "This will be a
day that will be celebrated forever," she told me, flanked by her smiling
children. With the dedication over, the crown mostly crammed inside the house
for a reception, just as sun began to break through the clouds.