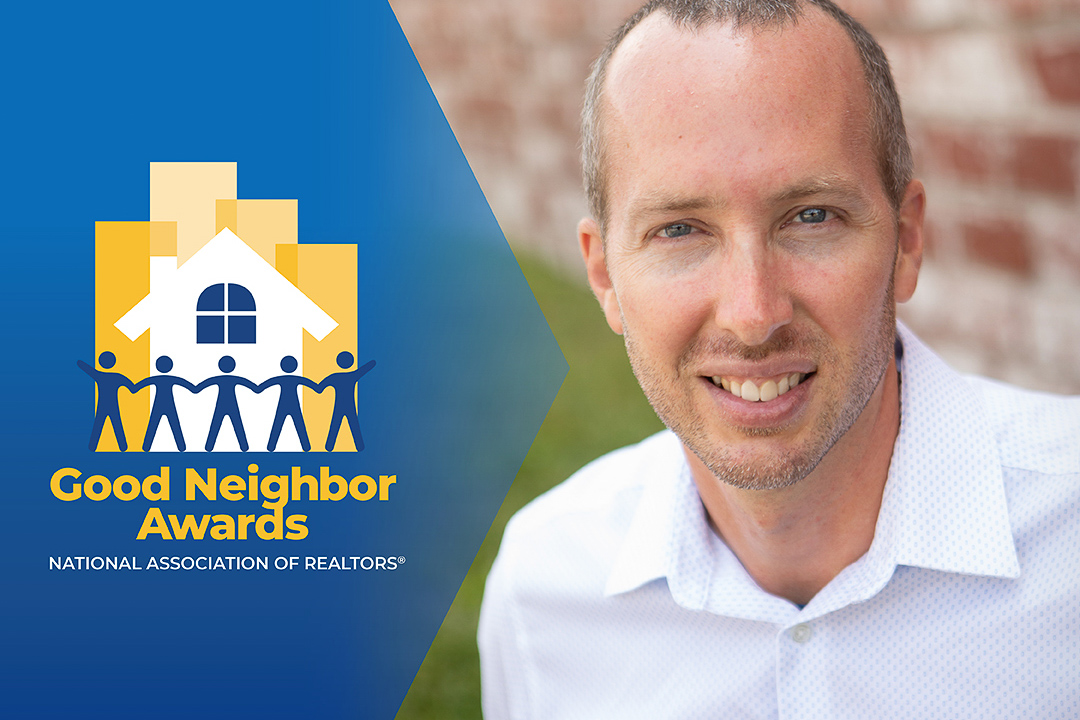 by Melissa Dittmann Tracey, National Association of REALTORS®
REALTOR® Brent Gieseke is spreading "agape pamoja," words pulled from different cultures that reflect the mission of a nonprofit organization where he helps refugees. "Agape" is a Greek word for "love," and "pamoja" is Swahili for "community" or "togetherness."
Gieseke, a sales associate with EXIT Realty Professionals, learned of Agape Pamoja in 2018 when he helped complete the sale of a home that was purchased by the organization's founders. At the time, Gieseke was unaware of the growing population of refugees in his hometown of Kansas City, Mo. Indeed, more than 450 refugees settle in the area each year; it has become one of the primary destinations for African refugees in the U.S., according to Census Bureau data. They often come from war-torn countries, forced to leave behind homes, belongings, and sometimes family members.
Gieseke serves Agape Pamoja by helping to find homes to purchase, rehabbing them, and, in the process, mentoring refugee youth. Since he's been involved, Agape Pamoja has grown from four residential homes to 23, including a seven-unit multifamily property and duplex. Five more homes are currently being remodeled, as is a 6,500-square-foot event center. Nearly 200 refugees have affordable housing through the "Blessing Houses," as they're named. Agape Pamoja also has helped about 500 refugees in other ways, such as by providing food, clothing, educational support, and housing assistance.
Count Your Blessings
Founders Nathan and Krystal Dunahee first purchased four houses in 2016 for multigenerational refugee families who are permanent U.S. residents with a green card. Residents are required to find jobs and are charged 50% of the average rent of a comparable single-family home in the area (about $600). All rents collected are returned back to the refugee community through services or for the purchase of more homes.
For three years, Gieseke has helped find neglected, blighted homes in the inner city, typically paying about $35,000, and remade them into Blessing Houses. He organizes hundreds of community volunteers monthly to completely rehab the homes. Gieseke, also a contractor, invites refugee youths to work alongside him as he rehabs the properties, teaching them new skills such as hanging drywall, updating electrical systems, and fixing plumbing.
So far, the homes have been funded through community donations, not formal fundraisers. "We continue to trust donors and volunteers will step forward," he says. Donations also come in other forms, such as a new roof for the event center or as building materials such as windows. Gieseke and his wife personally donate $40,000 each year to further Agape Pamoja's work.
Bringing the 'Pamoja'
Gieseke is knows as "Papa Brent" by some of the 25 refugee teens whom he regularly mentors. They eagerly wait for his white truck to drive by—a signal that the day's work will begin on the Blessing Houses, which takes place multiple times each week. Bombe Eca, 17, came to Kansas City three years ago with his family of 11 from Tanzania where he was born in a refugee camp. His family had fled war in Congo in 1996 and lived in a red dirt brick hut. He now lives in one of the Blessing Houses and actively works on other homes too. "I love working with Brent. He has taught me so many things," Eca says. Gieseke coached Eca as he tiled his own bathroom shower over four days. They celebrated with a photo as Eca laid the last one.
These skills are a big accomplishment for people who not long ago lived with no indoor plumbing or electricity.
"A year ago, most of these youth had no knowledge of the difference between a Philips versus a flathead screwdriver. Now they have the skills to use a variety of tools, do basic plumbing, and do a variety of tasks related to housing renovations and home upkeep." says Dunahee, who credits Gieseke's mentorship. The kids learn home maintenance skills and can help at home, since their parents typically don't have that experience.
"These are really just entry points for us to ultimately do what we want to do—teach life skills and work together in serving their community."
New Beginnings
Gieseke hopes he isn't just rebuilding houses but rebuilding futures too. Gieseke instills leadership skills, such as having the trained youth lead other volunteers in house projects. Gieseke opens his home up to host weekly get-togethers for the Agape Pamoja's Student Leaders Program, which is comprised of 16 teenagers who come together to learn about topics like financial planning and budgeting. They also tutor others and volunteer regularly within the community.
Loy Pililo, 15, also from a Tanzanian refugee camp, is part of the leadership program and wants to return the same kindness Agape Pamoja has shown her. She hopes to one day become a doctor and return to Africa to serve. "We are raising doctors, lawyers, trade workers, and real estate professionals … the sky is the limit for these students," Gieseke says. "We all carry labels around with us. The world may label them as refugees. But I see them as family."
Agape Pamoja blends cultures in the hopes of sparking long-lasting change. "You go into an experience like this thinking you are going to change lives, but my life has been changed more than anyone," Gieseke says. "I now give freely of my time. I give freely of my money. Agape Pamoja allows us to live life beside the students and their families. It will create a ripple effect that we are only starting to comprehend."
---
Contact Gieseke at bgrealtykc@gmail.com and learn more at Agape Pamoja's Facebook page.