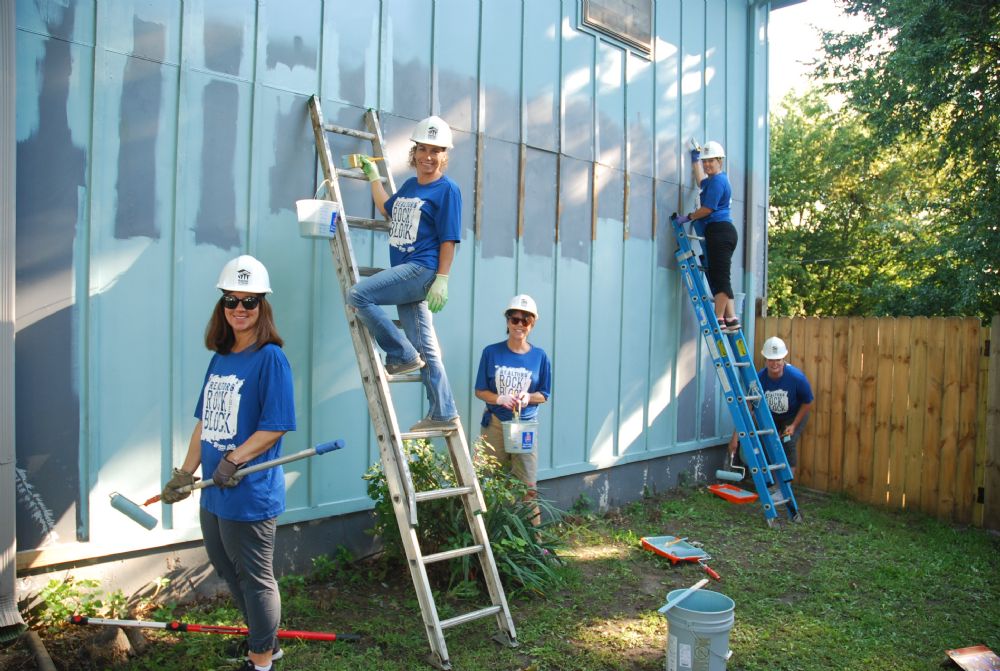 Over 300 REALTORS® joined together on Wednesday for the a
unified cause: to help benefit the community through a day of service. The
third annual Rock the Block event came to Olathe, Kan. this year, and 12 homes
were painted, landscaped, power washed and more by REALTOR® members from all
over the Kansas City area.
"I am extremely proud of our organization and our members'
commitment to improving the quality of life in the Greater Kansas City Area,"
KCRAR and Heartland MLS CEO Kipp Cooper said. "REALTORS® play a vital role in
in the community, and since we started the REALTORS® Rock the Block program
three years ago, we have revitalized three neighborhoods, improving 45 homes
and reinvested over $100,000 into the area."
Cooper kicked off the event with KCRAR President Andrea Sheridan by presenting the CEO of Habitat
for Humanity of Kansas City, Pat Turner, with a donation of $32,295 to fund the
day's project through Habitat for Humanity of Kansas City.
Throughout the day, REALTOR® volunteers worked on homes on
the 600 block of N. Willie in Olathe, providing homeowners with a fresh coat of
paint and other home improvements. With over 300 REALTORS® ready to help, these
12 homes were completed in one day. Amongst the hard work of all the volunteers,
The Gadwood Group earned the REALTORS® Rock the Block Spirit Award for high
morale and spirit.
"From Habitat for Humanity and the City of Olathe all the
way to community partners, the KCRAR staff and most importantly our member
volunteers, this event is a product of teamwork," KCRAR Event Specialist
Jessica Parra said. "This one day of work takes months of meticulous planning
and attention to detail by all parties involved but was well worth every minute
of hard work at the end of the day to see the homeowners thrilled with the work
that was put into their homes."