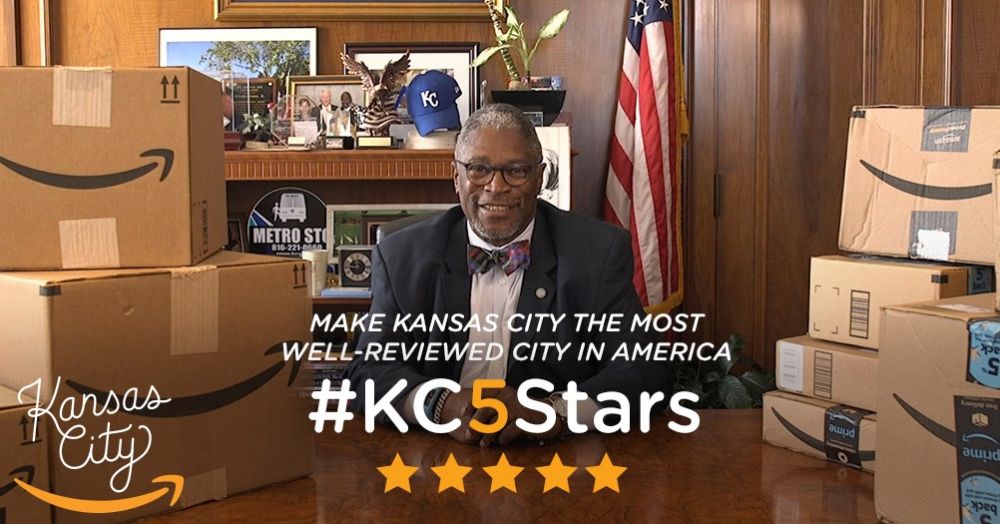 If you hadn't yet heard, Kansas City is in the running to be the home of the new Amazon headquarters. As you can imagine, that would be a huge deal, because it would provide so many jobs to the people of Kansas City. Mayor Sly James is so determined to make that happen that he is going all out to win Amazon over. In an attempt to get its attention, James has been leaving some not-so-subtle reviews on random products on Amazon where he'll not-so-casually drop in all the reasons Kansas City is an amazing place to live and work. Here are six of our favorite reviews/ploys for attention:
When I towel off every morning with these lightweight, fade-resistant towels, I can't help but think what a wonder water engineering is. But it's never long before that sense of wonder shifts to a sense of pride from knowing that KC engineering firms have designed water systems that touch 20% of the world's drinking water supply. Then my wife bangs on the door and says, "Sly, you're taking forever in there!"
Ah yes, the very relatable water engineering post-shower thoughts. We've all been there, right?
Halloween costume success can be summed up in one word: Vampire. If you want your shorty to dress up right, dress them as the immortal and let them come alive at night just like in Kansas City. KC is home to some seriously awesome nightlife with hundreds of restaurants and bars to choose from. Thrillist ranked KC one of the most underrated food cities in America, so whether you have a taste for craft cocktails, or the perfect Buckwheat Crepes, KC is the place for you. But if you're children have a taste for blood this costume is seriously the way to go. But don't forget the fangs!!! They're sold separately.
Overlooking the fact that my mayor just used the word "shorty," I didn't know it was possible to draw a line from a children's Halloween costume to nightlife and cocktails, but he made it happen.
There's nothing that goes better with dish duty than Outkast's So Fresh and So Clean. Well, maybe a shiny new bottle of Dawn dish soap. I love to pop that top and let the suds do the rest. And because I'm not spending all my money on overly priced real estate, I can put that green towards the blue. Ah blue, Kansas City, Kansas City Royals, Royals blue. Proud home to the 2015 Worlds Series Champs. To say we're proud is an understatement. And our pride extends even farther, like to the work we do in our city to keep a roof over our little four legged friends too. Go Team Blue!
Outkast to soap to the Royals' World Series win to animal shelters… that review covered a lot of ground.
When my wife is out of town, I miss the comfort of another body next to me in the bed, but not with this extra plush, cotton body pillow. At 20" wind and 54" long, it's nearly the size of another human—perfect for cuddling when I'm holding down the fort in Kansas City. Which amazingly enough is even more comforting than this body pillow, with some of the most affordable housing in the country, a vibrant job market and some of the most friendly people in the world. I couldn't get more comfortable if I tried, unless I got two of these pillows.
Thanks for those… intimate details, Mayor James.
You can never have too much printer paper. You buy a pack of 500 sheets like this and you say, "Now I'm set. I'm never running out of paper again." That's exactly what the printer paper wants you think. If that's what you're thinking, they have you right where they want you. Because it won't be tomorrow, or the next day, or maybe even the next month, but just when you need to print something most… out of paper. And in a place like KC that WalletHub ranks as one of the top regions to start a business, that's a story I hear from my constituents over and over again. "Business is booming," they say, "But we keep running out of printer paper." And I tell them, don't just buy one of these, buy two.
I don't know how printer paper hurt Mayor James in the past, but clearly there is some unresolved hostility between them.
Russell Stover Pecan Delight Gusset Bag
I know what you're thinking. You're thinking, wait, aren't these the old-fashioned chocolates my brother and I got in fights over because he'd always take a bite out of every one until he got the filling he wanted, and I'd point out that he could simply look at the key on the inside of the box and he'd know which chocolate had which filling, dummy, and he'd punch my arm really hard and I'd cry and then my mom would give me an extra chocolate and it would almost be worth it? Well, the short answer is, yeah, these are those chocolates. Not the lavender-scented Venezuelan cinnamon-dusted 90% cacao with organic pistachio potpourri filling. These are the traditional filled chocolates that say, Mmmm, 'merica. These are the straight-ahead, heart-shaped box, mix of milk chocolate and dark, mysteriously shot full of various tasty goo and nuts and fruits and what have you, straight from the heart of the country, crafted by the one of its oldest confectioners and two of Kansas City's most storied entrepreneurs, Clara and Russell Stover. That's not to say that other local business geniuses haven't done equally impressive things. This is startup heaven, here in KC, recognized as one of the best cities in America to start a business. The business survival rate here is amazingly high. But not every business becomes an empire. That's what the Stovers built out of these little noshes. Yum. Empire tastes pretty good.
That story was a roller coaster. After reading that I now see how these chocolates are clearly more American than any other. Oh, you like Toblerone? Okay, Benedict Arnold.