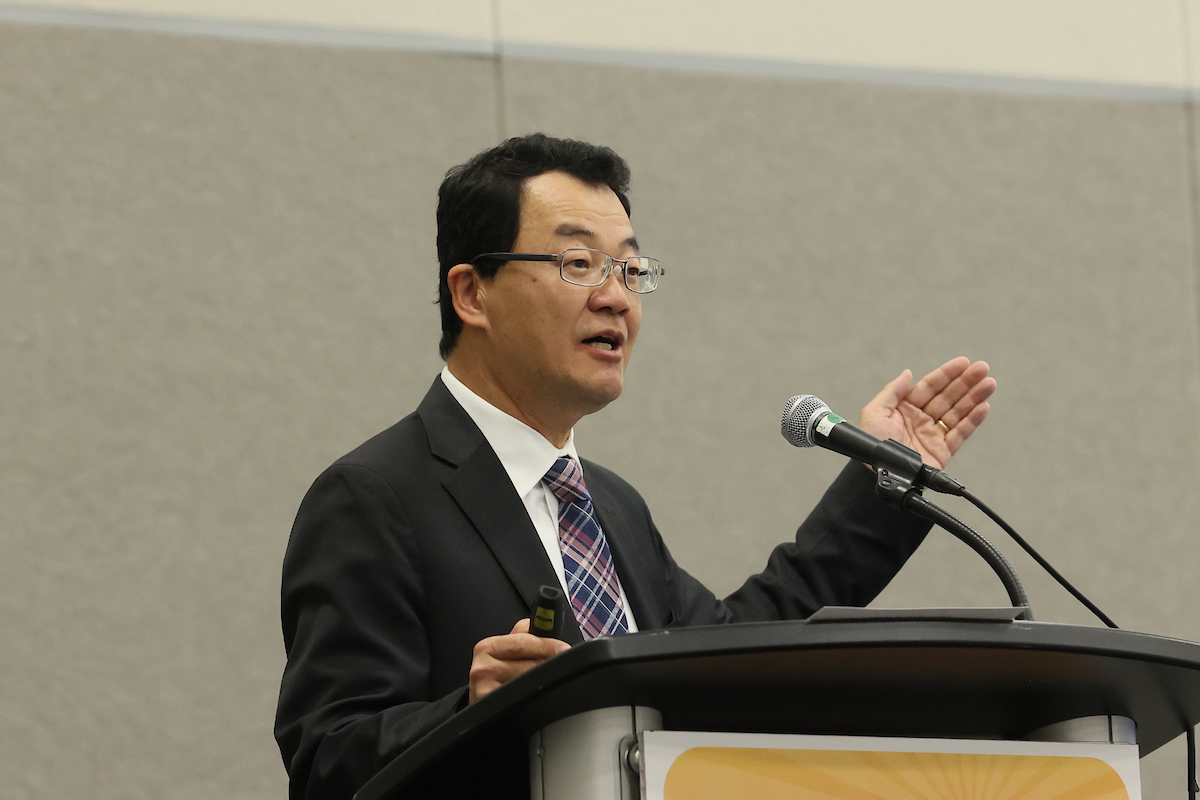 National Association of REALTORS®
Commercial property rates are expected to stabilize – aside from office space – and commercial real estate will revitalize, according to NAR Chief Economist Lawrence Yun.
Yun presented yesterday at the Commercial Economic Issues and Trends Forum at 2023 NAR NXT, The Realtor® Experience, in Anaheim, California, to discuss economic trends and issues affecting the commercial real estate industry.
"There's tremendous difficulty in the commercial real estate market with higher interest rates," Yun explained. "Given roughly $3 trillion in commercial real estate loans, roughly $600 billion will come due for refinancing each year and at higher interest rates."
Yun explained that high interest rates are hindering borrowing and making refinancing costly. He also said the Federal Reserve's rate hikes have hurt small-sized banks.
"The small-sized banks – community and local banks – have much larger exposure to commercial real estate," said Yun. "So, if commercial real estate is wobbly, it's not going to hurt the big banks as much as the community banks."
He referenced changes in commercial loan lending standards, which made an already tight lending situation even tighter. Yun suggested the U.S. government's large budget deficit is also pressuring the rate increases.
"Commercial real estate transactions activity has been cut in half in two years. The condition for real estate deals is difficult. They simply don't want to sell at a lower price, so commercial deals are not happening, because sellers don't want to lower the price, and buyers aren't jumping in due to higher lending costs," Yun said.
He also explained that commercial property prices are falling below pre-Covid-19 pandemic levels and are set to decline further.
"The 10-year Treasury Yield is currently at 4.5%," added Yun. "Most buildings now are still overpriced in commercial real estate. Property owners have to readjust. Maybe it's better to get the deal done today rather than waiting until the future, when property values may be even lower."
Yun explained that rent growth is the strongest in the industrial space and weakest in the office space.
"In terms of actual usage of office space, the utilization is simply not there," Yun said. "Office net absorption is negative, so office space will see more rises in the official vacancy rate."
Rent growth is the strongest in the industrial field and weakest for offices, according to Yun. The office leasing net is negative, and retail leasing is also fizzling out. Even warehouse and industrial space leasing is low.
Yun discussed how the office vacancy rate is rising and will likely rise further. He flagged that big cities are seeing the highest rise in office vacancy rates: San Francisco followed by New York City and Los Angeles. He flagged that big cities are seeing the highest rise in office vacancy rates: San Francisco followed by New York City and Los Angeles.
"By an objective measure, the economy is strong," said Yun. "GDP growth is at 4.9%, but there are some worrying signs for the economy. First, businesses are not borrowing, because they're cutting back on spending. Second, good inventory – or products produced – is increasing, but goods are not being purchased. Thus, there's concern for future GDP."
Yun said unemployment rates are the highest in nearly two years and wage growth is the weakest it has been in two and a half years.
After explaining that monthly job gains are softening and diminishing each month, Yun stated, "The federal reserve is raising interest rates to tame inflation, but are they going to break the economy?"
Yun compared the latest jobs numbers with pre-Covid-19 pandemic conditions. All states have record-high employment. Texas, Florida and Rocky Mountain states are in stronger condition.
Cross-border commercial real estate investment is down and in a weak condition right now, according to Yun. The top countries invested in the U.S. are Canada, Singapore and Japan, and Israel is popping up on this list.
Yun says the 2024 economic outlook depends on the Federal Reserve's policy, stating, "Data that came out yesterday shows much calmer inflation. The Federal Reserve should consider cutting interest rates as we go into early next year. Then the ongoing weakness will stop, and we will begin to see some revival."
Yun shared that community banks will be recapitalized a little better with interest rate cuts. Also, GDP growth will add to net leasing and investment sales.
"Overall, commercial real estate will revitalize, with the exception of office space," Yun concluded.