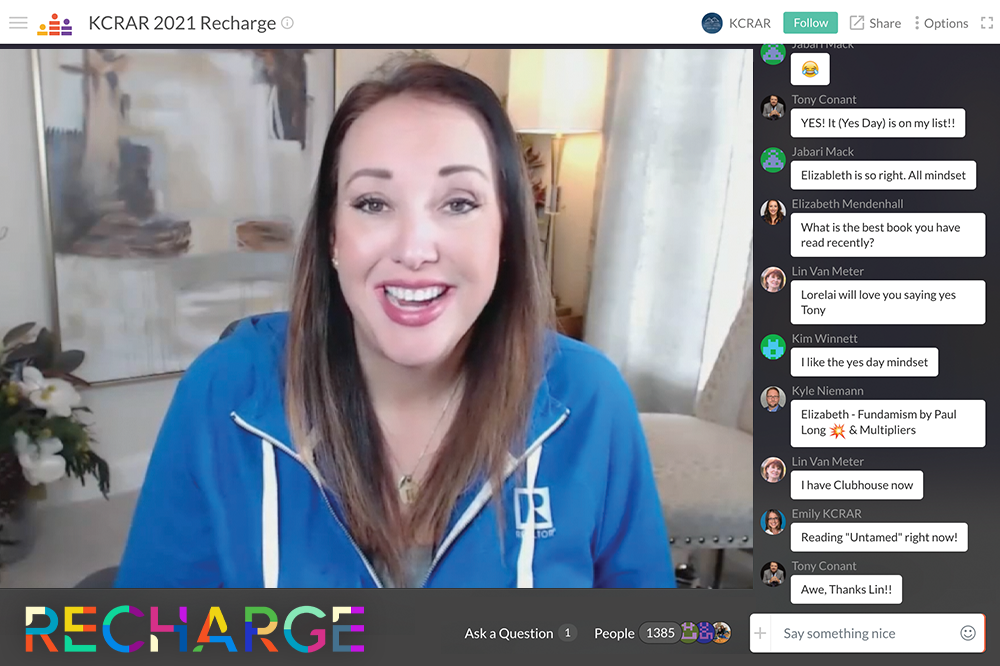 KCRAR held its annual Recharge Conference on Thursday completely virtually for the first time. KCRAR extended the invitation to real estate professionals across the country, bringing in over 1,400 registered viewers, more attendees than previous Recharge events have seen.
Event emcee Paul Long led the audience through speaker sessions from Leigh Brown, Elizabeth Mendenhall, Tony Conant, Angela Lofton, Kipp Cooper, Maura Neill, Lawrence Yun, Tim Cowden, Angela Kennedy, Asia Campbell, Darryl Davis, Marki Lemons Ryhal and Bobbi Howe. The virtual format allowed the introduction of short sessions from more speakers than KCRAR has ever hosted at a single Recharge event in past years.
"I feel that our members, myself included, received an amazing gift today in the form of our first ever virtual Recharge event," KCRAR President Tony Conant said. "Amazing dynamic speakers, led by my new best friend Paul Long and his FUNdamism principles, provided real value and ideas we can all implement starting today!"
A common theme among speakers was utilizing video for agents to gain leads and market themselves. This comes after the COVID-19 pandemic has caused many businesses to rethink their business models to limit in-person interaction. Speakers at Recharge asserted that video can be a valuable business tool for agents to continue using in their businesses beyond the pandemic.
KCRAR was able to offer this year's Recharge event at no cost with the help of this year's Recharge sponsors, CoreLogic, First American Title, MLS-Touch, the Real Estate Book & New Home Guide of Kansas City, Realtor.com and Supra. Those who missed the conference still have a chance to register to view the recording. Registration is open until this Sunday night, March 28. Anyone who registered prior to the event or after will have access to view the recording on their Crowdcast account.