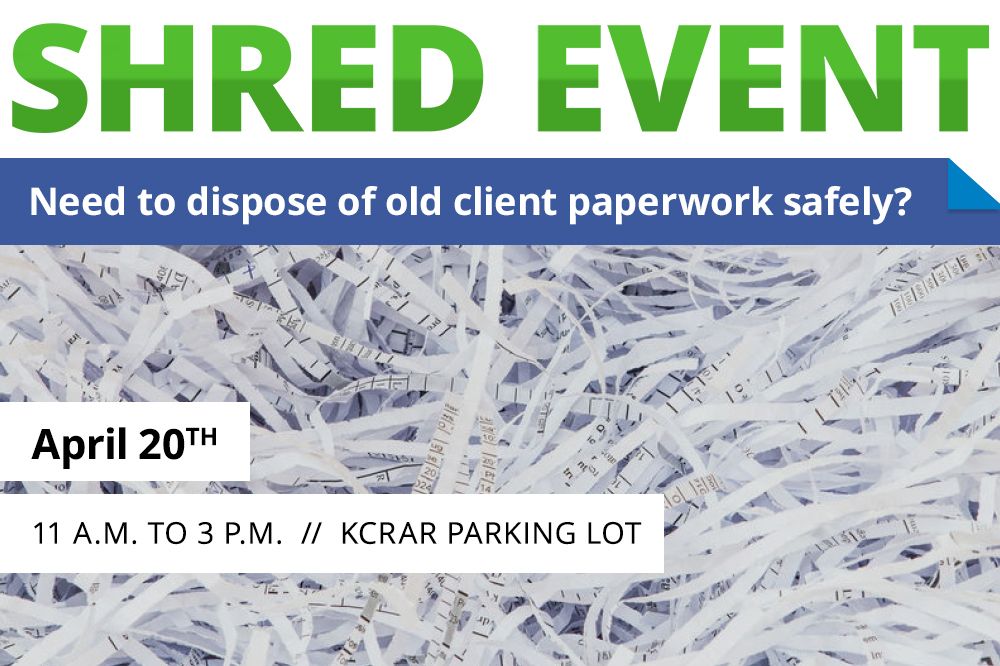 "Get it in writing" is a phrase REALTORS® are often used to
hearing. The National Association of REALTORS® Code of Ethics even requires certain
transactional details be in writing, like personal interest and compensation.
And many REALTORS® know that this best practice can often result in piles of
paper in their offices, and those papers may disclose personal information that
needs to be handled carefully. That's why KCRAR will be hosting its annual
Shred Event again this year so members can dispose of their unneeded paperwork
safely.
Members will be able to come by the KCRAR office parking lot
on April 20 from 11 a.m. to 3 p.m. to shred any unneeded files. The first three
boxes per person will be free, and any additional boxes are a suggested
donation of $5 for Habitat for Humanity in KCRAR's partnership for Rock the
Block.
In a list of safety tips for REALTORS®, NAR specifically
mentioned the importance of shredding potentially personal paperwork. Its
recommended rule of thumb is "when in doubt, shred."
"Thoroughly shred all papers
with personal information before you throw them away," according to NAR.realtor. "Shred unwanted
credit card applications and 'convenience checks' that come in the mail, credit
card receipts with your account number, outdated financial papers and papers containing
your clients' personal information."
Not only is shredding a safe way of disposing of paperwork, according
to NAR, but all paper shredded at the KCRAR Shred Event is recycled. Last year
alone 113 trees were saved at the Shred Event when 13,250 pounds of paper was
shredded and recycled. On top of those numbers, $1,023 was raised for Habitat
for Humanity.
"Shredding your unneeded files is imperative to the safety of
your clients and the security of your business," KCRAR CEO Kipp Cooper said. "Plus,
shredding at our Shred Event also does good for the environment and the
community. We all know that those files can pile up, and the bigger the pile,
the more important it is that it's recycled. And, of course, it all benefits a
great cause with Habitat for Humanity."
According to REALTOR® Mag,
agents should keep all transactional files for at least five years, and any
major contract for ten. But it also recommends consulting local tax laws and
regulations before disposing of anything that you may need.