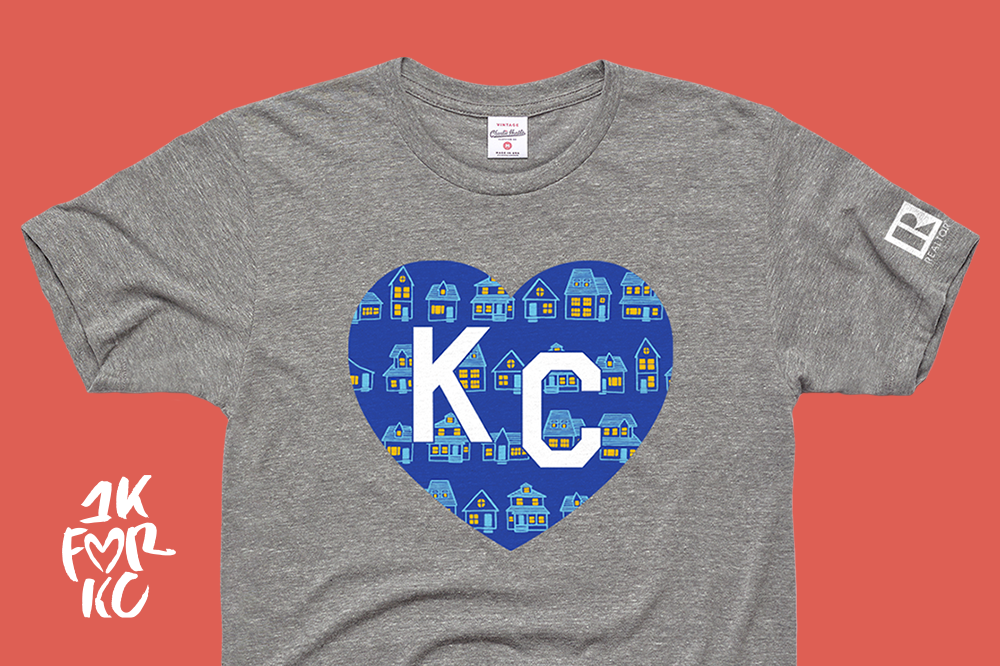 The Kansas City Regional Association of REALTORS® has partnered with Charlie Hustle to offer a limited edition REALTOR® T-shirt to celebrate Kansas City as home while helping to raise funds for the 1K for KC movement, which is working to help Kansas City families impacted by the COVID-19 pandemic pay their rent or mortgage through the holiday season.
1K for KC is a movement of Charlie Hustle's Heart of KC Foundation. Each household receiving funds from 1K for KC will have their mortgage payment or rent paid, up to $1,000, from November through January. With the pandemic taking a toll on many people's livelihoods, this is Heart of KC's way to help people at risk of homelessness stay in their homes for the holidays.
KCRAR has set a goal of donating $60,000 to 1K for KC, kicking off donations with a $30,000 contribution. It is challenging its membership to come together to match that donation to reach its goal. All proceeds from the sale of this shirt will go to 1K for KC to work toward KCRAR's $60,000 goal, which would help 20 families in Kansas City.
Pre-orders are open now on Charlie Hustle's website through Oct. 30, then shirts will be shipped in mid to late November. Donations for 1K for KC can also be made at KCRAR.com/1kforkc, and KCRAR is asking its members to list KCRAR in the "Organization" field to help track its goal.