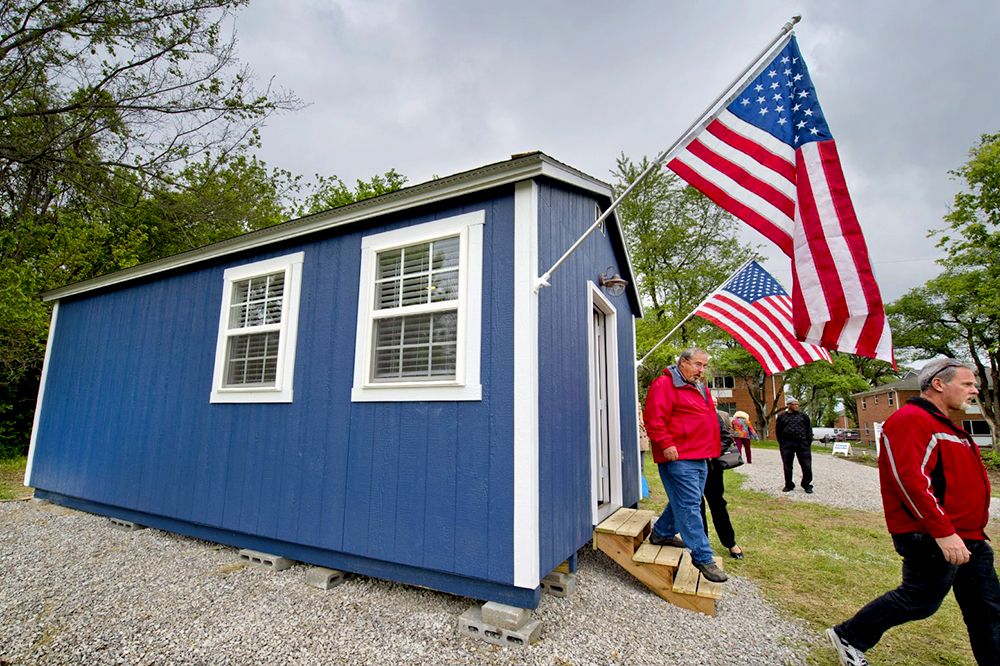 You may have seen the headlines announcing Kansas City's
tiny homes village for homeless veterans. But you may not have realized that
the visionary behind the headlines was a REALTOR® and KCRAR member.
Mark Solomon, an active REALTOR® with Keller Williams in
Liberty, started the Veterans Community Project with Chris Stout and Kevin
Jamison in the hopes of helping their fellow servicemen find the pride and
self-reliance of having a place to call their own. Solomon, a Naval officer, knows
how hard reintegrating into everyday society can be for combat vets.
"VCP started with an idea to provide transitional housing
for veterans in tiny houses. We did this to allow vets to integrate back into
socialized environments at their own pace. We will help them get stabilized and
then transition them to programs that already exist. We also decided to be
completely, privately funded. That way, we can help vets in the way we want to
help," Solomon said. "When I joined the Navy, I swore an oath to support and
defend the constitution up to and including with my life, if necessary.
Everyone who has ever served took that same oath. It is now incumbent on us to
ensure that we serve those who were willing to give everything to defend their
country. At Veterans Community Project (VCP), we will help all veterans,
regardless of the circumstances or outcomes of their service."
"VCP was founded by 4 combat veterans and we decided that we
weren't going to take no for an answer. We were going to do something about the
problem ourselves and not wait for the system to catch up," Solomon added.
Because of the incredible work Solomon has done through VPC,
KCRAR has nominated him for NAR's Good Neighbor Award.
Solomon's accolades don't end there, however. VCP has captured
the notice of Billion Acts, a global philanthropy campaign devoted to
recognizing extraordinary acts of peace, kindness and charity. The organization
is led by a breathtaking lineup of Nobel Laureates, including such dignitaries
as the Dalai lama, Archbishop Desmond Tutu and Betty Williams. VCP has been
nominated as a semi-finalist for the 2017 Best Community Act, beating out 8
million other entries for this position.
"It is very humbling to be a part of something that is
having an effect on homeless veterans here in Kansas City and now, around the
country. I encourage everyone to get out there and do something about issues
they see around them. Don't wait for someone else to solve the problem… just
go out there and start working," said Solomon. "We never imagined this would be
as big as it is after two years, however, with the help of the community, we
now realize that we are just getting started!"
Update, 5/31/2017
KCRAR would like to congratulate Mark Solomon and VCP for earning an honorable distinction as a semi-finalist for the Billion Acts Award and Recognition. While VCP was not awarded the 2017 Best Community Act award, the impact VCP has already had here is Kansas City has changed lives for the better.