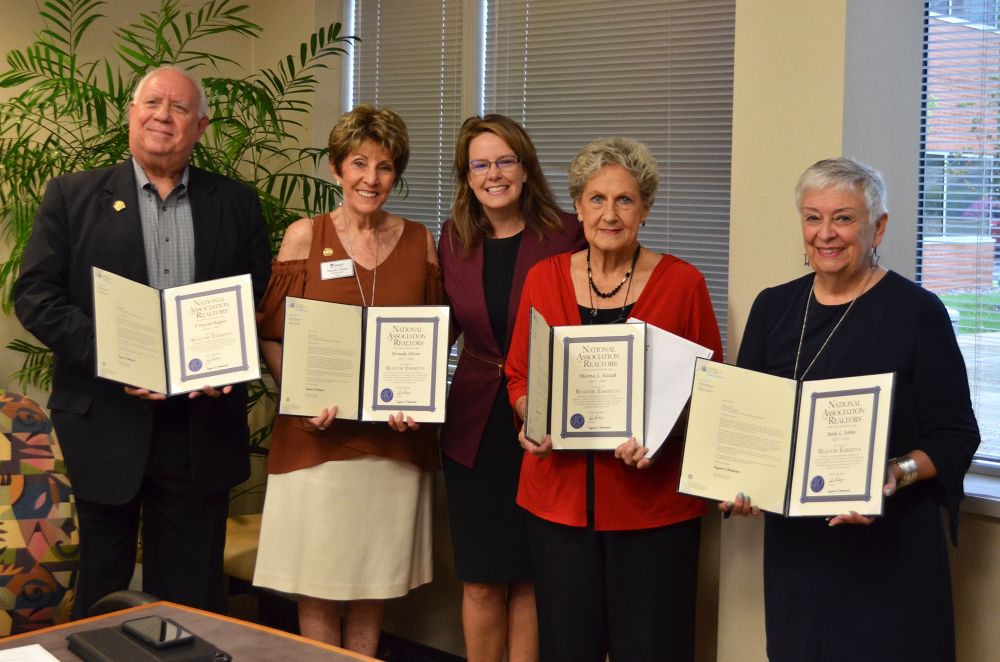 Four distinguished KCRAR REALTOR® members were recognized at
the Board of Directors meeting last week with the Emeritus honor. President
Andrea Sheridan presented Judy Johns, Tillie Kozak, Brenda Oliver and T. David
Rogers with their certificates and pins for achieving the REALTOR® Emeritus honor. In
addition to those recipients who received their awards in person, Chris Cagle,
Linda Vaughan, Arthur Kice, James Stacy and Bonnie Maret also reached the
Emeritus membership status. 
"We are honored by their commitment and dedication to being
REALTORS®," CEO Kipp Cooper said. "They are a tribute to all that is right in
our industry and I hope they are an inspiration for all those who follow!"
In order to achieve this honor, these members had to meet
several requirements, including being REALTOR® members for at least 40 years
and serving on local, state or national committees.
Chris Cagle
Professional Development Committee
Judy Johns
RPAC Trustees – KS
Committee Chairs & Co Chairs
Large Firm/ Franchise Broker Council
KCRAR Board of Directors
Grievance Committee KCRAR
Arthur Kice
Forms Review Committee
Education Advisory Group
Thelma Kozak
Professional Development Committee
Member Outreach Advisory
Bonnie Maret
Forms Review Committee
Affiliate of the Year Award
KCRAR Board of Directors
Rookie Realtor Award
Realtor of the Year Award
Brenda Oliver
KCRAR Past President 
RPAC Trustees – MO
MAR Honor Society Members
KAR Directors from KCRAR
KCRAR Board of Directors
T David Rogers
KCRAR Past President
RPAC Trustees – MO
Committee Chairs & Co Chairs
Credentials / Election Committee
KCRAR Board of Directors
James Stacy
VP of the KC Metro Board
Linda Vaughan
HMLS Board of Directors
KCRAR Board of Directors
Strategic Planning Committee
Large Firm / Franchise Broker Council