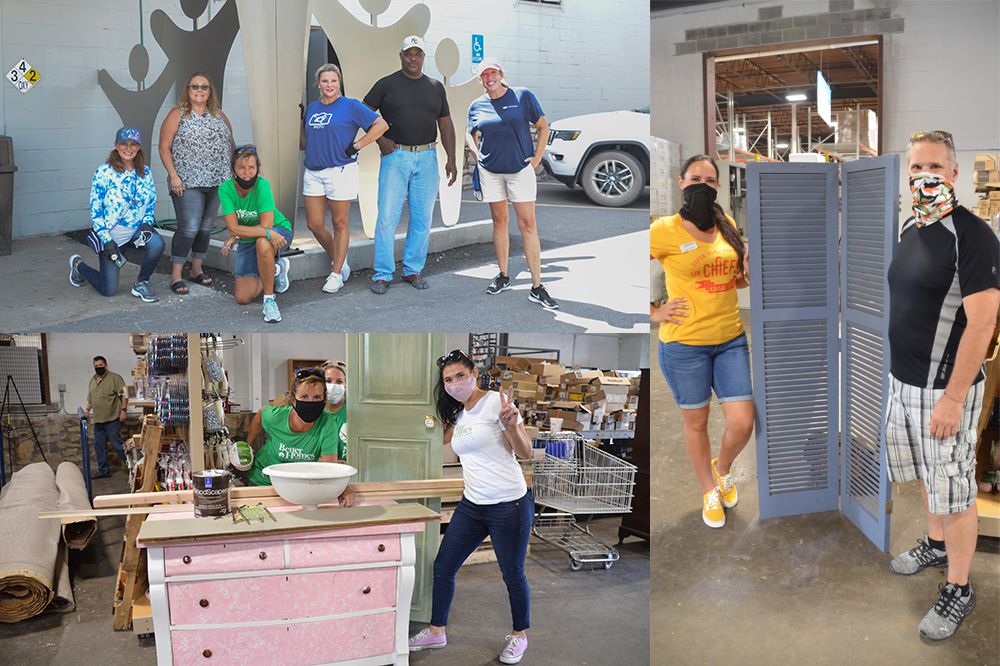 To raise funds for Habitat
for Humanity of Kansas City in its mission to provide strength, stability,
self-reliance and shelter to those in need, KCRAR gathered three teams of
members to compete in a special Upcycle Challenge, documented in a series of
videos on KCRAR's Facebook page.
Each team was given $100 to buy items from ReStore to
revitalize as well as any other necessary supplies. After that, they had a
limited amount of time to work on their projects before their fellow KCRAR
members can vote for their favorite projects and bid to purchase them. The
winning team will receive a $500 donation to Habitat for Humanity in their
name.
On Team One, Captain Sarah Rupp gathered her team of Michelle
Cole, Laura Defarkas, Kristi Ferrara, Kim Yennie and Crystal Hawkins to create
a versatile outdoor table made from a dresser, door and sink vessel found at
ReStore.
"It can be a potting table, if you're someone that loves to
plant," Ferrara said. "It can be an outdoor bar. It can be an outdoor barbeque
table… You can kind of turn it into whatever you want."
On Team Two, Sherrie Rickel, Ernest Hawkins, Natalie Hill,
Kimberly Winnett and Team Captain Susan Schick joined forces to create a desk
workspace made from cabinets and drawers found at ReStore. Team Two said they
had virtual learning and staying at home in mind when they envisioned their
project.
"I think we thought about something that people are needing
right now," Hill said.
On Team Three, Captain Jayme Dickey brought together Mike
Alleman and Tracey Hawkins to create a porch decoration that can change with
the seasons. They made two double-sided signs from shutters found at ReStore.
"My vision is to have two signs that… you can put on the
front porch," Dickey said. "We're doing now a fall theme, a winter theme, a
spring theme and your patriotic summer theme."
The public can vote for their favorite project
to help determine the winner, and voting will close on Sept. 23. KCRAR members
will also be able to bid on any of the
projects they would like to have in their own home. All the money raised in
the auction will be donated to Habitat for Humanity of Kansas City.