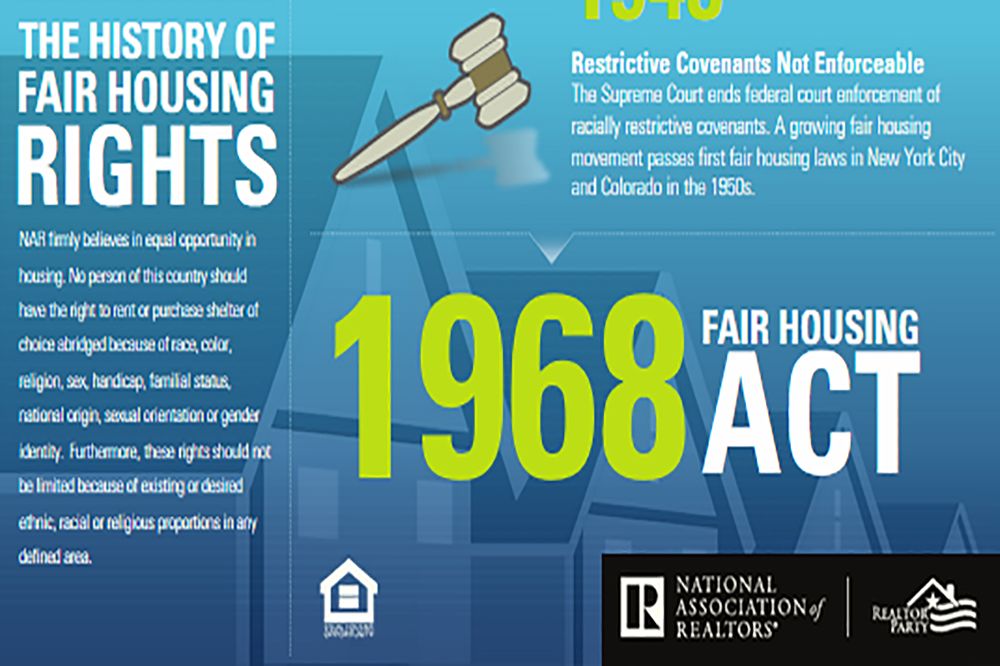 On
April 11th, 1968, President Lyndon Johnson took a monumental step in
granting equal protection to the American people by signing into law Section
VIII of the Civil Rights Act, commonly known as the Fair Housing Act. Ever
after, it was against the law to discriminate in housing based on race,
national origin, gender or religion. Today marks the 49th anniversary
of the FHA.
The
act was a long-awaited addition to the 1964 Civil Rights Act, which did not
include sufficient enforcement provisions against housing discrimination.
Minorities continued to face discrimination in selling, renting, and
financing in the real estate industry, exacerbating the social and economic
inequalities through racially segregated neighborhoods.
Four
years prior, the Civil Rights Act itself had been ratified, though at the time
it didn't include provisions for enforcing specific aspects of the law. Social and
economic inequalities continued to exist in housing, resulting in the
perpetuation of racially segregated neighborhoods.
The
Fair Housing Act prohibits any discriminatory practices in the sale, rental,
financing, or advertising of a dwelling. Before its adoption,
"blockbusting" – informing homeowners that the value of their property would
gradually decline due to the influx of racial minorities to the neighborhood –
or denying an available property to a buyer or renter from a protected class,
were common practices in the real estate market. In some instances,
realtors posted "sold" signs on available properties in white neighborhood to discourage
buyers from minority groups. These and other practices were all made
illegal by the Fair Housing Act.
Though
suitably unthinkable today, there once existed common discriminatory practices in
real estate that actively promoted racial divide, the most common being a
process called "blockbusting." The Fair Housing Act's purpose was to combat
these heinous practices, establishing federal causes of action and the Office
of Fair Housing and Equal Opportunity.
Today,
any person who feels discriminated against under the Fair Housing Act can file
a complaint with U.S. Department of Housing and Urban Development (HUD),
entrusted with administering the act. HUD possesses investigation,
conciliation, and mandatory enforcement tools to ensure that the law is
respected and properly exercised at the federal level. Every year, HUD
and its sister agencies across the nation receive over 10,000 complaints on
discriminatory practices in the real estate market.
KCRAR and its staff remain steadfastly committed to upholding the
Fair Housing Act. It is a living commitment, one that
reflects the needs of America today and prepares us for a future of true
integration. This means that each one of us, regardless of race, color,
religion, national origin, sex, familial status, and disability, has access to
neighborhoods of opportunity, where our children can attend quality schools,
our environment allows us to be healthy, and economic opportunities and self
sufficiency can grow.
You can learn more about the Fair Housing Act here, or
you can view and download NAR's annual Fair Housing Poster here.