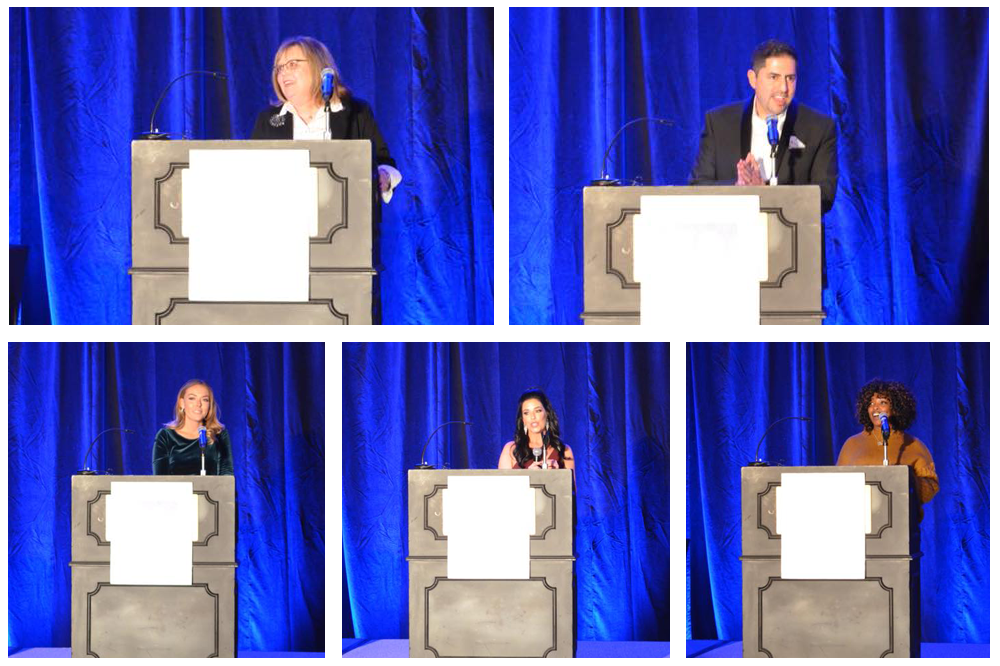 KCRAR presented its 2019 awards on Wednesday during the
KCRAR Annual Holiday Party, Awards and Installation event held at the
Intercontinental Hotel on the Plaza. Each of the
award recipients have helped build and maintain a strong real estate community
throughout the Kansas City metro and surrounding areas.
The 2019 Community Service Award was given to Tenesia
Looney. Looney has demonstrated a passion for improving the economics,
well-being and safety of the residents of Kansas City's urban core through her
contributions to organizations and events including a community holiday event
to collect winter outerwear for homeless teens, a backpack and school supplies
drive for high school students in need, the Kansas City Homes Tour Experience
commemorating the 50th anniversary of the Fair Housing Act with a
bus tour of new and rehabbed homes in the urban core, and more.
The 2019 Industry Partner of the Year Award was given to Rian
Poythress. Poythress has given her time to community service events like Rock
the Block, as well as to support the work of the Association as a committee
volunteer and Industry Partner. She even volunteered her acting, dancing and
lip-syncing talents for KCRAR videos throughout the year. Her support of the
REALTOR® community earned her the 2019 Industry Partner of the Year Award.
The 2019 Newcomer of the Year Award was given to Stevie
Mulsoff. This award is given to a new salesperson licensed for fewer than 18
months for outstanding accomplishments. Mulsoff had 26 transactions with combined
sales and lease volume of $2.26 million in her first seven months in addition
to her contributions to her team's volume. She has also quickly become involved
within her REALTOR® community through Women's Council of REALTORS® and KCRAR
events.
The 2019 Salesperson of the Year Award was given to Majid
Ghavami. Ghavami is dedicated and active within KCRAR committees, serving for
multiple years on the YPN committee, including leading as committee chair. He
also served on KCRAR's strategic planning committee this year and has
represented KCRAR at national meetings. He closed 68 transactions totaling
nearly $18.5 million from June 2018 through June 2019. He is highly respected
by other REALTORS® for his professionalism and dedication to our local
industry.
The 2019 REALTOR® of the Year Award was given to Cindy
Cunningham. Cunningham has shown allegiance to KCRAR Bylaws and the NAR Code of
Ethics, as well as a commitment to demonstrating leadership through an extensive
list of committee work, both locally and at the state level, including service
as a KCRAR and KAR Director. Her ABR and CRS designations demonstrate her
pursuit of professional growth. For personifying the REALTOR® spirit,
Cunningham was awarded the REALTOR® of the Year Award.
"KCRAR's award winners are nominated and selected by other
members, which speaks to their success and positive reputation within the
industry," Cooper said. "They represent our local real estate community well
through their high standard of professionalism and commitment to excellence."