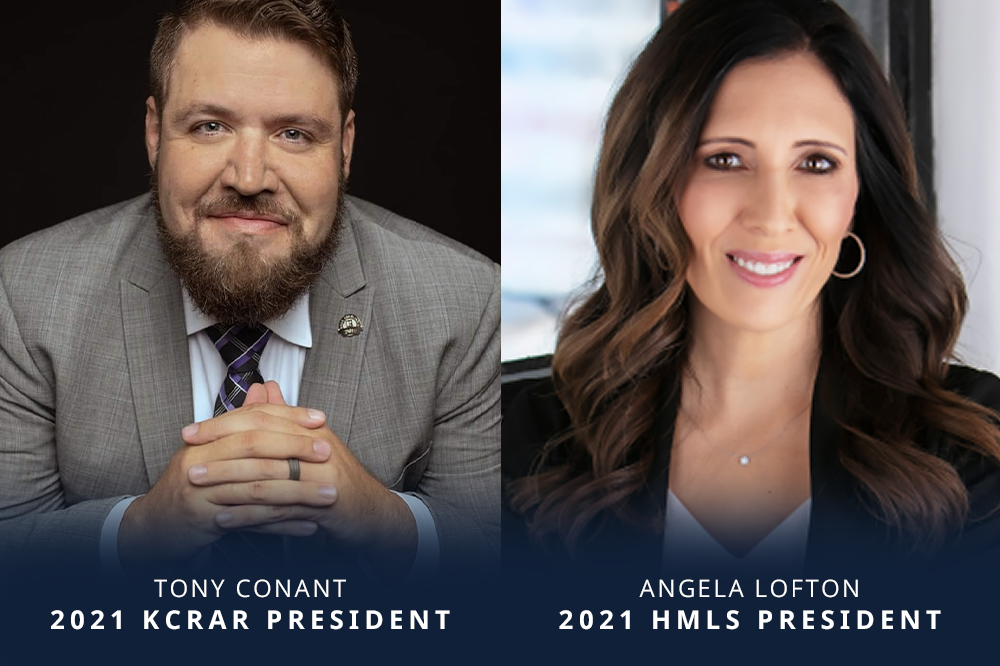 The Kansas City Regional Association of REALTORS® (KCRAR) installed its 2021 President, Tony Conant, during its Annual Holiday Party, Awards and Installation event, held virtually for the first time. Over 230 KCRAR REALTOR® members and industry partners attended this online event.
2020 KCRAR President Bobbi Howe gave a summary of the Association's biggest accomplishments of the year, including the advocacy work done to ensure real estate remained an essential business during the COVID-19 lockdown.
"In large part due to KCRAR's advocacy efforts during this time, real estate was deemed an essential business in every county in KCRAR's jurisdiction," Howe said during the event. "Combine that with continued demand for housing, and our industry was able to make it through the lockdown and continues to thrive amid this pandemic."
She recognized this year's volunteer Directors on the KCRAR Board before Craig Conant took the stage to install his son, Tony Conant, as KCRAR 2021 President. During his time at the mic, Tony Conant shared inspiration from musical artists including Demi Lovato, Bon Jovi and Kelly Clarkson to emphasize that loving and respecting one another is key during this pandemic.
2020 Heartland MLS President Michael Pierce also recognized the 2020 HMLS Board of Directors before passing the gavel to 2021 HMLS President Angela Lofton. During her speech, Lofton honored two late friends, REALTOR® Janice Lindberg and Vice President of HMLS Cathy Holefelder, who both inspired her to take a leadership role in the MLS.
Conant and Lofton also thanked the Directors they will be leading in 2021 on the KCRAR and HMLS Boards of Directors.
KCRAR 2021 Board of Directors:
Michael Pierce
Sydney West
Bobbi Howe
Steve Banks
Christian Barnes
Kathryn Clark
Linda Cone
Cindy Cunningham
Scott DeNeve
John Hoefer
Jennifer Langston Justus
Angela Lofton
David Nichols
Andi Pawlowski
Annie Premis
Amy Ringsdorf
Stephen W. Smith
Scott Theis
Harley Todd
Heartland MLS 2021 Board of Directors:
Alex Goering
Kyle Niemann
Gregg Davidson
Sarah Bloustine
Tony Conant
Kristi Ferrara
Wayne Gray
John Ketchum
Mark Maschger
Kathy Minden
Cory Stewart
Dan Sweeney
Amy Voltz
Krista Wilson
KCRAR thanks its event sponsors for making this year's Holiday Party possible: CoreLogic, Capitol Federal, Continental Title, Platinum Title, Secured Title of Kansas City and First American Title.