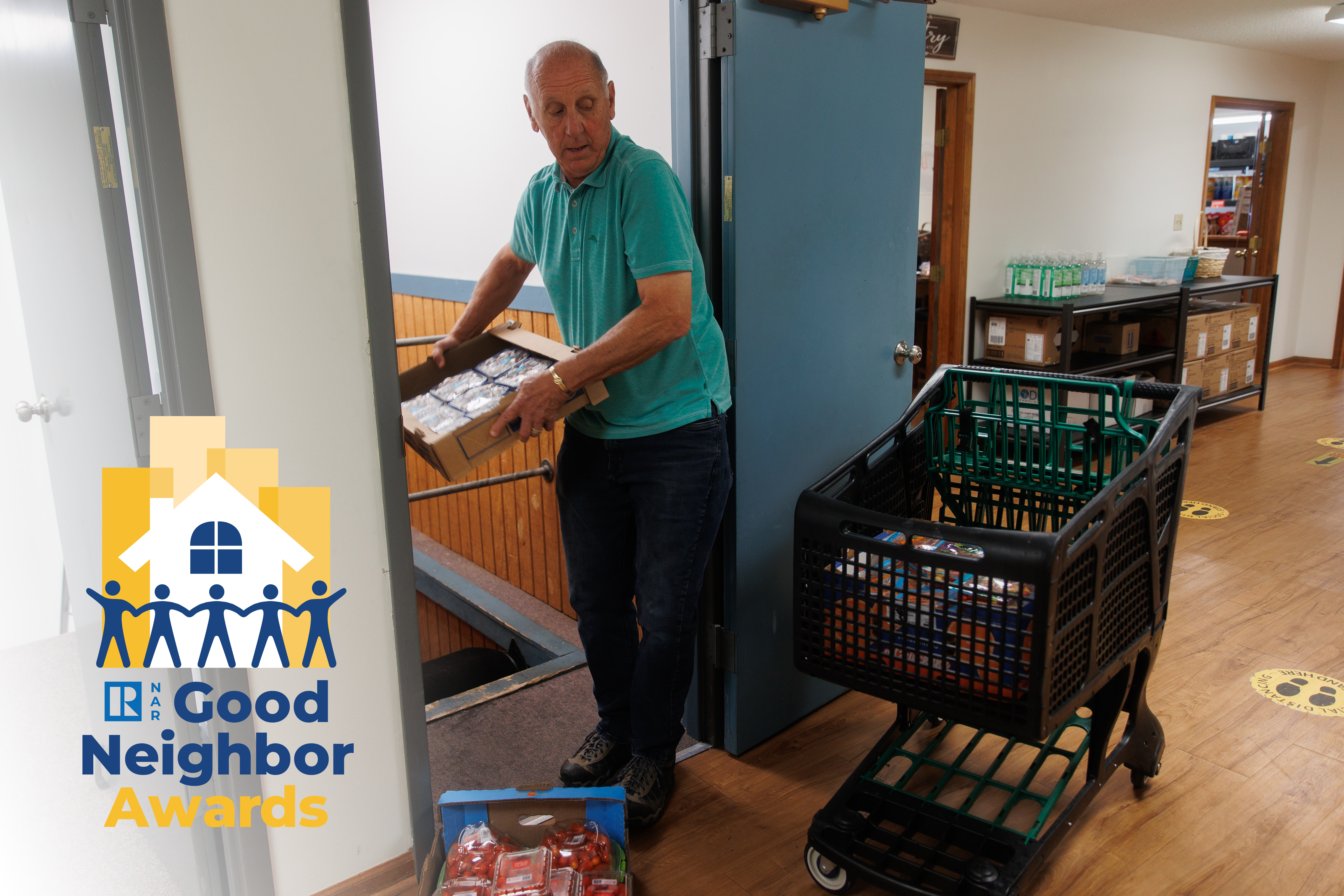 When Kansas City REALTOR® Dennis Curtin saw a need in the community, he stepped in to fill that need, starting a food pantry from the ground up. This week, he was honored for his work by the National Association of REALTORS® (NAR) as a 2022 Good Neighbor Award winner, an honor only given to five REALTORS® nationwide each year.
Curtin founded Mimi's Pantry in 2019, inspired by his mother Lillian, who owned a deli in which Curtin and his siblings worked growing up. He would witness his mother offering free meals to those he would later learn were on hard times. The nickname Mimi was given to Lillian by Curtin's daughter, Kelley (now Kelley Catterson), who is now the Executive Director at the food pantry named in Mimi's honor.
"My dad is one of the most innovative and giving people I know," Catterson said. "He's also a researcher, so when he learned that many people who are food insecure often land in that position due to unfortunate circumstances such as a medical bill or car repair, he knew he had to find a way to ease that burden a bit."
Mimi's Pantry offers a variety of food at no cost to those in need in the Northland, making healthy options a priority, from fruits and vegetables to frozen meals made possible by the pantry's large refrigeration system. In its three years of operation, Mimi's Pantry has served 50,000 individuals.
"I love that he can see a deficit in the community and use his good fortune and caring way to come up with a way to help," Catterson said. "His actions have helped many in the community, especially during such uncertain times and as prices are rising every day."
NAR recognized Curtin's effect on the community when they selected him as a finalist in September for the Good Neighbor Award, announcing earlier this week that he was named as a winner, earning Mimi's Pantry a $10,000 grant.
"I am humbled and honored to receive the NAR Good Neighbor Award for myself and all the volunteers who serve Mimi's Pantry," Curtin said. "These additional funds will allow us to serve an additional 400 families in our community who find themselves in a food insecure situation."
Those interested in volunteering or donating to Mimi's Pantry can learn more at mimispantrykc.org.