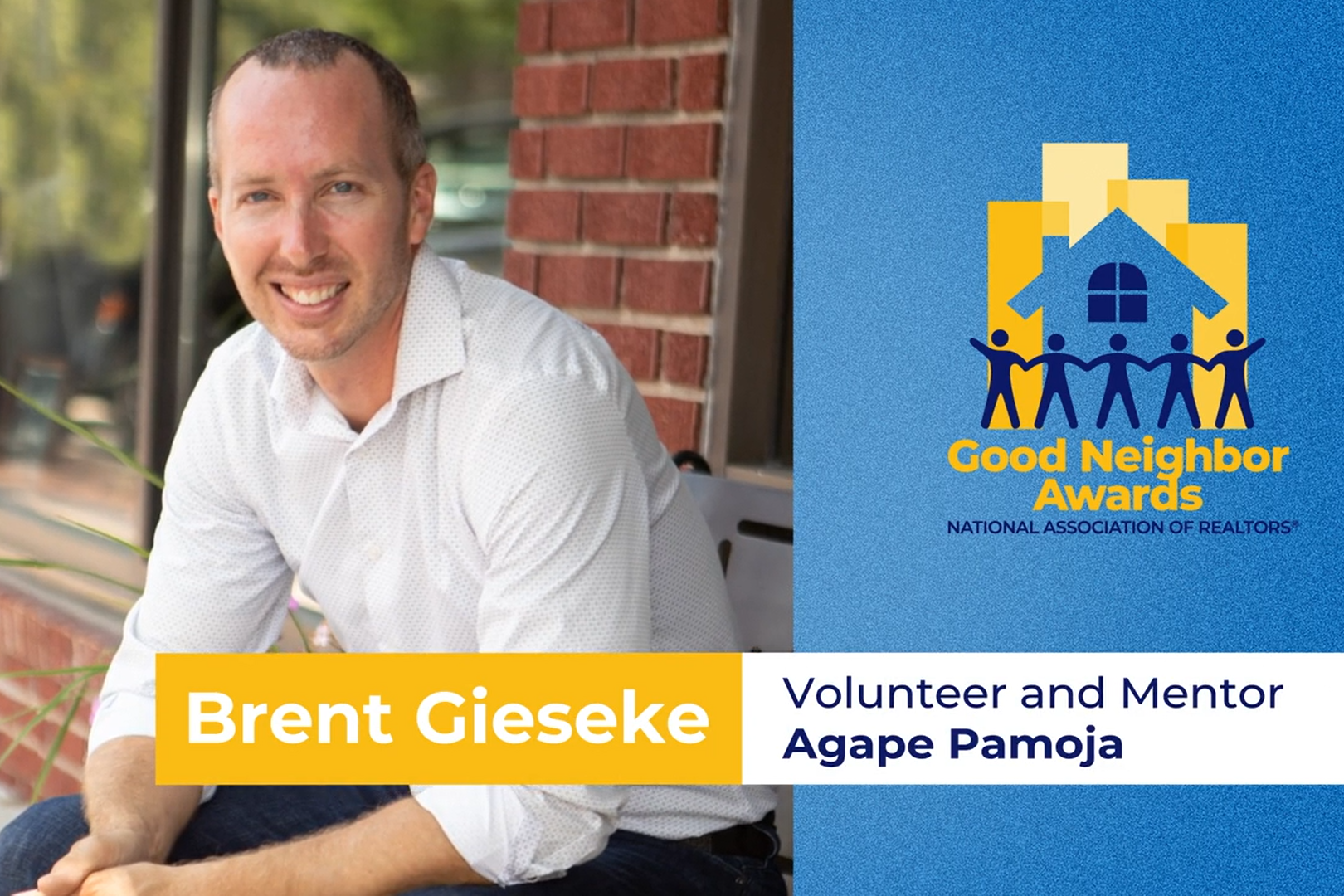 Kansas City REALTOR® Brent Gieseke has dedicated much of his time, energy and money to serving the needs of refugee families through his work with nonprofit Agape Pamoja. This week, he was recognized for that work by the National Association of REALTORS® with a Good Neighbor Award, earning him a $10,000 grant for Agape Pamoja.
Since 2018, Gieseke has helped acquire and renovate 24 homes, which he calls "Blessing Houses," throughout Kansas City. But his work with Agape Pamoja isn't just limited to meeting their housing needs. He builds friendships with the people his organization serves, getting to know the meaning of "Pamoja," the Swahili word for together or community, firsthand.
"Brent's tenacity has really been a gift for many in Kansas City," said Krystal Dunahee, a fellow volunteer at Agape Pamoja. "His 'go-getter' attitude really shines as he volunteers 40 hours each week with Agape Pamoja for the past several years. The impact he has made, and the lives influenced for good are immeasurable. Youth knows Brent truly cares for them and sees value and great potential in them! It's a special thing when students in the community see you as more than a mentor, but as a trusted friend."
Gieseke was announced earlier this year as one of ten finalists for the Good Neighbor Award, and voting opened among those ten finalists for Web Choice Winner. After weeks of voting, Gieseke was announced this week as the top vote-getter, earning him an additional $2,500 for Agape Pamoja.
"A large part of what we do in Agape Pamoja is to provide opportunities for students. This award will give refugee students so many new experiences," Gieseke said. "Experiences to grow, experiences to learn new skillsets, experiences to better understand and function in their new homeland, experiences to further develop their education as well as develop as leaders. The grant provided by NAR will help advance the futures of numerous youth and ultimately their families for generations to come."
On a recent episode of Kansas City RealTalk, Gieseke shared how the funds and services Agape Pamoja provides are often shared with others in a spirit of community, making the impact immeasurable. On top of the $10,000 grant Brent earned as a Good Neighbor Award winner and the $2,500 he earned as Web Choice winner, Heartland MLS voted to donate an additional $10,000 to Agape Pamoja.
"The work Brent and Agape Pamoja are doing is important for our community here in Kansas City," HMLS President Angela Lofton said. "We know that this donation will touch the lives of many people, and we believe Brent is a great representation of the REALTOR® neighborly spirit to be the one to share these funds with the people who need them, through his work with Agape Pamoja."
With many hours and dollars dedicated to the people Agape Pamoja serves, Gieseke said on the podcast that his career as a REALTOR® has given him the flexibility to not divide "work life" from the rest of his pursuits, including his constant partnership with Agape Pamoja and his friendships with the people they serve.
"REALTORS® are rooted in their communities and committed to helping their neighbors," NAR President Charlie Oppler said in a release. "I am so proud to honor Brent for making a difference in so many lives."
Those interested in volunteering with or donating to Agape Pamoja can reach out on agapepamoja.com.