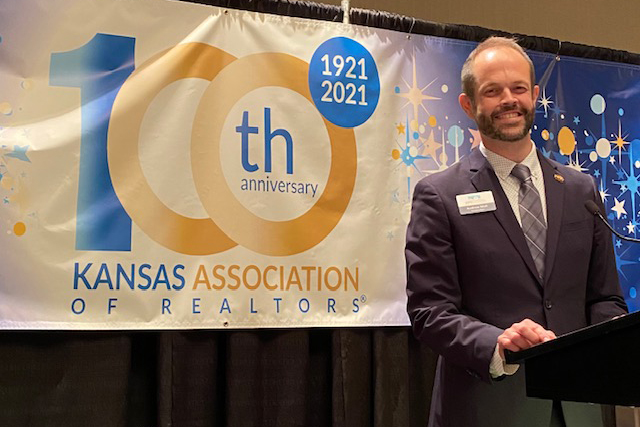 The Kansas Association of REALTORS® (KAR) held its annual Fall Conference in Wichita, Kan. this week, where KCRAR member Andrew Mall was installed as the 2022 KAR President. This year's conference marked the 100th anniversary of KAR.
Mall has been an active REALTOR® member on the local, state and national levels. At KCRAR, he served on numerous committees, chairing Kansas Advocacy Committee, Budget and Finance Committee, and RPAC Trustees. He also held the role of Treasurer on both the KCRAR and KAR Boards of Directors. On the state level, he served on the KAR Government Affairs Committee and chaired the KAR RPAC Trustees. He also served on the national level as Director on the National Association of REALTORS® (NAR) Board.
Leslie Rouda Smith, NAR 2021 President Elect, spoke at the installation, where she presented 2021 KAR President Natalie Moyer with an award of appreciation for her service as state president.
The conference also featured a silent auction, which raised over $17,000 for RPAC, and the KAR Board of Directors approved a $50,000 donation for the NAR REALTORS® Relief Foundation. When NAR Region IX Vice President Doyle Yates took the stage, he reminded attendees that this year marks the 20th anniversary of the REALTORS® Relief Foundation, and an additional $2,300 was raised in individual contributions.