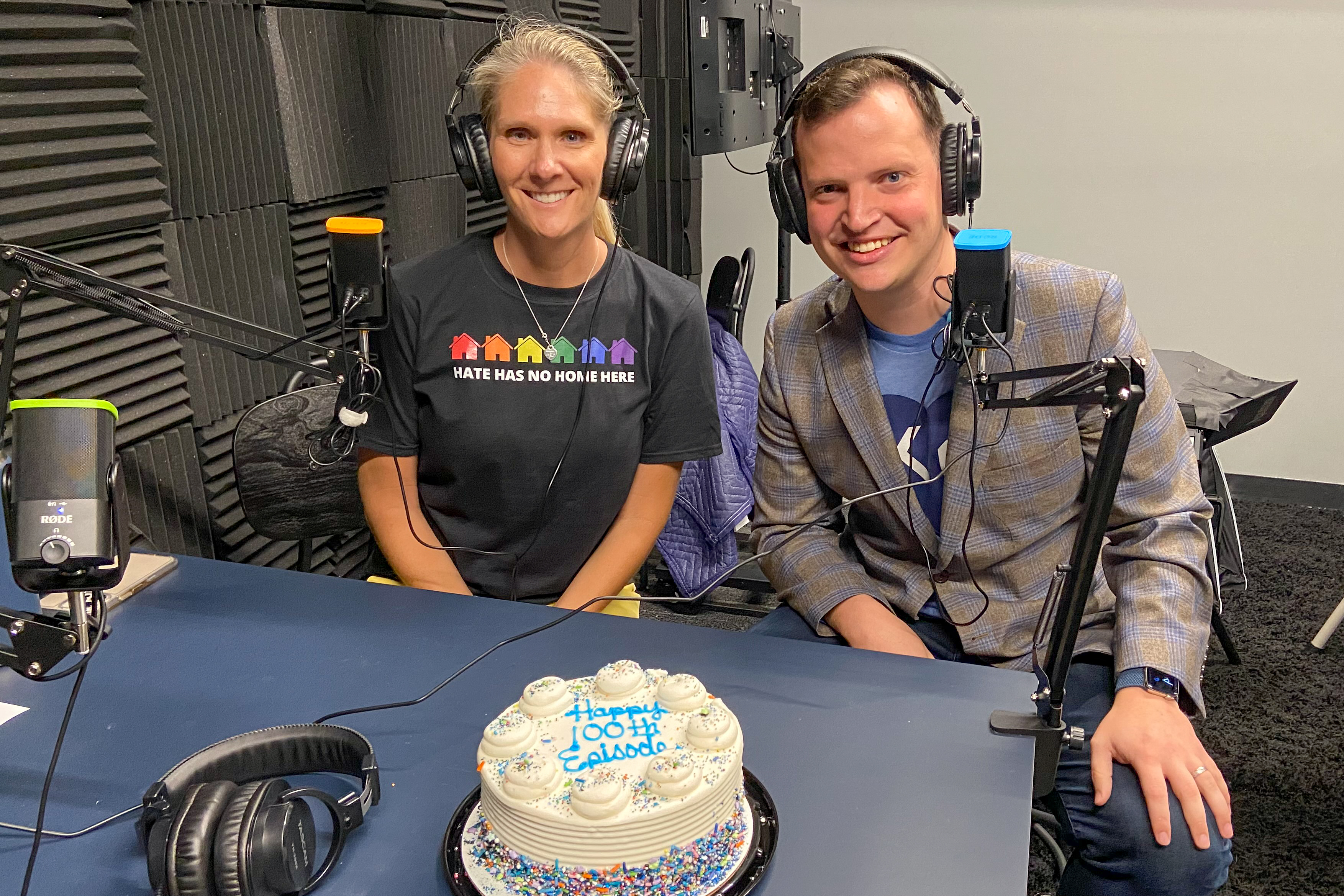 KCRAR's podcast, Kansas City RealTalk, reached its 100th episode milestone this week. The show, which launched in November 2018, is hosted by local REALTORS® Bobbi Howe and Alex Goering and centers around conversations with expert guests on real estate topics and strategies. For the 100th episode, Howe and Goering reflected on some of their most memorable episodes of the show.
Most Memorable Guest: Brent Gieseke
In October 2021, Kansas City REALTOR® Brent Gieseke appeared on the show to talk about the volunteer service work he does with non-profit Agape Pamoja, which earned him a national Good Neighbor Award that year.
"I just remember how passionate he was and the way he talked about the people he served and the work that he does," Goering said. "I remember coming away very moved by that."
Most Talked About Episode: Stefan Swanepoel on the State of the Real Estate Industry
 In February 2019, Howe interviewed Stefan Swanepoel, a real estate speaker known for his "Swanepoel Power 200" list, in which he ranks those he believes to be the most powerful leaders in the real estate industry.
"I remember I asked him about his lack of diversity in his Power 200 list," Howe said. "And we got a lot of feedback right afterward, and then just last year it popped up again… and several people around the nation reposted that and listened to that podcast again."
Most Surprising Episode: LandGate Founder Craig Kaiser on Valuing Land for Mineral and Energy Rights
In July 2021, Howe and Goering talked to the founder of LandGate.com, an online tool for valuing land and listing energy rights.
"It was such a fascinating thing that I should have thought about at some point, but I hadn't ever thought about, and I learned a ton from that episode," Goering said.
Favorite Guest: Rob Hahn
Public real estate figure and blogger Rob Hahn, known for his critical eye, appeared on the podcast in August 2021 for an open conversation about affordability and access in the low inventory housing market.
"You have to have people like… Rob in your ear a little bit, because if we only surround ourselves with the overly optimistic outlook of our industry, then we will not prepare ourselves for the future in an effective manner," Goering said.
During the conversation on the 100th episode, Howe and Goering highlighted other favorite episodes and guests including Leigh Brown, Nobu Hata, Mark Solomon, Nate Johnson and more, and they shared the behind-the-scenes history of how the show came to be and how it's grown over 100 episodes. Find Kansas City RealTalk on any major podcast platform, where new episodes are released every other Wednesday.