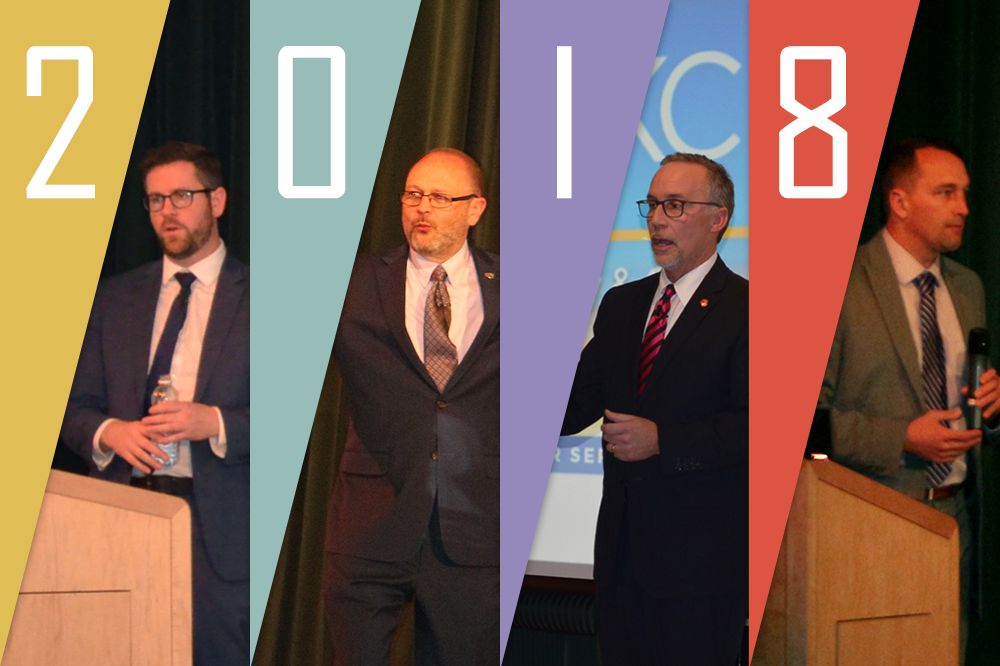 "Your profession is so
important," said Tim Cowden, President and CEO of the Kansas City Area
Development Council and one of the speakers at this year's Real Estate
Forecast. "You're selling homes, but you're selling lifestyle, you're selling
community, and you're selling my region."
The 2018 Residential Real Estate Forecast took place on
Thursday, Oct. 19 at the Kansas City Public Library Plaza Branch. Speakers
predicted this upcoming year's housing market including mortgages, inventory,
and labor.
Keynote speaker Jordan Rappaport, Senior Economist at the Federal
Reserve Bank of Kansas City, kicked off the afternoon at this year's
Residential Forecast. His presentation focused heavily on the housing
transitions of Millennials and Baby Boomers. He believes that Baby Boomers will
be downsizing into multi-family real estate and that single-family construction
will be constrained by issues including a shortage of construction workers and
a limitation of undeveloped land in desired locations.
Featured speaker Dr. Stanley D. Longhofer, Director for the
Center for Real Estate at Wichita State University, predicted that mortgage
rates will rise to about 5 percent by the end of 2018 and that home sales will
increase from where they were this year.
Cowden took to the stage next to speak about the campaign
for A Better KCI, which, if passed,
would work to improve the terminal at KCI. He shared insight on how the
proposed single terminal KCI would positively impact the local residential and
commercial real estate markets and the regional economy. He urges REALTORS® to
support the campaign and to encourage residents of Kansas City, Mo. to vote in
favor of the plan in the election.
The final speaker at the Residential Forecast was Nathan Graham, Director of Commercial Services at Realtors
Property Resource (RPR). He spoke about the benefits of using the RPR database and
the easy access to reports and information that they may otherwise have to find
in several different places.
After the Residential Forecast wrapped up, keynote speaker
Matt Vance, Director of Research and Analysis with CBRE Econometric Advisors, kicked
off the Commercial Forecast. Vance touched on office, retail, industrial and
multi-family real estate in his presentation. He addressed the possible "retail
ice age," saying that buying hasn't drastically changed, but that where people
are buying is changing away from department and big box stores.
Cowden then led a panel of experts to wrap up the Commercial
Forecast. Panelists included Greg Sweetnam,
Jay Ferguson, Whitney Kerr Jr. and Jeff Stingley, who specialize in office,
retail, industrial and multi-family, respectively.
To see the presentation
slides from each speaker, visit KCRAR.com/residential-forecast.