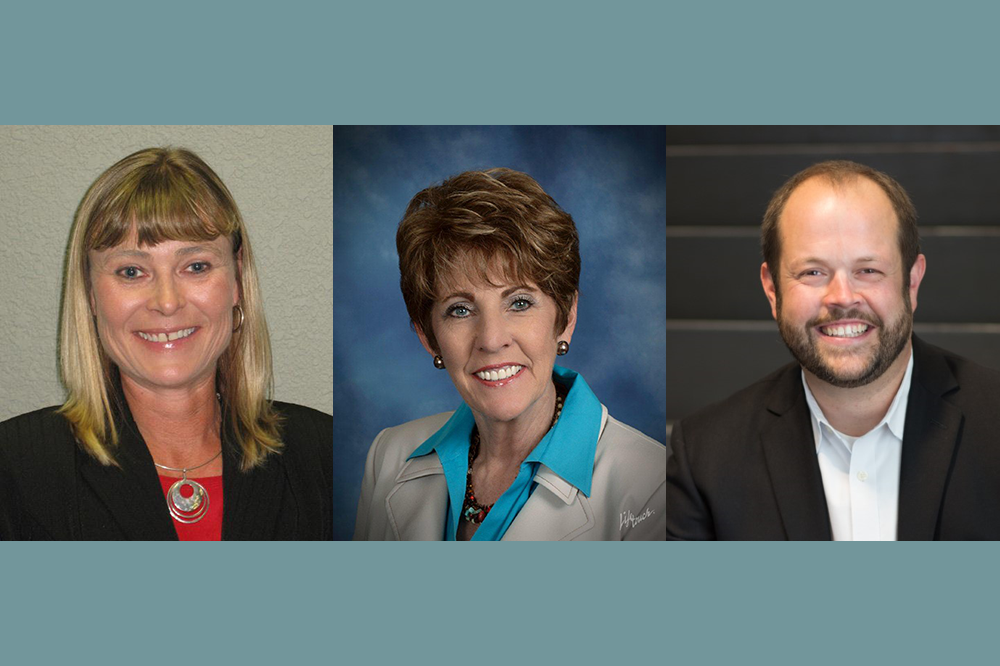 The immediate past president of the Kansas Association of
REALTORS®, current president of Missouri REALTORS® and incoming first vice
president of the Kansas Association of REALTORS® are all former KCRAR officers who have recently served on the KCRAR Board of Directors. Each of their journeys are different, but carry a similar
catalyst of service and passion for the real estate industry. Kathy Minden,
Brenda Oliver and Andrew Mall share the stories of how they each made it to
where they are and their advice for other REALTORS®.
What inspired you to become involved with the
Association?
Andrew Mall: A desire to give back to an industry that has
given me so much. It took me several years to realize everything I had gained
from being a REALTOR® and decided that I wanted to do what I could to make it
possible for others and help my industry.
Kathy Minden: I first became involved at the local level on committees and then
leadership on the local level. I then went to state and national meetings. The
more I went, the more I wanted to be involved. I enjoyed meeting people and
hearing about issues across the state.
What led to your involvement at the state level?
AM: A few members of KCRAR encouraged me to get involved at
the state and do more.
Brenda Oliver: Question number one and question number two
are intrinsically tied together for me. My leadership journey really began at
the state level. When as an officer in the Kansas City chapter of Women's
Council, I was urged to attend the Missouri Association of REALTORS® meetings.
From there sprang committee appointments and ultimately serving as what was at
that time District 9 rep. for the Kansas City area. That job gave me a seat on
the KCRAR board. I never aspired to the presidency position of either local or
state Associations, but rather was recruited by volunteer leaders who had
already served and who often told me that I did a good job of articulating the
value of our organizations.
KM: Basically,
the same answer as the above question with the addition that I was asked to be
involved. I think we all need to invite our fellow REALTORS® to meetings and
events. Most people will become involved if they are just asked.
How do you think your time in leadership roles has
affected your career?
AM: Leadership has helped me to become a better real estate
agent by learning more about how our industry operates, having real-time access
to information on trends and issues impacting our business and collaborating
with other REALTORS®
across the state.
BO: I really
feel that my career has expanded and benefited from my volunteer service in
both the state and local Association. General members who might not have known
who I am recognized my name, and I usually introduce myself as being from my
small community. When it comes time for a referral to that rural area, the name
recognition is invaluable. My appraisal business has also benefited from
practitioners who are looking for an appraisal answer from a source that is
unbiased.
KM: Very
Positive! I have had the opportunity to meet other REALTORS® from across the
state, which turns into referrals. I feel I am up to date on current industry
issues on both the local, state and national levels. It has made me more
confident in my own business.
What is your favorite memory or experience working with
the Association thus far in your career?
AM: Having the opportunity to serve at the National level on
behalf of my state association and meet more REALTORS® throughout the country.
BO: I think my
favorite memories from Association volunteerism grew from out-of-town meetings
or travel with other REALTORS®. Being away from your everyday environment
develops the quality of friendships that sustain us through the years. Even
though we may not see each other for months at a time, those friendships made
at NAR, Region IX or even Missouri REALTORS® events grow stronger with time and
shared experiences. When I say I love my REALTOR® family, it is not a catch
phrase but is really spoken from my heart.
KM: There
probably is just not one favorite memory. I now have friendships with REALTORS®
and Association staff throughout the state that I would not have had if I had
not been in leadership. I have truly enjoyed working with and getting to know
everyone better.
What would you tell a KCRAR member who wanted to grow in
leadership at the Association?
AM: Get engaged, get involved and give back.
BO: If members
are hesitant about accepting a leadership role in KCRAR, they should weigh the
following benefits that I feel they would receive. 1) Sharing your particular
perspective and examples will help shape the future of organization. We owe it
to the industry that sustains us to nurture and grow its viability. 2) It's an
opportunity to become more knowledgeable in a lot of areas that will help your
career and professionalism. 3) You'll make lasting relationships and
friendships with people across a wide geographic area that will give you
support and be available to bounce ideas and problems off of, especially when
they are not in your same office or region.
KM: Start
by just going to meetings. Volunteer for committees. Talk to those currently in
leadership. Just get involved!