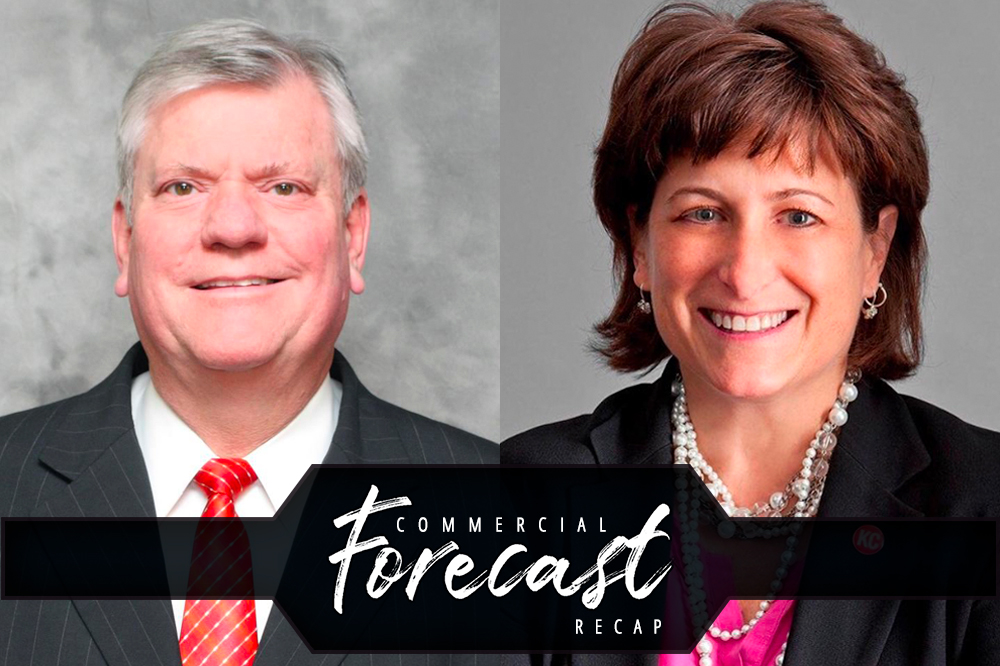 Dr. Ted C. Jones and Jill McCarthy took the screen on Thursday at KCRAR Commercial's annual Forecast event. Jones' presentation focused on the "three R's" of real estate and the economy: reinvent, recharge and reignite.
Although the pandemic brought Kansas City to its highest unemployment levels in years, Jones noted that 91% of jobs lost last Spring have seen been recovered, pointing out that some of those jobs may never be recovered due to automation and other innovations introduced. He mentioned that the pandemic also brought housing to its highest intrinsic value ever, because people have been spending more time in their homes.
He said the industrial and multifamily sectors were the "big winners" of 2021 but predicted that those who've invested in the hotel real estate this year could be seeing a high return on investment due to the low costs that sector has seen this year.
In McCarthy's presentation, she spoke about what's to come for Kansas City as it pertains to attracting corporations to the city. McCarthy works as the Senior Vice President of Corporate Attraction for the Kansas City Area Development Council (KCADC). She said that the many unique strengths of Kansas City draw corporations here, including its industrial space and "entrepreneurial spirit."
"Kansas City has this amazing entrepreneurial spirit," McCarthy said. "It's kind of embedded in the way we work and the way we operate… I think we're really doers and innovators."
She also said the new KCI terminal is proving attractive to corporations coming to Kansas City, which was a campaign KCRAR invested in before it was voted into motion by the residents of Kansas City, Mo. in 2017. It is on track for completion in 2023, according to the KCADC website.
The Forecast event is now available for replay for a limited time.