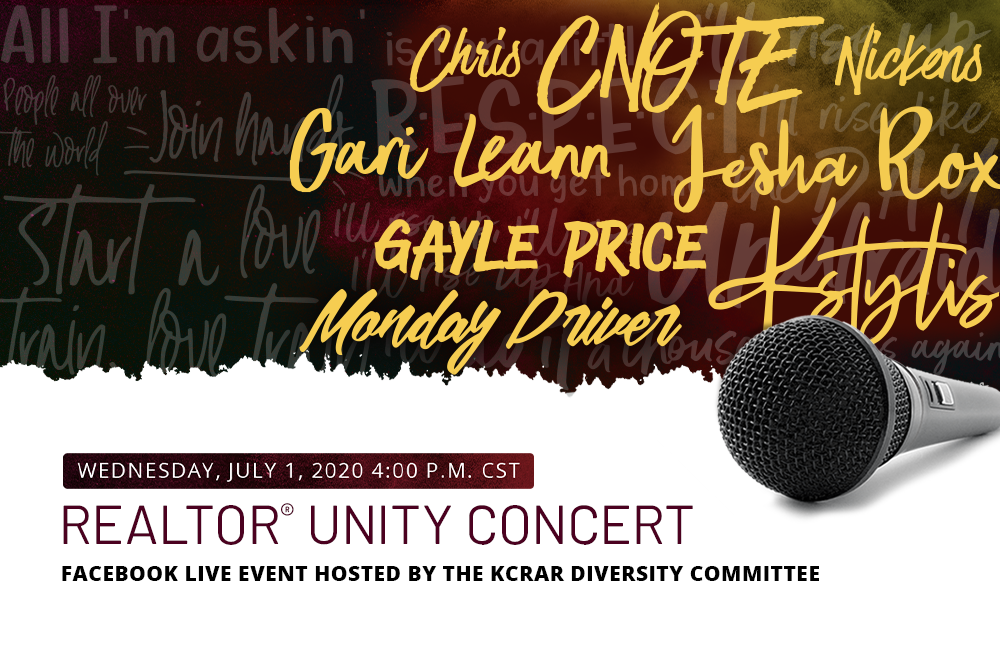 In an effort to unify the REALTOR® community, the KCRAR Diversity Committee is hosting a Unity Concert on Facebook Live on July 1 at 4 p.m. Local and national artists like saxophonist Chris "CNOTE" Nickens, folk duo Monday Driver, rapper Kstylis and more will be playing sets between messages from the Diversity Committee and other special guests.
Although the Fair Housing Act now legally protects against the overt racism in real estate that the country experienced in the mid-20th century and prior, the negative effects of those practices can still be seen today. Real estate professionals are now faced with the task of interrupting systemic racism and recognizing and combating implicit bias in order to offer equal housing opportunities to their clients.
The Diversity Committee aims to use this virtual concert to unify the real estate community in Kansas City in that common mission. They not only want viewers to enjoy the artists performing, but also to use this as an opportunity to create a dialogue with their colleagues on how the real estate industry in Kansas City can make positive change.
Brokers are encouraged to host watch parties in their offices, observing safe social distancing practices, and KCRAR has provided a tool kit with resources for brokers to invite their agents and start dialogues about fighting racism.