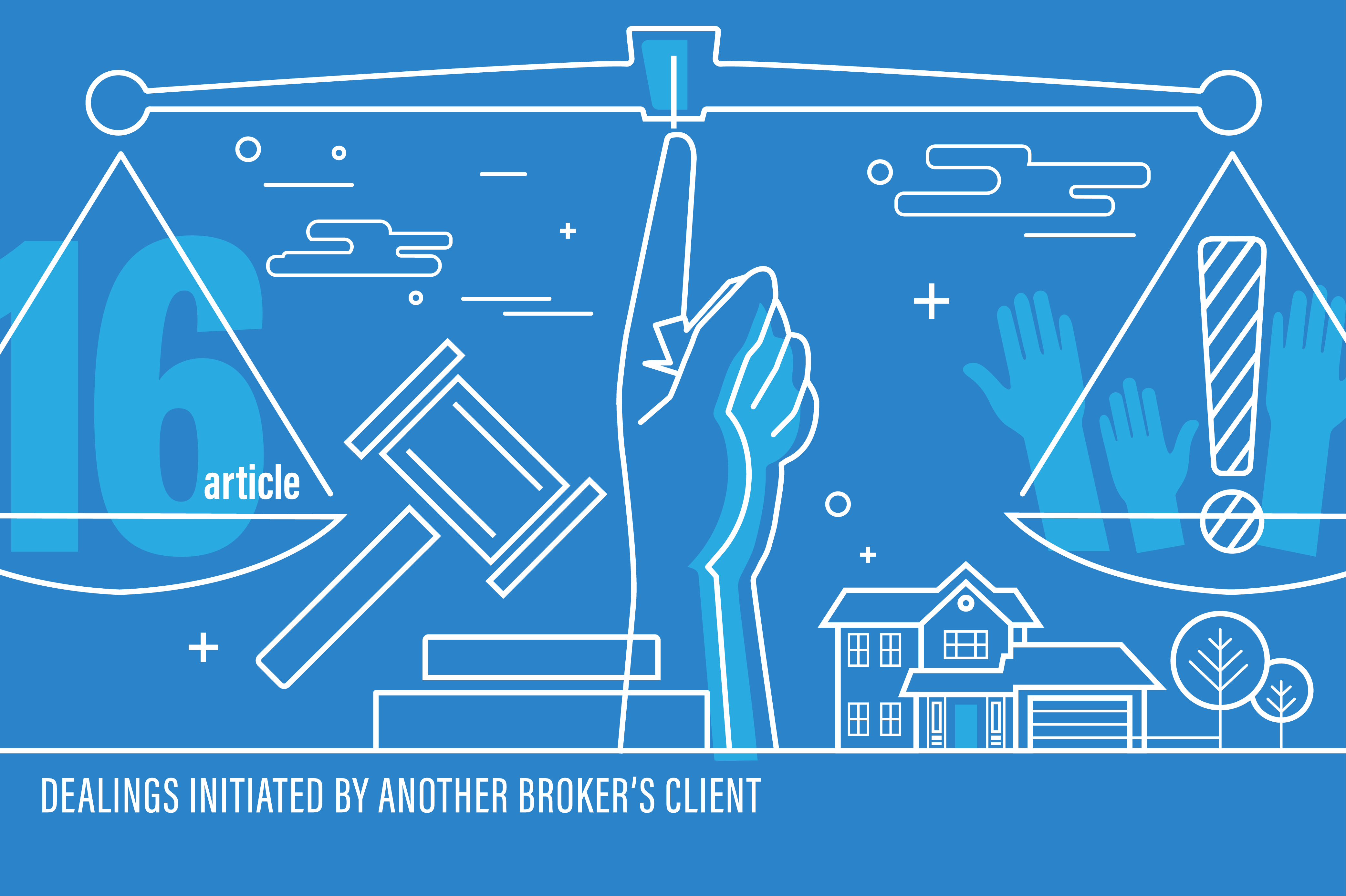 The National
Association of REALTORS® provides case scenarios of Code of Ethics cases as a
resource to members to help further their understanding of the Code of Ethics.
This year is a Code of Ethics education year, meaning REALTORS® have until Dec.
31 to complete a Code of Ethics training.
The following in
a case scenario provided from NAR:
Case #16-14:
Dealings Initiated by Another Broker's Client
(Adopted May,
1999.)
REALTOR® X, a
residential broker, had recently listed a home. REALTOR® X's marketing campaign
included open houses on
several consecutive weekends.

One Sunday afternoon Buyer B came to the open house. REALTOR® X introduced
herself to Buyer B and asked whether Buyer B was working with another broker.
Buyer B responded that he was, in fact, exclusively represented but went on to
add that he was quite familiar with the property as it had been previously
owned by a close personal friend. REALTOR® X told Buyer B that she would be
happy to show Buyer B through the home and answer any questions he might have,
but added that she represented the seller and not Buyer B.
After viewing the home, Buyer B
indicated that he was seriously interested in the property and intended to
discuss a possible purchase offer with his buyer representative. REALTOR® X
responded that there were several other buyers interested in the property and
that it would likely sell quickly. "I can't tell you what to do, but if it were
me, I would make an offer today," REALTOR® X told Buyer B, "You can go back and
discuss this with your broker if you like or I can help you write a purchase
contract. It's your choice." With REALTOR® X's words in mind, Buyer B decided
to make an offer. REALTOR® X assisted Buyer B in filling out a standard form
purchase contract which was accepted by the seller later that day.
REALTOR® X was subsequently
charged with violating Article 16 for dealing and negotiating with a party who
had an exclusive relationship with another REALTOR®.
At the hearing, REALTOR® X
defended her actions noting that she had told Buyer B that she was the seller's
exclusive agent and, as such, would not and could not represent Buyer B's
interests. She pointed out that Buyer B had asked for her help in writing a
purchase offer and had not sought the counsel and assistance of his exclusive
representative. She concluded her defense noting that Standard of Practice
16-13 authorizes dealings with the client of another broker when those dealings
are initiated by the client.
The Hearing Panel
disagreed with REALTOR® X's reasoning. They concluded that REALTOR® X's
inducement of Buyer B by emphasizing that the property might sell quickly
(which might well have been true), coupled with her offer to prepare a purchase
contract on Buyer B's behalf, constituted an initiation of dealings on the
property by REALTOR® X, not by Buyer B. As a result, REALTOR® X was found in
violation of Article 16.